To celebrate the female forces of nature who have dominated in their respective fields, Elle magazine decided to come up with a list of '100 Women Changemakers'. The comprehensive list spans a multitude of fields, comprising women of all ages, ethnicities, and diversities. Of the 100 select women, 8 are sportswomen, and of those 8 – 4 are tennis players.
The 4 WTA players who made the cut are Emma Raducanu, Serena Williams, Naomi Osaka, and Ashleigh Barty. Each of these women is a force to be reckoned with. Their contributions to the sport of tennis, and their respective communities have garnered them much adoration and accolades, and now they are counted as Change-makers by Elle. The other 4 female sportswomen include soccer player Meghan Rapinoe, gymnast Simone Biles, Chinese-American freestyle skier Eileen Gu, and Danish footballer Pernille Harder.
Emma Raducanu burst into the tennis space, going from complete obscurity to winning the US Open in 2021 as a 19-year-old. She reached a career-high ranking of world no.10, and is currently the British no.1. She was recently inducted as a Member of the British Empire (MBE) for her achievements.
American supernova Serena Williams needs no introduction. She is widely considered one of the greatest players of all time, male or female. She has won 39 Grand Slams (23 singles, 14 doubles, 2 mixed doubles), is a multiple-time Olympic Gold Medalist, and spent 319 weeks as the no. 1 in the world. Her unparalleled dominance over the game across multiple decades leaves no room for doubts about her impact and influence.
Naomi Osaka is a 4-time Grand Slam singles champion and former world no.1. She has won 2 titles each at Australian Open and US Open, winning one each year between 2018 and 2021. Osaka is of Japanese descent and was the first Asian player to hold the top position in the singles category. She is also considered one of the most influential athletes in the world and has been widely praised for being vocal over issues like Black Lives Matter.
Ashleigh Barty is a multi-talented Australian, excelling in tennis and cricket. In tennis, she picked up 3 major titles at the Australian Open, Roland Garros, and Wimbledon. She also won the Tour Finals in the singles category and was the world no. 1. Her performance in the doubles category is equally impressive, having made it to the finals of all four majors, and winning the US Open. She won a bronze medal for Australia in the mixed doubles category at the Tokyo Olympics. She retired from professional tennis in March 2022.
Also Read: Sergiy Stakhovsky reveals how Roger Federer's presence helped increasing prize money on the Tour
The defining moment – Career, future plans, and powerful quote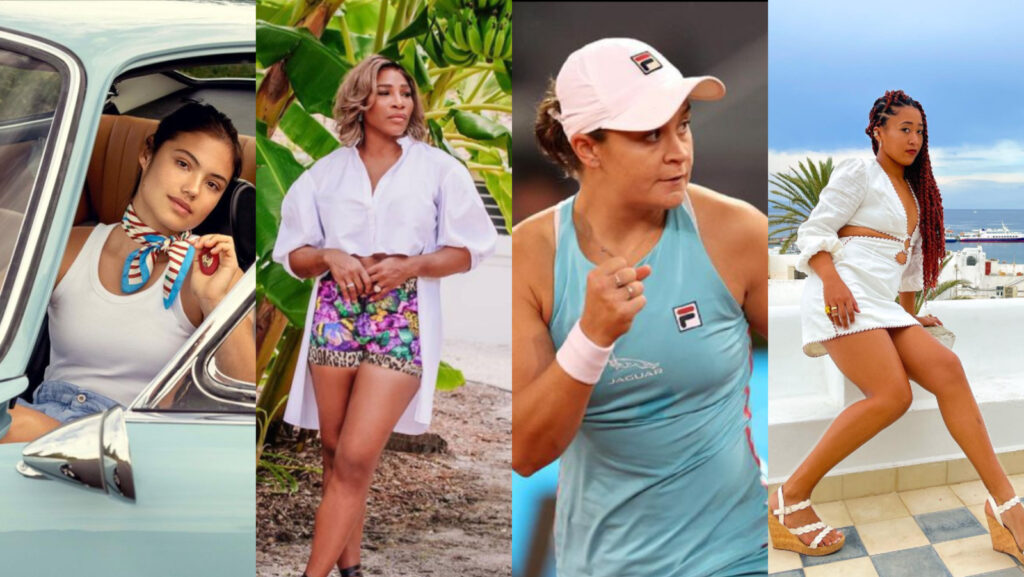 The feature article required each of the 4 women to share the defining moment of their life or career, their future plans, and a powerful quote.
Emma Raducanu stated that the defining moment for her was beating Leylah Fernandez to lift the US Open trophy. She said that her first-round exit from Arthur Ashe stadium has motivated her to work up the ranking points next year. When asked for a powerful quote, she said "Every single player in the women's draw has a shot at winning any tournament."
Serena Williams says her defining moment came in her first US Open triumph when she beat the then world no.1, Martina Hingis, in straight sets. The upcoming future holds the following plans for Serena: growing her family and her venture capital firm. "I really think a champion is defined not by their wins, but by how they can recover when they fall" was her powerful quote.
Naomi Osaka's crowning glory was beating her idol, Serena Williams, in the finals of the US Open 2018. She hopes to reclaim her spot as no.1 in the world in the near future, and her powerful quote is "You just gotta keep going and fighting for everything, and one day you'll get to where you want."
Ash Barty basks in the glory of being the first Australian in 44 years to win the Slam on their home turf. She has joined as the "chief inspiration officer" at Australian telecommunications company Optus. She is also writing a series of children's books and a memoir. "If win, it's a bonus. If I lose, the sun still comes up the next day, and it's all good" was her powerful quote.
Also Read: WATCH: Felix Auger-Aliassime breaks down hugging his dad after winning Canada its maiden Davis Cup title
Also Read: Holger Rune reveals his favorite player among the Big-3 following a historic Paris Masters title run