American Frances Tiafoe continued his good run as he defeated Stefanos Tsitsipas on Sunday night to win the Laver Cup for Team World. Tiafoe defeated Tsitsipas in three sets 1-6,7-6(11),10-8 to secure his first win of the weekend and ensured that Team World win the Laver Cup for the first time.
Team World, captained by John McEnroe had lost the last 4 editions of the Laver Cup and started second favorites this year too. Despite all the attention being on Roger Federer's retirement, Team World played some amazing tennis to bag the first title in their fifth appearance. After winning the match, Tiafoe revealed how John McEnroe passionately wanted them to win this year.
He said that McEnroe started losing his cool in a positive way and even dropped F-bombs at them which motivated them to win. He said that he was in a very positive mindset all week and was motivated to win it for Team World.
"Our captain Johnny Mac started losing, dropping a lot of F-bombs saying we need to get it done this year in our fifth try. So I kept saying all week leading up to this that 'This is our year.'" Tiafoe said.
Also Read: WATCH: "Such an unprofessional brat" Alexander Bublik's brain fade leniency in attempting a winner from his racket handle in the Metz final leaves fans in disarray
'We all did it together': Frances Tiafoe on Team World's victory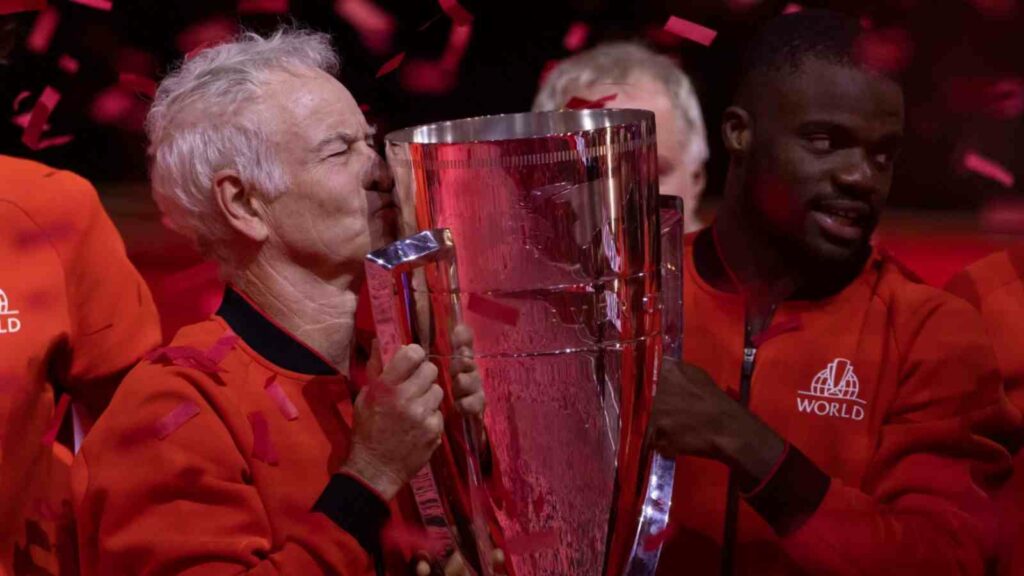 Tiafoe lauded his team and said that it was a team effort that won him the Laver Cup. Felix stunned Djokovic to register one of the biggest wins of his career before Tiafoe sealed the deal for Team World.
"Guys showed up. Felix best Novak today. Jack and Felix played an unbelievable doubles today and yeah, we all did it together. I showed a lot of heart and got my a** there for a while and just kept going. This is big and we are gonna celebrate big tonight," Tiafoe said on the court.
Also Read: Roger Federer talks about his disappointment with the press recalling his heart-wrenching defeat to Hubert Hurkacz at the 2021 Wimbledon
Also Read: WATCH: "Johnny McDance," John McEnroe's winning dance with Team World after winning the 2022 Laver Cup has fans going crazy