Spanish teen sensation Carlos Alcaraz had to let go of his Croatia Open title as the defending champion lost to Jannik Sinner in the finals of the 2022 Croatia Open. Sinner won the match 6-7(7), 6-1, 6-1 to win his 6th career ATP title and his first on Clay as well as his first title for the season having earlier suffered 6 consecutive quarter-final defeats this season.
Alcaraz was also looking for his 6th ATP title and despite a string of good performances in Croatia, the teenager was unsuccessful in his first-ever title defence on the ATP Tour as his first-ever ATP title came at the 2021 Croatia Open when he defeated French veteran Richard Gasquet in straight-sets to become the youngest Tour champion since Kei Nishikori in 2008.
Also Read: Emma Raducanu to part ways with coach Dmitry Tursunov, the Brit will be without a coach for the Canadian Open
"Amazing run this week": Carlos Alcaraz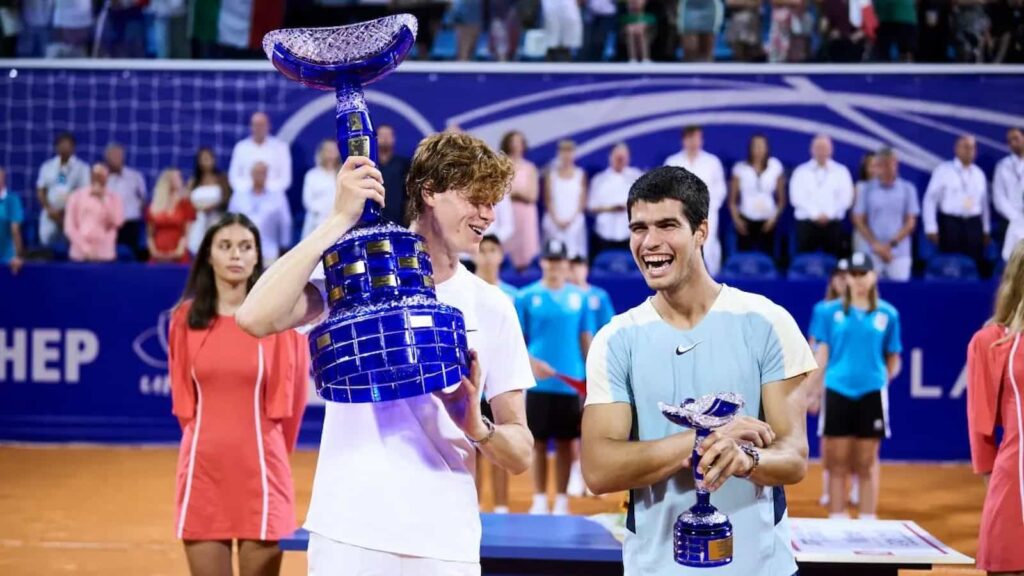 This was Alcaraz's second consecutive loss in a final that too in consecutive weeks after he finished runner-up in the 2022 Hamburg European Open where he was defeated in 3-sets by Lorenzo Musetti. Prior to the finals in Hamburg, Alcaraz was 5-0 in Tour finals and since then he is now 0-2 in Tour finals. Nevertheless, Alcaraz was gracious in the defeat and did not throw a tantrum after losing the finals against Sinner.
"Jannik, the second time you beat me this year, I'm going to figure out how to beat you this year. Of course, amazing run this week, amazing level you have played, great team, great workers, nice person, so I'm going to congratulate you for everything and wish you all the best of luck for this year," said Alcaraz after receiving his runners-up trophy.
Sinner's win in Umag was his second win over the Spaniard this month having earlier defeated him in the 4th round of the 2022 Wimbledon Championships and now leads him 2-1 in the head-to-head. With the two youngsters putting on a great final, it is safe to believe a new battle is about to begin on the Tour.
Also Read: "His attitude to work, passion, and professionalism reminds me of Lleyton Hewitt" coach Darren Cahill backs Jannik Sinner having the potential to become a future Grand Slam champion
Also Read: "He won't stop until he wins 30 Grand Slams" Goran Ivanisevic reveals Novak Djokovic's ultimate desire
Do follow us on: Google News | Facebook | Instagram | Twitter