Tennis great Rod Laver has concurred that Nick Kyrgios could not win the Wimbledon title because deep down the young Australian star did not believe in his own abilities.
Kyrgios trumped odds to reach the final at this year's Wimbledon, where he fell short to 21-time Grand Slam champion Novak Djokovic despite putting up a decent fight, at least in the beginning stages of the match.
He even went on to reach the finals of the US Open but did not turn out at the Laver Cup, a competition from where Kyrgios had famously said he was retiring because he did not see much hope for himself there. Team World had lost in each of the last four editions to Team Europe but this year the likes of Frances Tiafoe and Felix Auger Aliassime produced some stunning performances to give them the first Laver Cup title.
"Unfortunately, he said that he wanted to go back to Australia and not play in the Laver Cup. But he knows that he can play and compete now," said the man on whom the tournament is named. "Next year? Wimbledon? You're going to see a different player," Laver added.
Also Read: Nick Kyrgios says beating Stefanos Tsitsipas was "comfy", blasts tennis fan who told him to keep head in place for success
"Kyrgios has all the ability in the world, every shot that you could wish to make," Laver told The Telegraph. "He's probably one of the biggest servers in the game. He's accurate, he can play under pressure."
Nick Kyrgios to win Wimbledon 2023?
Laver also suggested that Kyrgios would fare better at Wimbledon from now on as he had now learnt an important lesson.
"It hit home for him, I think. He realised, "S***, I am good enough, I can do this. Next year? Wimbledon? You're going to see a different player," said the twice career Grand Slam winner.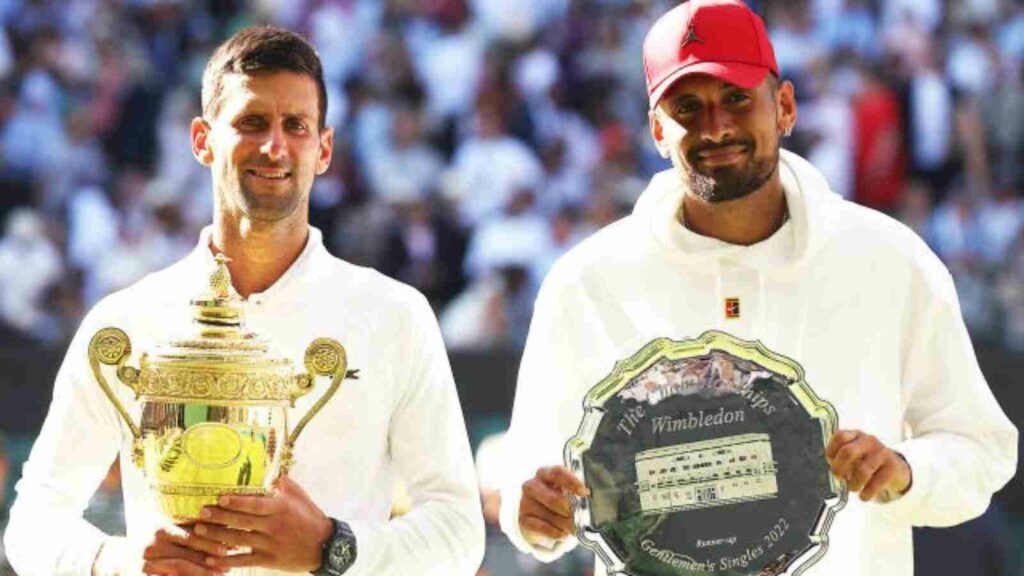 "I was thrilled that he reached the final, but he didn't think he could win Wimbledon. In my mind, I said, Hey, put in your best performance. You may surprise yourself. A month or two later, I said, You can win some of these matches. Why don't you apply yourself, man?" Laver added.
A lot of players and fans have suggested that Kyrgios could be a much better player and achieve much more in the sport of tennis if he controls his emotions. However, Kyrgios has often fired at that advice, saying they didn't know who he was and where he came from.
Recently, during an Instagram Q&A, Kyrgios shot back at a tennis fan who had told him to check his head, saying, "I don't think you'd win a point off me and tbh I think concentrating on your life is a better idea."
Also Read: "This man is disgusting" Fans take a jibe at Frances Tiafoe and Nick Kyrgios over their persistent "bullying" of Stefanos Tsitsipas at the Laver Cup
Also Read: "What a blithering d***head" Nick Kyrgios gets pounded on social media for INSULTING Rafael Nadal's raw emotions towards Roger Federer's retirement