As the French Open 2022 is just a few days away from getting started we can already see many players back in action at the clay-court in Paris during their practice sessions. The crowd also seems to be engaged in practice sessions with the players by watching them practice or just getting their glimpse.
The French Open has released a video of the two Grand Slam champions here on the clay court. The video has made fans go berserk after seeing two of their favourite players Rafael Nadal and Iga Swiatek sharing the court ahead of the tournament.
Swiatek has long spoken of her admiration for Nadal. So as Nadal also praised Iga many times more so after she won here in 2022 for the 1st time. Swiatek was seen as heartfelt after seeing Rafa they also greeted each other before moving on.
Also Read Neither Roger Federer or Novak Djokovic, Rafael Nadal is the GOAT with superpowers: Iga Swiatek gives her verdict
Not for the first time that Rafael Nadal and Iga Swiatek have shared court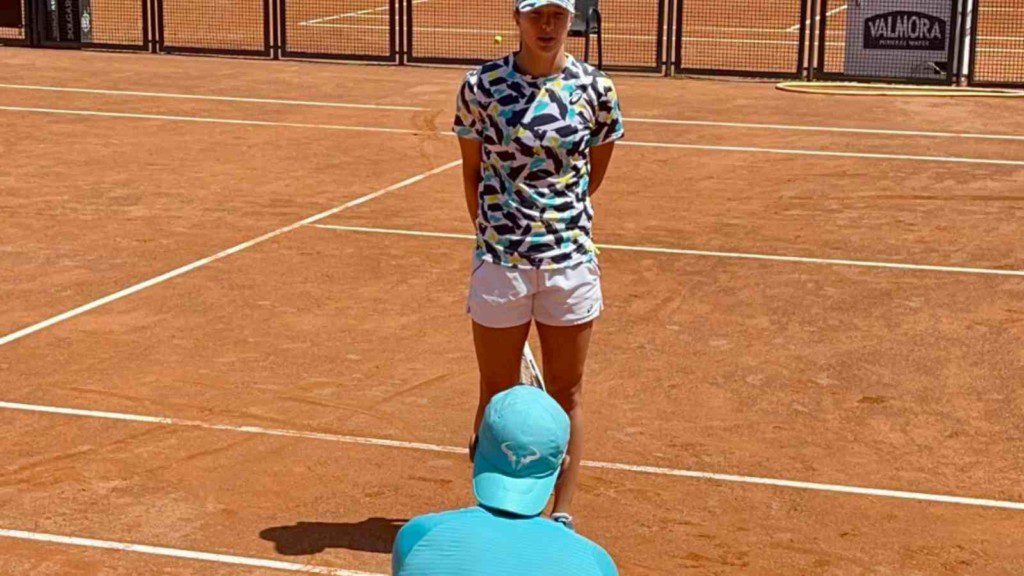 In the past few years, they have crossed paths with each other a lot at the major tournaments while practising. Iga has also done practice in the Rafael Nadal tennis academy in Spain. After which she had shown her gratitude towards Rafa and how all the things were at the tennis academy.
As a calm man like Rafa is, he has that tendency to make the other people around him comfortable without being vocal or exaggerating about it. He has been seen praising Swiatek a couple of times at the press conferences as well.
"She's doing amazing things. Playing amazing and winning every single event she [has] played, I think [her] last four in a row. Winning Indian Wells and Miami in a row, [that is] something difficult," Nadal said. "[I am] just happy for her. She's [a] very spontaneous and natural girl. It's good to have girls like this, good people like her having success," Nadal had said prior to the 2022 Italian Open in Rome.
Also Read : WATCH: Rafael Nadal back in Paris as he aims for yet another Roland Garros title
Also Read: "Because he is young doesn't mean they are alike" Andrey Rublev dismisses Carlos Alcaraz's comparison with Rafael Nadal