Nick Kyrgios, the 27-year-old Australian is widely regarded as one of the most technically gifted players in the world, he recently enjoyed a good run in the 2022 Wimbledon where he reached the finals of the event but eventually fell short to one of the best players of all time in Novak Djokovic.
However, being lauded for being one of the most talented players around, Kyrgios is almost always up into controversies on and off the court, whether that be engaging into arguments with umpires, or with fans or with fellow players, Kyrgios always manages to capture the headlines with his antics.
Also Read: WATCH: Nick Kyrgios being himself once again adding drama by seeking fan advice during his first-round match at the Citi Open 2022
Nick Kyrgios indulges in another argument with the umpire at Citi Open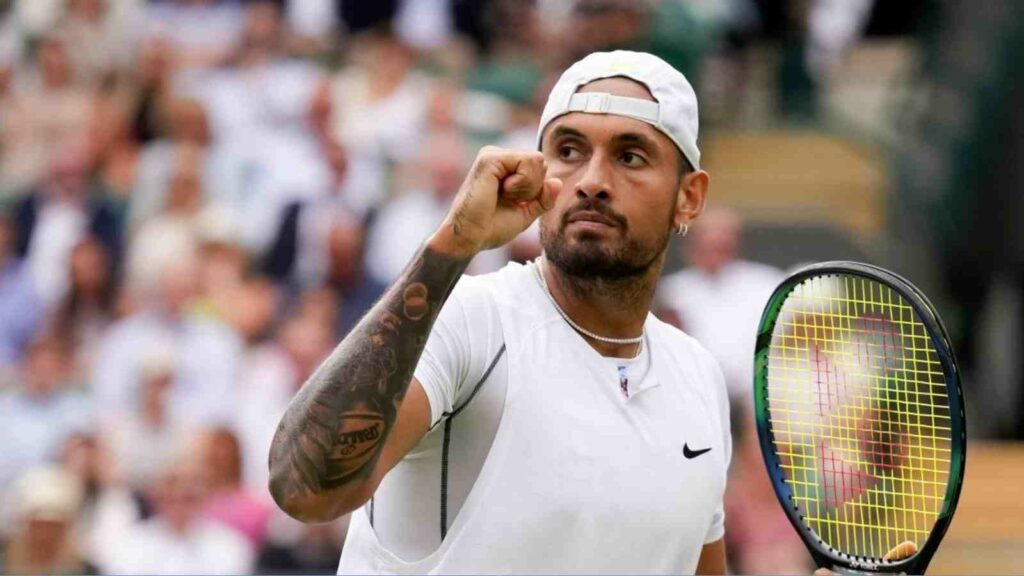 Currently competing at the Citi Open, Wimbledon finalist Nick Kyrgios faced American Tommy Paul in the round of 32 of the event where the Australian was able to stretch out a comfortable win in straight sets as he won the match by 6-3, 6-4. But the match was no short of entertainment as Kyrgios' antics follow him everywhere.
Looking to secure his first match point, with Paul serving at 4-5 (30-40) during the second set, the umpire signaled a power cut in the stadium which disrupted the flow of the game and stopped the game, when the play continued Paul was able to save the match point which threw Kyrgios off guard and the Australian made his displeasure known.
Due to that, the umpire gave Kyrgios a code violation for ball abuse to which Kyrgios responded by saying, "What about a code violation for the bad idea by you to slow the game down?" the disruption didn't stop the Australian from emerging as the victor in the match as he was able to book his ticket in the next round.
Nick Kyrgios, however, faces a tough battle in the round of 16 of the event as he is scheduled to face Reilly Opelka tomorrow and that will be an uphill battle for the Australian as he has never won against the American.
Also read: WATCH: "Heat got into his head" Benoit Paire rips his t-shirt apart and throws it at the umpire after losing in the Washington opener
Also read: Silicon Valley Classic 2022: Paula Badosa vs Elizabeth Mandlik Live Stream, Match Timings, Prediction and Preview
Do follow us on: Google News | Facebook | Instagram | Twitter