22-time Grand Slam Champion Rafael Nadal who is on a Latin American tour playing exhibitions events with Norwegian World No.3 Casper Ruud is currently in Bogota, Colombia. During the event, a question was raised on the "Fedal" bromance and the Spaniard gave a hopeful reply to the packed Colombian crowd that he will be back together with the Swiss legend there for an exhibition event in the future.
Nadal started the talks with a description of how important Roger Federer is to him and his career. He, as a lot of times before, called Federer his greatest rival, "a good partner for a few years, perhaps the greatest rival of my sports career."
Then he hinted at one of the most wonderful news by saying he will probably play a doubles match with Federer in Colombia "He always told me about the great disappointment and sadness that this caused him. And honestly, from here, I say that I am confident that in the future I can be here with him, playing a game in front of all of us."
Roger Federer announced his retirement from professional tennis in the Laver cup and he chose Rafael Nadal to be on his side for playing his last match. The Spaniard flew from Mallorca just to play this match despite not fully recovering from the abdomen injury. The rivals on the court had always been the best of the friends off the court and the Laver cup event this year was the icing on the cake.
Related: Rafael Nadal says the GOAT race with Novak Djokovic and Roger Federer is 'NOT' what he wants to be remembered by as he reveals his ideal legacy
Rafael Nadal vs Roger Federer- Rivalry that transcended Tennis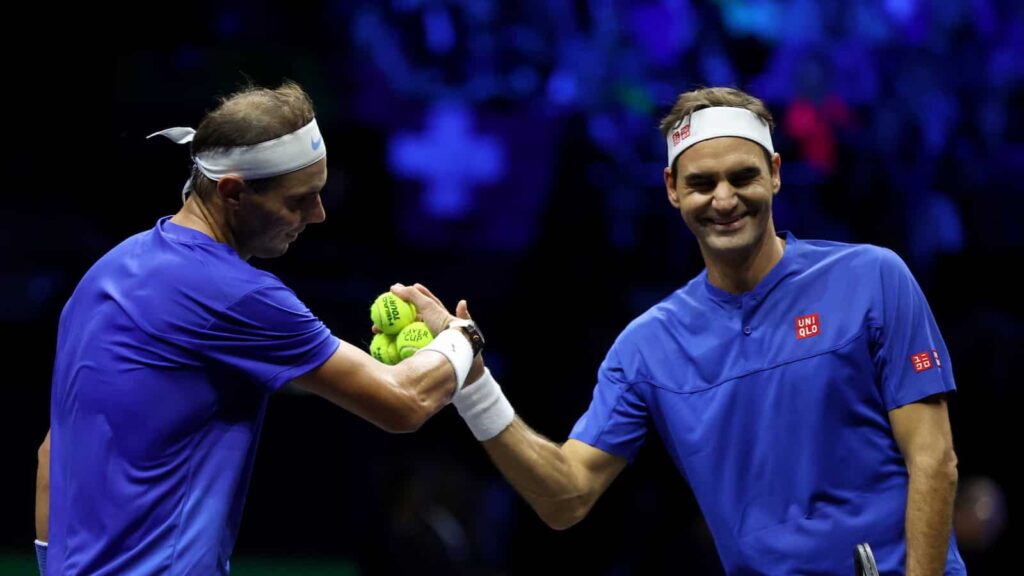 There was a time when Roger Federer was invincible and he was ruling the tennis courts all over the world. The peak he had between 2004 and 2007 still makes him relevant in the GOAT debate despite going below Rafael Nadal and Novak Djokovic in most of the stats.
Federer won 3 out of 4 Australian Open titles, won all 4 Wimbledon titles and US open titles between 2004 and 2007. That is 11 out of 16 slams won in four years. 3 of the slams Federer lost in this period were against Nadal in the French Opens. Nadal came like he was designed in a lab to beat Federer.
It seemed like Nadal was a secret project to take down Federer. He single-handedly stopped the dominance of the Swiss legend. The 'Fedal' rivalry took a new high when Federer finally defeated Nadal in a Grand slam match in the 2017 Australian Open final.
He had to wait for 10 years to finally beat Nadal in a slam match after the 2007 Wimbledon final and the first time he solved the Nadal puzzle outside a grass court on a slam match.
Their head-to-head still favors Nadal 24-16 overall and 10-4 in slam matches but Federer coped up with Nadal during the final years and beat him in 2 out of their last 3 slam matches.
Also Read: Fernando Verdasco admits to a violation of the Anti-Doping Policy as he gets charged with offense having suspension upto 2 years
Also Read: Serena Williams opens up about the perils of being no.1 in the world, said 'being in a relationship was hard' because she was used to being alone, in recent interview