Tennis great Rod Laver, after whom the Laver Cup is named, was in attendance at this year's edition which saw Roger Federer retire from professional tennis. With Federer's recurring injuries keeping him on the sidelines and ruling out any possibility of a return, the Swiss maestro had to forcefully retire.
Federer retired after playing the doubles match with Rafael Nadal in what was the final match of Day-1. Federer and Nadal lost to the American pair of Jack Sock and Frances Tiafoe and an emotional farewell was then given to Federer including a performance from Ellie Goulding.
Speaking about the farewell ceremony, Laver said, "It was an emotional night for all of us. To be able to witness the final match and to shake his hand on court at the end was truly special. I'm proud to call him my friend and that we have this legacy together through the Laver Cup."
Also Read: Rafael Nadal reveals how Roger Federer requested his presence at the Laver Cup despite his personal issues
Laver Cup was co-founded by Roger Federer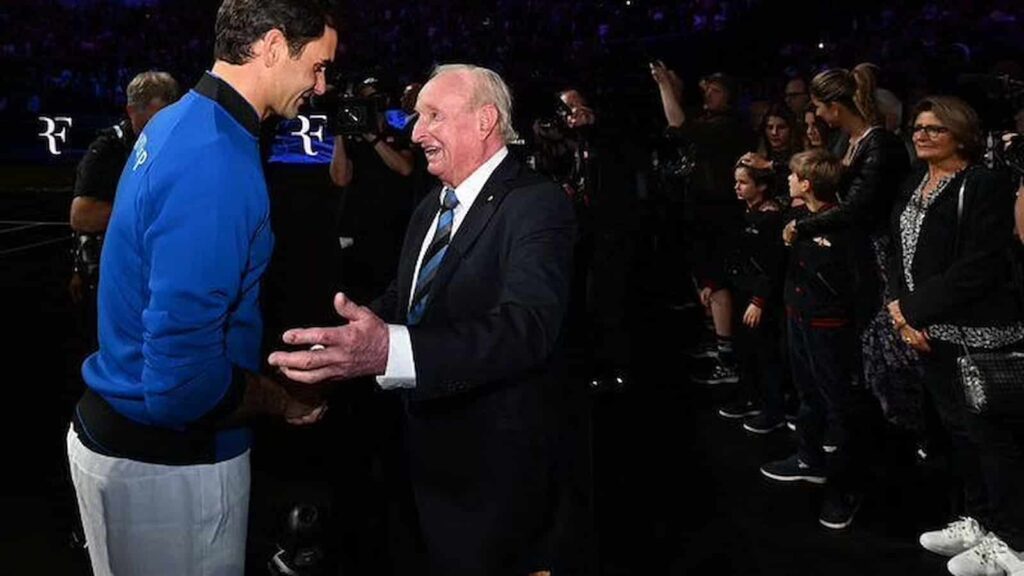 Copying the template of the Ryder Cup in Golf, Federer and his management company co-created this idea. While the initial two editions were not ATP events, since the 2019 season it was brought on the ATP calendar but no points are offered over the 3-day event.
With Rod Laver being one of the greatest champions in tennis, and to date, the only man in the Open Era to win all four majors in one calendar season, Federer found it fitting that the tournament be named after the Australian who also has the biggest court at the Australian Open named after him.
Laver is a regular guest at major events and his presence at Federer's farewell was special. After Federer's heart-warming and emotional speech on the court, Laver came down from the stands and congratulated the 20-time major winner for a successful and historic career.
Laver waited for Federer's family, his wife, kids and parents, to hug and comfort him before meeting the Swiss maestro. The two then had a small talk as the Australian great greeted Federer before returning to the stands as Federer waved a final goodbye to the fans before going to the locker room.
Also Read: Rafael Nadal divulges the memorable souvenir by Roger Federer after the Swiss maestro ended his 81-match winning streak on clay
Also Read: Novak Djokovic gives update on his 'worrying' wrist injury ahead of Tel Aviv opener