Roger Federer is in his first week of retirement but the tributes continue to pour in. The 20-time Grand Slam champion left the court for the final time after Day 1 of the 2022 Laver Cup. Federer went out in front of a packed O2 Arena in London and some of his biggest Tour rivals and friends.
Federer has a big connection to the UK as he won 8 of his 20 Grand Slam titles at the Wimbledon Championships, the most by any man in the Open Era. He was called for the Parade of Champions this year at the Grand Slam but former Wimbledon presenter Sue Barker, one of the finest ever, has hoped he gets a bigger honour.
"I'm not sure that's going to happen, I don't think they've done one for Fred [Perry] yet. They've only really done things for British champions. But I hope they do something. Maybe [renaming] part of the clubhouse? Because he has been such a huge part of Wimbledon.
"I hope the club will do a tribute for him next year. If I were in the job I would certainly be pushing to celebrate his career at Wimbledon," said Barker speaking on BBC radio months after retiring from Wimbledon duty after 3 long decades of work at the All-England Club.
Also Read: Novak Djokovic's doubles plan in Tel Aviv takes a massive hit as Jonathan Erlich withdraws
"I would never have thought that he would still be competing for Slams until the last couple of years,": Sue Barker on Roger Federer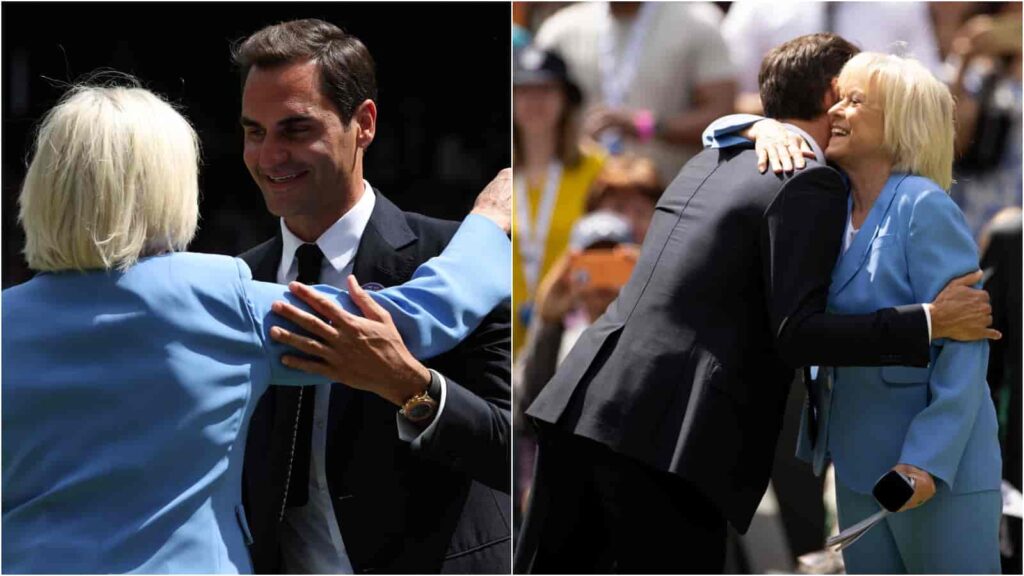 Having seen Federer win at Wimbledon right from his junior days, Barker had talked about how big a revelation Federer was in the sport. The Briton further went on to describe how Federer inspired people beyond tennis and how he deserves a special tribute from Wimbledon.
"Being a tennis player is not just about hitting tennis balls. He is the whole package, inspiring youngsters, being a role model both off the court and on. He got that from day one. Yes, he had a temper as a teenager but we never saw that on the big stage – he just learned to channel it.
"If you'd asked me that first time in 2003, I would never have thought that he would still be competing for Slams until the last couple of years. At that time, you didn't expect people to get past 30, let alone 40. But there is no question that he is the most admired and popular player I've known.
"It's been a privilege to sit and watch the rivalries and the matches over the years. Seeing the final against Rafael Nadal in 2008, I thought it was the greatest tennis I have ever witnessed. I never thought I would see anything like that again. But the players just keep getting better.
"And a lot of that is to do with the way Roger raised the level of the whole sport. He has been superb for the game," Barker said. While Wimbledon certainly paid a lot of video tributes for Federer on social media, no acknowledgement has been done on Barker's request.
Also Read: WATCH: Roger Federer's wife Mirka consoles Rafael Nadal and other Team Europe players during the Swiss maestro's farewell
Also Read: "What a liar" Fans call out Martina Navratilova over her persistent annoyance over Novak Djokovic's bodily autonomy situation