Novak Djokovic added another feather in his cap by winning his 7th Wimbledon title and 21st singles Grand Slam title defeating Nick Kyrgios in a thriller and exciting match at the Wimbledon Championship 2022 on Sunday, 10th July 2022. This is his first win of this year since he was exempted from the Australian Open 2022 and faced a defeat from Rafael Nadal in the quarter-finals at the French Open 2022.
Djokovic is married to his long-time girlfriend Jelena (since 2014) and has two kids Stefan and Tara. The Wimbledon final also marked his 8th wedding anniversary day. During the post-match interview, he dedicated his win to his wife Jelena, who has been his constant support for a long time. "This is my present" said the Serbian pointing out the trophy towards his wife.
Also Read: "It's almost impossible to understand" Alex Corretja baffled by Novak Djokovic's brilliance following his victory in the 2022 Wimbledon finals
"What a joy seeing them run on this legendary court!": Novak Djokovic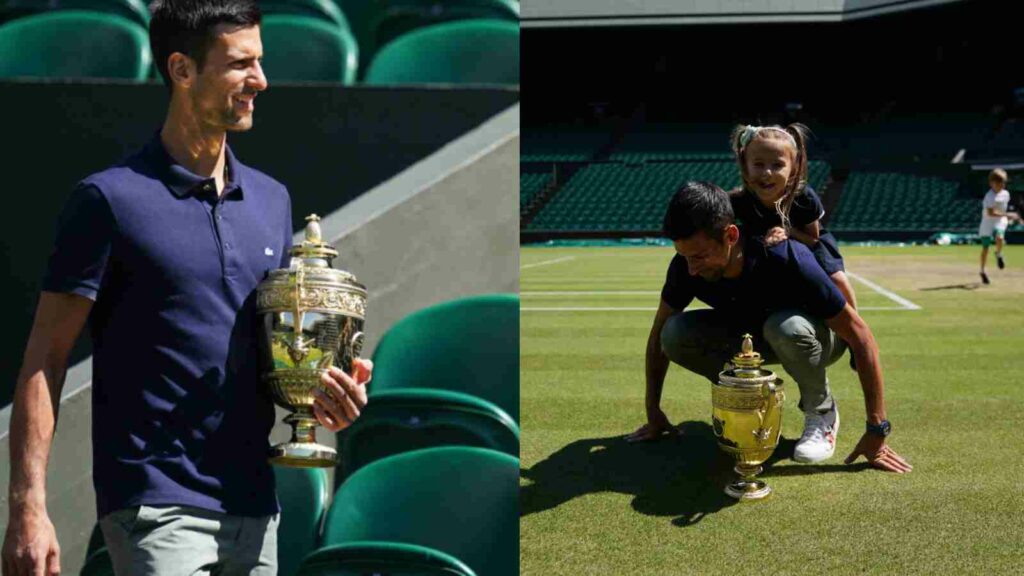 Djokovic along with his wife Jelena and kids Stefan and Tara, had private access to the empty Centre Court on the day post his win on Sunday. The Serb was over the moon to have an opportunity to share the moment with his family and thanked Wimbledon for giving him this opportunity. Before entering the Centre Court, he posed for pictures.
They enjoyed each and every moment and he was ecstatic seeing his children having a great time sprinting around the empty Centre court. It was a sight to behold when he was captured giving one final trip to his daughter piggybacking on his back around the venue. Djokovic shared the moments on his Instagram and sounded very happy, saying "He is taking home memories that will last for a lifetime ".
Also Read: Toni Nadal full of praise for 'Great champion' Novak Djokovic after winning his 4th consecutive Wimbledon title
Also Read: "He knows he can win a Grand Slam" Mats Wilander hopes Nick Kyrgios continues to play like he did in Wimbledon
Follow our page FirstSportz Tennis for the latest updates.