Roger Federer, the 41-year-old Swiss tennis professional is widely regarded as one of the greatest tennis players of all time. With 20 grand slam titles to his name, Federer has etched his name among the all-time greats of the sport. The Swiss maestro recently retired from professionally playing tennis after a legendary career.
The Swiss icon recently retired after competing at the Laver Cup. Rafael Nadal, Novak Djokovic, Andy Murray, and Roger Federer competed alongside each other for the first time in the history of the tournament. Everyone got emotional as Federer finally retired and that included his biggest rivals Nadal and Djokovic as well.
In a video posted on Twitter, Novak Djokovic is seen getting emotional and crying after Mirka Federer hugged the Serb.
Also Read: "I enjoy him just like you"- Argentina coach draws a parallel between Lionel Messi and Roger Federer
Novak Djokovic paid tribute to Roger Federer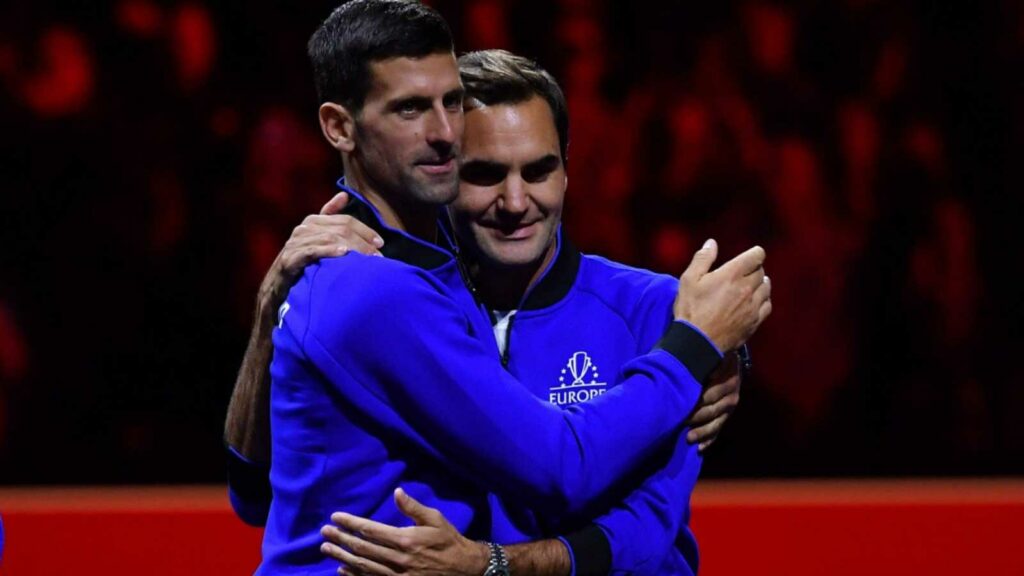 The Laver Cup made history as Rafael Nadal, Novak Djokovic, Andy Murray, and Federer all played alongside each other as they took on Team World. Nadal was visibly emotional seeing his longtime rival and friend Roger Federer finally call it quits from tennis. In a career that spanned over 2 decades, Federer surely left a mark on the tennis world.
Seeing the Swiss icon receive a legendary farewell, Novak Djokovic started talking about his own ideal retirement as well. He said,  "There is definitely one thing I would wish is that other than having my family and the people closest to me in my life there, I would love to have my biggest rivals there because it was something special and added importance to that moment."
Just like Nadal, Djokovic got very emotional during Federer's farewell as well. Fans took to Twitter to react to the video of Novak Djokovic crying after hugging Roger Federer's wife and seeing the Swiss icon hug his family in a heartwarming moment.
Also Read: Sue Barker hopes for a tradition-breaking honour for Roger Federer at Wimbledon, but knows the Club has "only really done things for British champions"
Also Read: WATCH: Roger Federer's wife Mirka consoles Rafael Nadal and other Team Europe players during the Swiss maestro's farewell