Nick Kyrgios never seems to stay out of trouble. His third-round encounter with Stefanos Tsitispas at Wimbledon 2022 drew a lot of attention due to the actions of both players. Kyrgios went into his usual rants, cussing the umpire, and line judges, and kept mumbling throughout the match. He also made certain sarcastic taunts during Tsitsipas's errors and the greek couldn't keep it together as he suffered a meltdown, whacked the ball in the crowd, and ultimately lost. But this time Kyrgios is involved in something much more serious.
Kyrgios's ex-girlfriend Chiara Passari had revealed the Australian's harassment and assault, but this time a legal notice came from her to appear in the Canberra court to face the charges. The domestic abuse charges can lead to a prison sentence of two years if Kyrgios is found guilty. It's a very serious allegation and something that can easily derail his career if he is found guilty. For now, Kyrgios is facing a lot of heat from the fans online. Given his persona and his behaviors, most of the people believe these charges to be true.
Also Read: Wimbledon star Nick Kyrgios charged with 'serious' allegations of assaulting ex-girlfriend Chiara Passari in Australia
Wimbledon chooses not to comment on the charges labeled against Nick Kyrgios.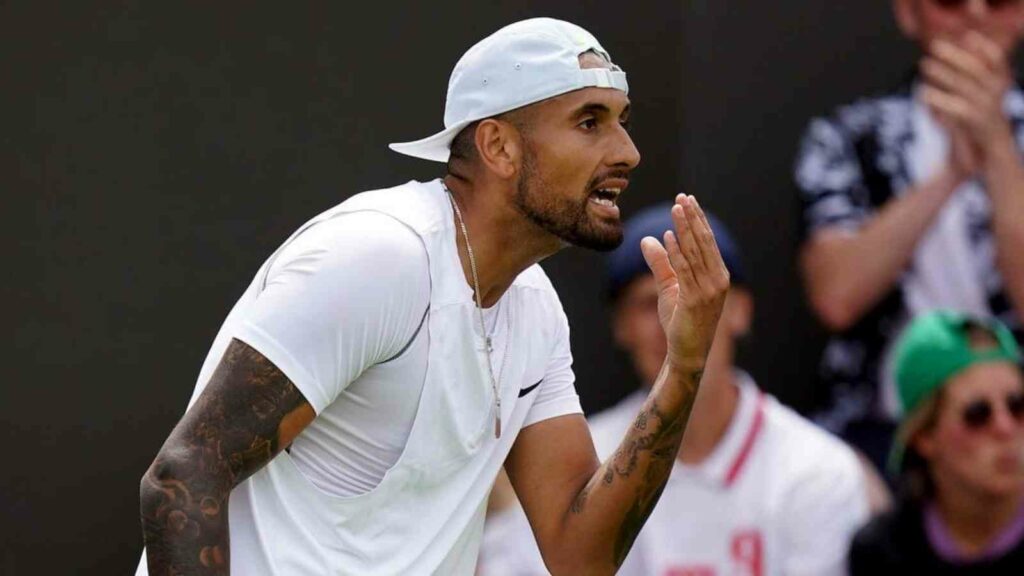 Kyrgios is in amazing form this Wimbledon as he reached the quarterfinal at SW19 for only the second time and after eight years from his first quarterfinal appearance aged 19. He will face Cristian Garin in an attempt to enter his first-ever Grand Slam semifinal. Kyrgios's focus remains on the biggest tournament of his life but his representatives issued the statement that Kyrgios will respond to these "inaccurate" allegations.
Meanwhile, Wimbledon issued its own official statement regarding the incident which goes as follows: "We have been made aware of legal proceedings involving Nick Kyrgios in Australia, and as they are ongoing, we are not in a position to offer a comment. We are in touch with Nick's team and he remains scheduled to play his quarter-final match tomorrow."
Also Read: "Listen Rafa sing and Adele play tennis" Iga Swiatek chooses a funny swap in response to a tricky question
Also Read: "People love Kyrgios," Mats Wilander compares Nick Kyrgios' popularity with Roger Federer and Andy Murray's at Wimbledon
Follow our page FirstSportz Tennis for the latest updates