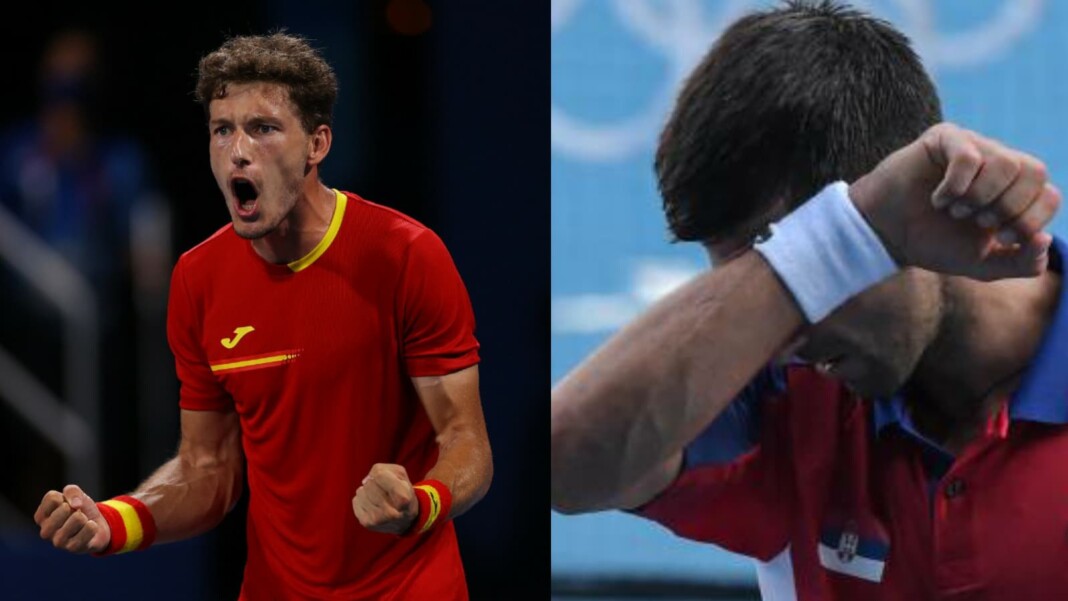 For the second consecutive day, Novak Djokovic had to bite the dust courtesy an inspiring performance by Spaniard Pablo Carreno Busta in the bronze medal match. Carreno Busta beat Djokovic in three sets 6-4,6-7,6-3 to clinch the bronze medal for Spain. Earlier, Djokovic had lost to Zverev and Carreno Busta lost to Karen Khachanov in the semifinals.
Djokovic was aiming to add another bronze medal to his tally. He had won the bronze in Beijing 2008 but he will now have to wait 3 more years to give a shot at an Olympic medal. It was evident on court how disappointed Djokovic was with his performance. He was frustrated, especially in the third set when he wasn't able to convert break points and made a lot of errors.
Both players started the match steadily on serve and were cautious with their gameplan. They were waiting for the other to make a mistake and hence, indulged in long rallies. Midway in the set, Djokovic handed a decisive break to the Spaniard, who capitalized it to win the set 6-4.
Djokovic started the second set with a lot more intensity and was positive from the baseline. He was digging deep and pushed Carreno Busta to the limit. But the Spaniard showed tremendous resilience at held his serve. Both the players were on serve and the set went into the tiebreaker. Djokovic took the early lead but the Spaniard bounced back. He had a match point but Djokovic won 3 points in a row to win the set and force a decider.
It was looking like Djokovic had finally found his groove but Carreno Busta had different plans. He came with a different gameplan in the third set and served out wide constantly on Djokovic's forehand. The strategy worked out well for him as he held serve brilliantly. He also broke a frustrated Djokovic's serve and took a 3-0 lead. Soon Djokovic was losing his grip on the match as he struggled to break Carreno Busta's serve. He needed 5 bronze medal matches to wrap up things and beat the top seed. Emotions were visible as Pablo Carreno Busta couldn't believe the magnitude of his achievement.
Also read: WATCH: Daniil Medvedev's savage destruction of his racquet at the 2020 Tokyo Olympics