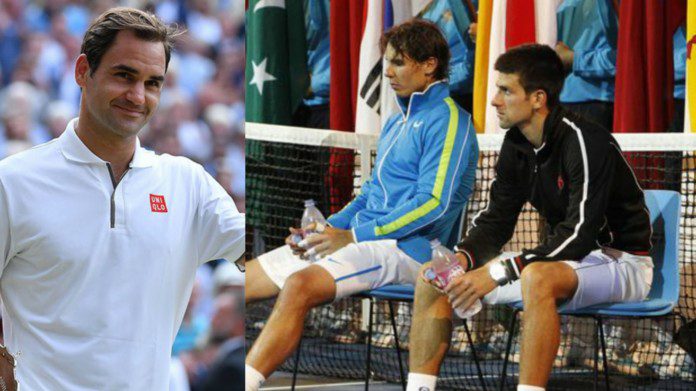 Roger Federer, Novak Djokovic, and Rafael Nadal are currently sitting together at the top of the list with 20 major titles each. It is believed that with the form that Djokovic is in, the world No.1 will hop over the other two and become the man with the highest no. of major titles in the history of Tennis.
There has been a debate between tennis lovers on how to declare the Greatest Of All Time between the three players. Many fans believe that winning the most no. of major titles is the best way of determining the same, but some fans believe other much more important stats should be considered while deciding the G.O.A.T.
Recently, it was revealed that under this very crucial tennis record the Swiss maestro has left Djokovic and Nadal behind. 
Best winning percentage in a season in Open Era
Currently, the Swiss maestro Roger Federer is at 3rd position on the list of the best winning percentage in a season in the Open Era, with a whopping 95.29 win percentage in 2005. Federer has also secured the 4th position with a winning percentage of 94.84% in the next year. 
Novak Djokovic is close on the 6th position with an impressive 93.18 winning percentage in the year 2015. Djokovic also features in the same list one more time for his performance in 2011, getting a winning percentage of 92.1%.
However, the Spaniard barely makes the list at the 20th position. He got a win percentage of 91.46% in the year 2013.
Deciding the Greatest Of All Time is a very subjective topic, each and every player or fan give importance to different types of statistics. Some people feel the era in which each player has played needs to be considered and some feel the era has nothing to do with the quality of the player.
So, even if Djokovic wins another major and overtakes Federer and Nadal, some of the fans will continue to believe that Federer and Nadal are the G.O.A.T.'s of tennis. However, the fans should be glad to watch three legends of the game, play together at the highest level of tennis. 
Also Read: "His chances are MUCH HIGHER" Rafael Nadal picks this player between Roger Federer and Novak Djokovic to surpass his 20 Grand slam tally!