World No. 1 Novak Djokovic and World No. 2 Daniil Medvedev are developing a bromance which many fans are starting to compare with Roger Federer and Rafael Nadal when they were battling each other in every big tournament and despite being the biggest rivals, they were as good friends off the court.
Medvedev and Djokovic are also making a habit of meeting each other in the finals of various competitions and are often seen sharing moments after the match irrespective of the results. Apart from battling for titles, the duo is also seen to approach the game and the rules in a similar manner and often speak openly on their respective point of view about off-court activities of the sport.
With both the players currently leading their respective nations at the 2021 Davis Cup Finals, Djokovic and the Serbians had to hope that the Russians win their doubles tie against Spain in order to secure qualification for Serbia as one of the two second-placed teams.
"Someday Novak will have to invite me to dinner for what we have achieved. It was funny because during the doubles match some Serbs, I won't say who, were texting us on cell phones, encouraging us to win. Anyway, this format favors these kinds of situations and we were only thinking about winning the game, it doesn't matter who we could leave out and who we couldn't," said Medvedev.
Novak Djokovic and Daniil Medvedev both yet to drop a set in singles match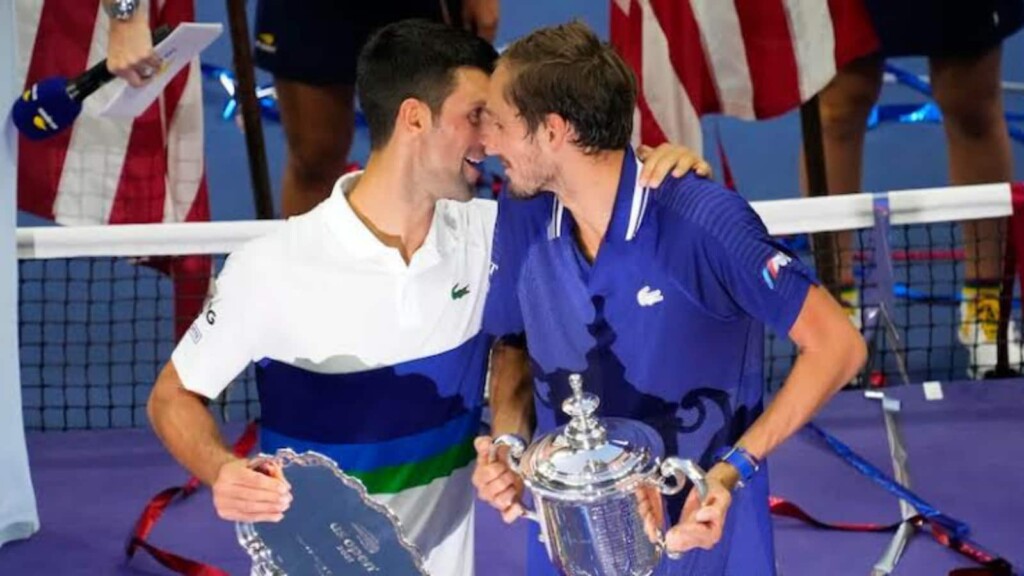 Djokovic started his campaign in Davis Cup this year against Dennis Novak and won the match 6-3, 6-2 in 58 minutes and then won a very important match against Jan-Lennard Struff 6-2, 6-4 in 1 hour and 12 minutes, with the win against Struff virtually dragging Serbia to the quarter-finals. Novak and Nikola Cacic's pair however lost the doubles clash against the Germans in a thrilling 2 hours and 16 minutes 3-setter.
Medvedev has not played any doubles match and won 6-0, 6-2 in 57 minutes against Emilio Gomez and then won against Pablo Carreno Busta in 1 hour and 28 minutes to win the match 6-2, 7-6.
Also Read: "Rooting for him" Emma Raducanu backs Lewis Hamilton for the title fight against Max Verstappen at Saudi Arabia GP