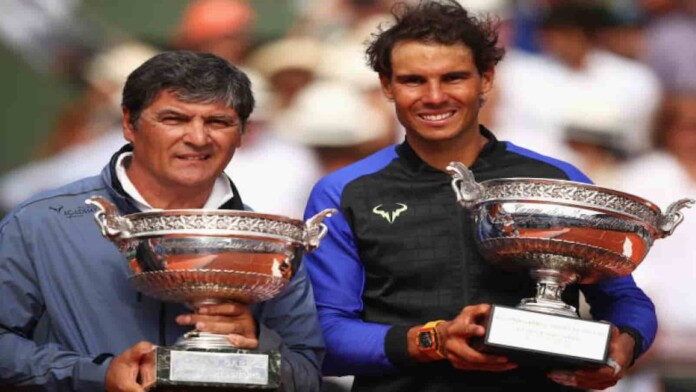 Toni Nadal has been the main architect of Rafael Nadal's career, as the duo have won 16 Grandslam titles together. Toni Nadal saw the spark in his nephew at a very young age, and coached him for over two decades. The 60-year old quit the Spaniard's coaching camp in 2016. He revealed that he never thought of coaching any other player except Rafael Nadal.
Toni Nadal joined Felix Auger Aliassime's camp last month, and stated that it is difficult to have a natural relationship with him, just as he had it with Rafael Nadal. "I never thought of training another player. The situation with Rafa was special. I have been training him since he was 3 or 4 years old. He was always my nephew in the first place," said Toni Nadal.
"That also had its advantages: I knew him and knew what is good. for him and how much I can expect him to do. It is not so natural with another player, but I am lucky to work with an athlete like Felix. He has great potential," he added.
Toni Nadal speaks on Rafael Nadal's chances at French Open 2021
Toni Nadal has seen Rafael Nadal win nine French Open titles from the player's box. Rafael Nadal celebrated the special occasion of winning his 10th French Open title in 2017, with his uncle, Toni Nadal. His former coach believes that Rafael Nadal finds it difficult to win Roland Garros every year, but he would take some confidence from his victory at Italian Open 2021.
Rafael Nadal claimed the Rome Masters title a few weeks ago, after defeating Novak Djokovic in a thrilling finale. Nadal also defeated Djokovic in the finals of French Open last year, to claim his 13th French Open title.
"For Rafael is it increasingly difficult to win the tournament every year but recently played three really good in Rome, that will give you a lot of confidence for I have the best chances, we have it in our own hands. No, excuse me, it's in your own hands," said Toni Nadal.
Also Read: "I'd be totally supportive of weighted clay seeding for RG ," Andy Roddick raises a question over Rafael Nadal being third seed at French Open 2021