Walking into the Arthur Ashe Stadium for the finals of the US Open 2021, Novak Djokovic was the favourite for the title as he looked to achieve one of the most difficult feats in tennis, the Calendar Slam. Having all 3 of the previous Slams this year, a victory in New York would have made Novak only the 2nd player after Rod Laver in 1969 to win all 4 Slams in a single calendar year in the Open Era.
Things however did not go well for the Serbian who lost 4-6, 4-6, 4-6 to World No. 2 Daniil Medvedev who went on to claim his maiden Grand Slam title in his 3rd Grand Slam final. Medvedev did not allow Novak to get into his groove and held his serve and won the crucial points to close out the sets one by one and eventually lifting the trophy.
It has been a long year for the Serbian who has had a long gruelling season and with the bio-bubble restrictions, it has certainly taken a toll on the players' fitness and Djokovic was no different. It all caught up for him during the 3rd set when he got a break against the Russian and during the break between games, broke down in his towel and struggled to hold back his tears for the remainder of the match.
Novak Djokovic ends the Grand Slams this year with a 27-1 record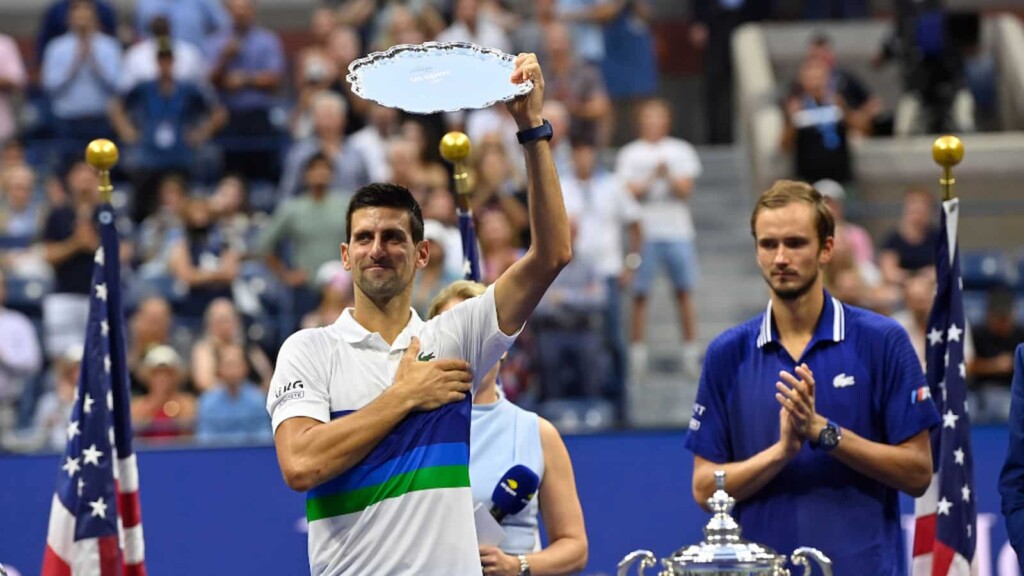 Novak came to the US Open 2021 with a 21-0 record in Grand Slam matches this year and looked to make it 28-0 to achieve the Calendar Slam. He came very close to achieving it but a defeat in the finals ends his Grand Slam season for this year at 27-1, a record in itself as no other player had ever come so close.
When asked about will he go for the record again next season, Novak refused to comment anything on his future saying, "To be honest, I don't have a plan, absolutely nothing. I don't know whether I'll play anything, anywhere. Right now, my mind is only here, in New York."
Also Read: Novak Djokovic fined $5,000 after the US Open 2021 finals