Novak Djokovic continues his dominance at the All-England Club as he wins his 3rd consecutive Wimbledon title, winning his 6th Wimbledon title and his 20th Grand Slam title at the Wimbledon 2021.
Djokovic was up against Italian Matteo Berrettini in the finals of the Men's Singles and despite having lost the first set, came back to win the Championship 6-7(7), 6-4, 6-3, 6-3 to win the title in 3 hours and 24 minutes.
Djokovic after winning the Grand Slam went to his team cheering for him in the Players' Box doing the famous climb that was done even by Ashleigh Barty yesterday after winning the Women's Singles.
Novak Djokovic wins his 3rd Grand Slam of the year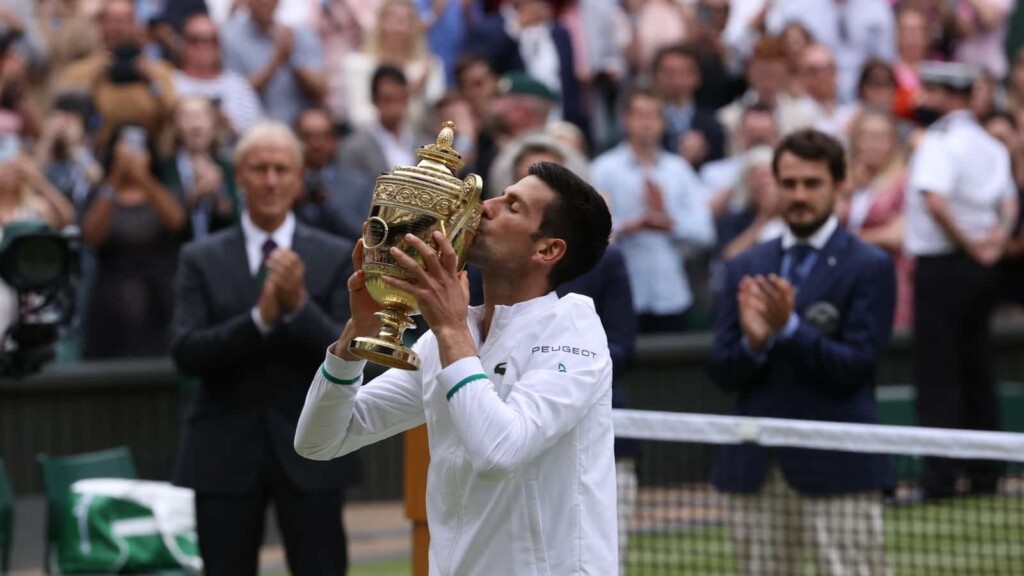 Novak Djokovic continues his dominant run at the Grand Slams this year making it 3/3 Grand Slams this year. Djokovic won his 9th Australian Open title at the 2021 Australian Open, his 2nd French Open title at the 2021 French Open and now wins his 6th Wimbledon title at this year's Championships.
Djokovic comes level with his fellow Big-3 members Roger Federer and Rafael Nadal to 20 Grand Slams each. Federer was the first to reach the 20-Grand Slams mark followed by Rafael Nadal. Djokovic levels with them today after his win at the All-England Club.
Also Read: Sweet 20! Unstoppable Djokovic obliterates Berrettini, wins Wimbledon for the 6th time