WTA superstars were recently challenged in the famous Dexterity Challenge with 60 seconds on the clock having a minute to win it. The players were supposed to hold the metal hook and take it from the white marked spot to the green marked spot with a minimum number of beeps. The beeps came whenever there was contact between the hook and the wire that was twisted and turned.
The WTA Tour had Victoria Azarenka, Iga Swiatek, Sloane Stephens, Jennifer Brady, Madison Keys and Belinda Bencic participating in the fun activity. Azarenka went first and in a rush to finish the event as quickly as possible she had 10 beep alerts while Swiatek showed great determination and finished with only 3 beeps.
Next up was current Olympics Gold medallist Belinda Bencic who was quite nervous and it showed with 11 beeps to her name and she was followed by Madison Keys who matched Swiatek's performance with only 3 beeps. Jennifer Brady was the next one and was breaking into laughs often that saw her shaky hand hit the metal wire 16 times.
Last but not the least, it was Sloane Stephens who took on the challenge and showed some great concentration, managing to complete the challenge without a single beep and winning the challenge amongst the 6 players.
The final scoreboard was:
Sloane Stephens – 0
Iga Swiatek – 3
Madison Keys – 3
Victoria Azarenka – 10
Belinda Bencic – 11
Jennifer Brady – 16
Iga Swiatek is the only player in race for the WTA Finals 2021 amongst the 6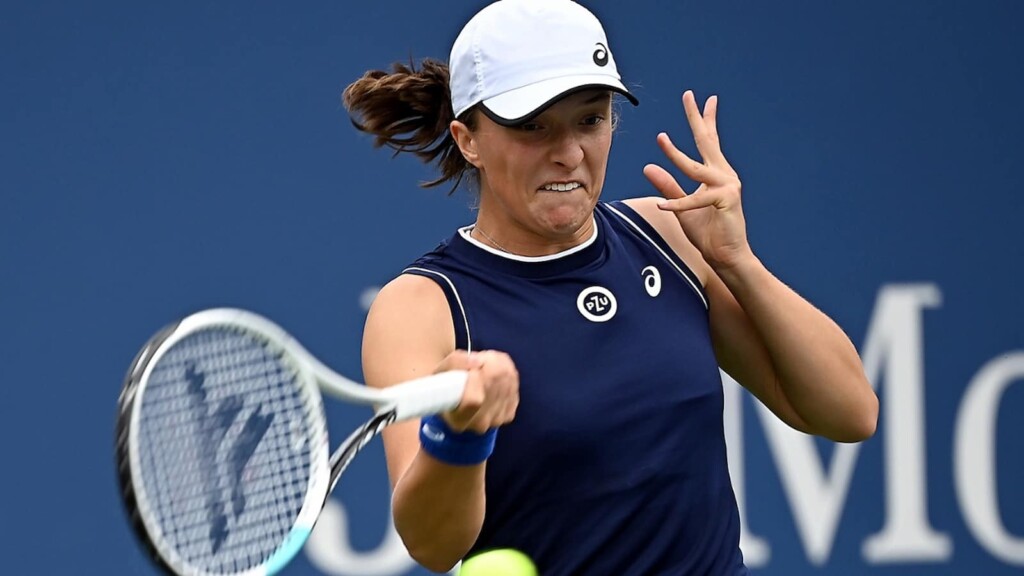 Iga Swiatek has currently 3226 points in the race for a qualification spot for the WTA Finals 2021 and is on the 5th spot. With only 4 more spots remaining, Iga stands a very good chance to make it to her debut Year-end championships that will be held in Mexico in November this year.
Of the 6 players who participated in the challenge, Bencic is on the 19th spot followed by Azarenka who sits on the 20th spot. Brady is on the 27th spot, Sloane on 47th and Keys on the 63rd spot in the race to the finals.
Also Read: WATCH: "Hope to see you there" Emma Raducanu invites fans at the upcoming 2021 Upper Austria Ladies Linz tournament