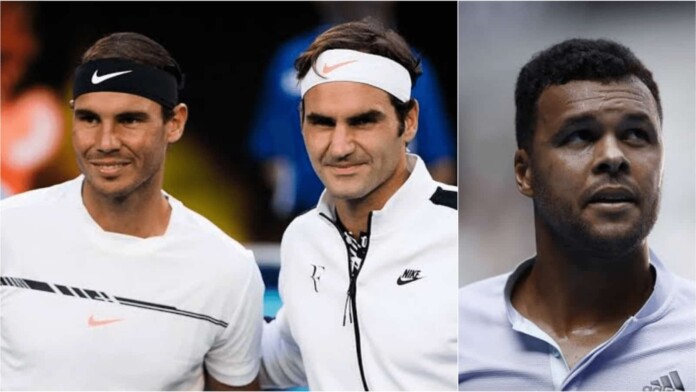 The GOAT Debate is one of the most talked about things in tennis. The debate involves three of the greatest tennis players of all time- Novak Djokovic, Rafael Nadal and Roger Federer. Tennis fans, pundits have different parameters in declaring their pick for the GOAT title. Jo-Wilfried Tsonga had his own version of the debate, which involved only Roger Federer and Rafael Nadal.
Jo-Wilfried Tsonga has been on the tour for a long time, and is one of the most experienced players on the circuit. The career defining moment for him came in 2008, when he reached the Australian Open final, losing to Novak Djokovic. The 36-year old has not played much tennis this year, and will hope to do well at French Open 2021.
Jo-Wilfried Tsonga heaps praise on Rafael Nadal
Jo-Wilfried Tsonga waxed lyrical on Rafael Nadal, and believes that the Spaniard is playing at his highest level, even in his mid-30s. The Frenchman compared Nadal to Roger Federer, and stated that the former was five years younger than the Swiss, which gives him an opportunity to win more majors.
Rafael Nadal claimed his 20th Grandslam title at the French Open last year, which drew him level with Roger Federer. Tsonga believes that if the Spaniard wins more majors, then the GOAT debate will settled there and then.
"What Rafael Nadal is doing is just amazing. And he is five years younger than Federer! If he will end up winning more Major titles than Roger, the GOAT debate will not even exist," said the Frenchman.
Jo-Wilfried Tsonga was defeated in the first round of his home tournament in Lyon. The 36-year old lost in straight sets to the American, Tommy Paul which continues his poor start to the season.
Also Read: Roger Federer says "he will not win the French Open" and whoever thought he could win was "Wrong!"