Day-10 of the Wimbledon 2021 will see the semi-finals of the Women's Singles being played along with all the Double Events and the Junior events continuing as well. The Day-9 of the Championships saw the quarter-finals of Men's Singles played out which saw former Champion Roger Federer knocked out of the tournament in straight-sets by Hubert Hurkacz.
Wimbledon 2021 Order of play for Thursday, 8th July 2021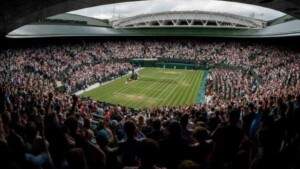 The Women's semi-final will see 3 players making their semi-final debut at the Wimbledon apart from former champion Angelique Kerber who won the title at the 2018 Wimbledon Championships.
CENTRE COURT (1.30PM)
COURT 1 (1.00PM)
Reserved for Doubles Event
COURT 2 (11AM)
Reserved for Junior Singles
Reserved for Doubles Event
COURT 3 (11AM)
Reserved for Junior Events
COURT 4 (11AM)
Reserved for Junior Events
COURT 5 (11AM)
Reserved for Junior Events
COURT 6 (11AM)
Reserved for Junior Events
COURT 7 (11AM)
Reserved for Junior Events
COURT 8 (11AM)
Reserved for Junior Events
COURT 9 (11AM)
Reserved for Junior Events
COURT 10 (11AM)
Reserved for Junior Events
COURT 11 (11AM)
Reserved for Junior Events
COURT 12 (11AM)
Reserved for Junior Events
COURT 14 (11AM)
Reserved for Wheelchair Event
COURT 15 (11AM)
Reserved for Wheelchair Event
COURT 16 (11AM)
COURT 17 (11AM)
Reserved for Wheelchair Event
COURT 18 (11AM)
Reserved for Junior Events
Also Read: "I would like to play Wimbledon again but at my age, you never know what's around the corner" Roger Federer reacts after Wimbledon 2021 exit