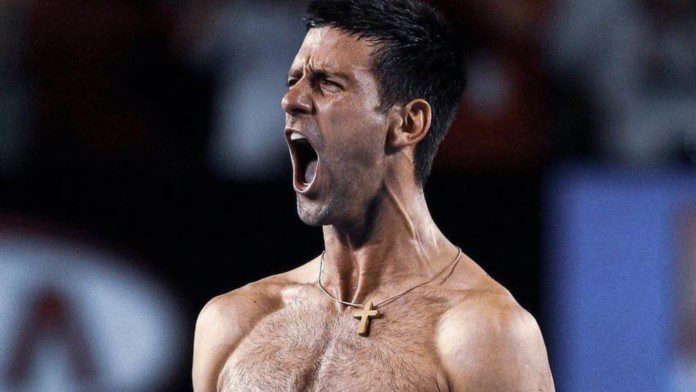 Novak Djokovic's 2021 season was one for the record books. He registered 55 wins and only 7 losses. For the second time in his career, he picked up 3 out of the 4 grand slams in one calendar year. He won the Australian Open by defeating Daniil Medvedev, the Roland Garros against Stefanos Tsitsipas, and the Wimbledon against Matteo Berrettini.
However, his dreams of a Calendar Slam and a Calendar Golden Slam were shattered by Medvedev (US Open finals) and Alexander Zverev (Tokyo Olympics semifinals) respectively.
Despite these two heartbreaking losses, Djokovic finished the season on a strong note. Novak Djokovic won 5 titles in 2021. In addition to 3 grand slam crowns, he picked up titles at Belgrade and Paris.
His loss the US Open finale was followed by a long hiatus. He finally returned to the tour at the Paris Masters tournament, held in Bercy, France. In the week spanning the last Masters 1000 event of the year, Novak Djokovic went about breaking records in a relentless manner. He overtook Roger Federer as the world no. 1 with most wins. He also became the first male player to be crowned year-end world no. 1 seven times.
The 34-year-old is currently in 350th week as the world no. 1. As such, his dominance on the tennis scene is clearly visible. With 20 grand slams under his belt, Djokovic has won over $150 million in prize money. Along with fabulous rewards, the Serb has also been on the receiving end of several lucrative endorsement deals. He is sponsored by brands like Peugeot, Lacoste, ASICS, Seiko and Head. He has been working with Peugeot for over 7 years, having first associated with them in 2014.
Recently, French automobile manufacturer Peugeot released its latest advertisement featuring the Serbian legend.
"Silence is the best way to be heard" – Novak Djokovic in latest Peugeot Ad
Peugeot released a 15-second ad promoting their all-electric car with no noise and no emissions. The video starts with a young Nole, upset over a point, and eventually pans out to a dedicated adult version of him.
It was captioned: "You were phenomenal this year, @DjokerNole! Silence speaks more than words, but we're sure your talent will make some noise in 2022. Bravo Champion."
Also Read: Novak Djokovic not sure about featuring in the Australian Open, will play Paris, ATP Finals, and Davis Cup