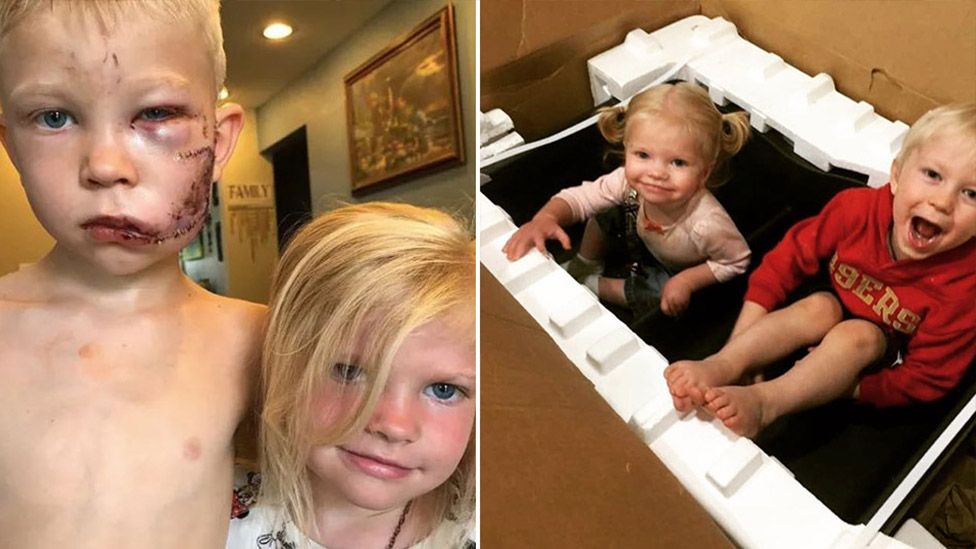 The 6-year-old from Cheyenne who became an overnight sensation for heroically saving his younger sister from a charging dog. The firm efforts to save his sister were enough to shoo the dog away, but it gave the young boy 90 stitches on his face.
His aunt, Nikki Walker shared the story on Instagram quoting, "Hey, all. Please, share my nephew's story so that it gets as much exposure as it can. We know that our little hero would love some words of encouragement from his favorite heroes. On July 9th, my six-year-old nephew Bridger saved his little sister's life by standing between her and a charging dog. After getting bit several times on the face and head, he grabbed his sister's hand and ran with her to keep her safe."
He later said, "If someone had to die, I thought it should be me." After receiving 90 stitches (give or take) from a skilled plastic surgeon, he's finally resting at home. We love our brave boy and want all the other superheroes to know about this latest hero who joined their ranks."
There has been absolutely nobody who is aware of this story and hasn't praised the young lad for his resistance against the dog. Even Real Life Captain America, Chris Evans sent him a personalised video, to tell about his plans of sending him an actual shield.
Also WBC awarded him with the honorory World Champion belt, calling him "the bravest man on earth."
Bridger Walker- The Jiu-Jitsu student
His father released it in an interview, that when he asked his son, why he did 'that', he said, "If someone had to die, I thought it should be me." This isn't just a statement but an emotion. Bridger Walkers trains with the dad in Brazilian Jiu-Jitsu at Black Label BJJ Cheyenne Academy.
On this story, Robert Walker said in a comment, "Over the last two years, Bridger, his father, and his older brother have taken on the great challenge of training in Brazilian jiu-jitsu at their local academy. Bridger has always been one of the youngest and smallest in the class. The size difference has given him the opportunity to confront larger and more experienced opponents regularly. Even though he is often short on attention, Bridger has grown in maturity and ability. We can honestly say that his closest friends train with him at Black Label Jiu-Jitsu."
There is no greater lesson in this world than to teach your kid the value of love and affection for your family. Young Walker surely realizes this. Also, his actions are worthy to deserve the warmth and affection of people all over the world.
Also Read: 6 year old Bridger James, who shielded his sister from a dog, receives world champion belt