The Roger Federer Foundation was established in 2004. Their mission is to shape a bright future for underprivileged children. The foundation principally supports the educational projects in the region of southern Africa and Switzerland. Presently it takes care of over one million kids.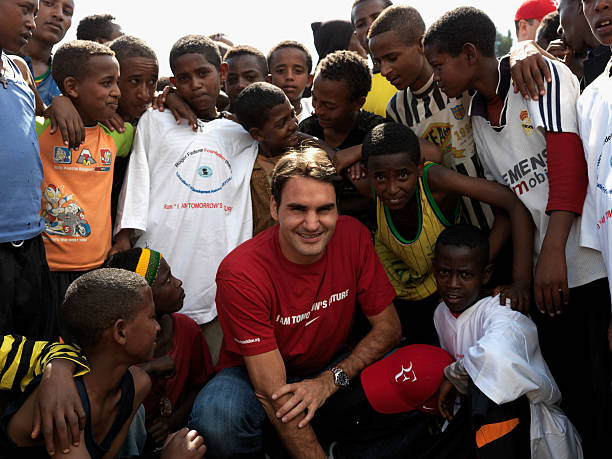 The foundation believes education is the most powerful weapon with which an individual can ever have and education has the power to change the world. Their prime focus is on academics. As their guiding principle states "children should be ready for school and schools ready for the children."
Last year the foundation crossed the bar of one million children benefiting from the programs promoted by the Swiss legend's charitable activities. The CEO of the Roger Federer Foundation, Janine Handel said: "there was no other possibility than achieving this goal because Roger always achieves his goals."
The work of Roger Federer Foundation during the pandemic
The 2020 Annual Report for the 'Roger Federer Foundation' is out. 2020 was a challenging yet opportunistic year for the foundation due to the COVID-19 pandemic. The foundation did a fantastic job last year. They helped the underprivileged all around the world during these tough times.
Federer said: "I'm proud of the incredible work we have been able to achieve in 2020. It was a year where we needed to be versatile and resilient. Thanks to everyone who worked diligently to help us achieve our goals."
Roger Federer Foundation's official twitter handle tweeted: "Our Annual Report 2020 is out! We reflect on an intense year as we proactively responded to the pandemic with special interventions, but also continued our regular programmes by acting flexibly. We will continue to do this with full vigor. #education https://buff.ly/3eusTCj"
The foundation is supported by a significant number of philanthropists. They are Credit Suisse AG, Wyss Foundation, Fondation Botnar, Rolex SA, Roche Employees Action and Charity Trust, Educate a Child Foundation, Bill & Melinda Gates Foundation, Jacobs Foundation, J&K Wonderland Foundation, Lindt & Sprungli (International) AG, The Starbucks Foundation, Green Leaves Education Foundation, Jura, tibits, Golf 4 Africa, Fondation Alfred & Eugénie Baur, Gebrüder Knie – Schweizer National-Circus AG and fans4roger.
Also read: Holger Rune excited with the prospect of training alongside Novak Djokovic