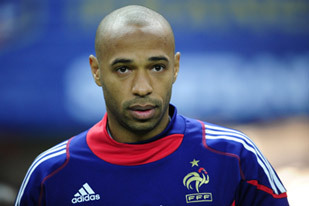 Former Arsenal and Barcelona star Thierry Henry has announced that he will no longer be active in social media after the numerous cases of racism and harrassment. The French mam said that until and unless some serious action is taken by the tech giants he will not be returning any time soon.
Thierry Henry quits social media over increasing cases of racism
In his message Thierry Henry says that he will deactivate his account up until people can learn to become civil. Moreover he says that the tech companies should be more serious in such matters as they seem to be more concerned about copyright infringement. Henry believes that nowadays it's far too easy for people to open an account on social media and harass others.
Henry said: "I wanted to take a stand and say that it is an important tool that unfortunately some people have turned into a weapon.
There are a lot of issues out there. But I was also thinking: 'Do I wait or do I do something that I feel strongly about, about my kids, about my community and about what's happening all there?
"There are people coming out with great statements but how do you stop all those comments going on your platform? How do you stop?
His decision has arrivedafter several high profile Premier League players have been targeted online, with Arsenal players Eddie Nketiah, Granit Xhaka, Willian and Hector Bellerin all facing abuse online.
ALSO READ: Chelsea fans rave over central defender in terrific current form