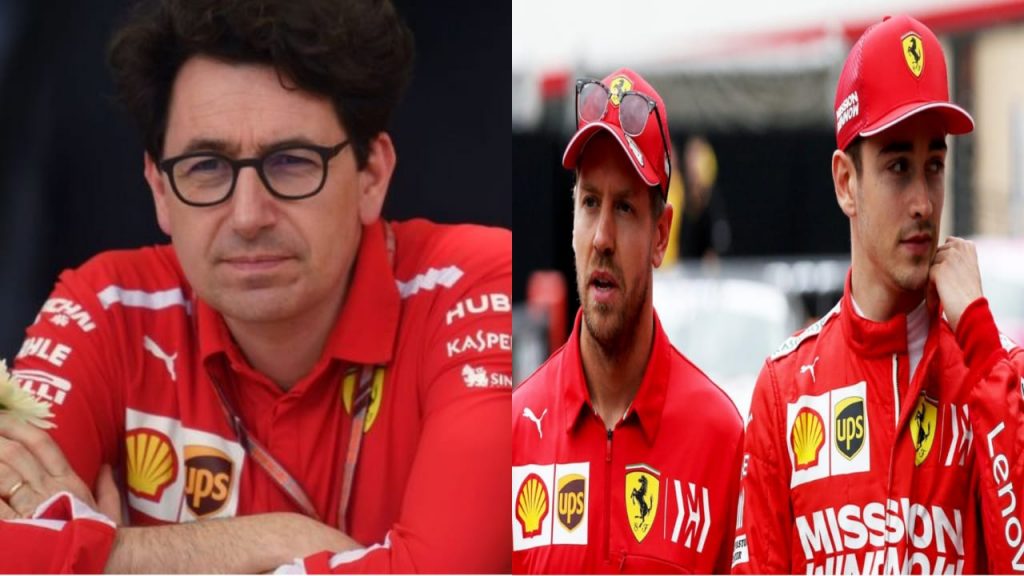 Sebastian Vettel had his last year of contract left Ferrari in 2020. But as the pandemic ruptured the season, Vettel had no idea that his long-term team has shifted focus from him to the Monegasque Driver, Charles Leclerc. The latter has outshined Vettel since his first season in 2019. Ferrari was mightily impressed with championship-caliber driver coming out of their own academy. 
Team Principal Mattia Binotto reveals how the Ferrari Team shifted their focus form Sebastian Vettel to Charles Leclerc and maintained their peace with it. With the sport getting wilder race after race, Ferrari decided to place its egg in Leclerc's basket. With 4-Time Champion, Sebastian Vettel out, Binotto narrates the entire change in the team. 
Mattia Binotto emphasizes on Ferrari's focus shifting form Sebastian Vettel to Charles Leclerc 
"I think Sebastian is a great person, a great driver, and we had some great moments together – but I think it was time to take a different decision and to move forward," Binotto explained on the decision to let go of the German Driver.
"We will have a very young line-up in the future, the youngest Ferrari line-up since 1968, but those two drivers, Charles and Carlos, are very strong, very talented, and even though they are young, they have some good experience in F1. So, I'm very happy about the choice," said the Swiss-born engineer.
For a team that is hanging by its past glory. Only time will tell whether or not this decision is right or not. But one thing is for sure, either Ferrari has to risk it all for Leclerc to stay. Or this road is about to get a lot nastier for the team in near future. Having said that, the FIA has postponed the Australian Grand Prix, now all eyes would be set for the event in Bahrain to see who performs and how. 
Also Read: Team McLaren sends heart-warming message to Daniel Ricciardo's fans after Australian…