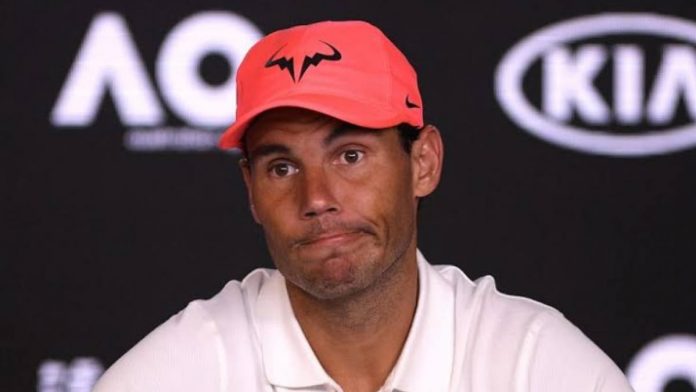 On the eve of the Australian Open 2021, Rafael Nadal came and faced the press ahead of his first round encounter against Laslo Dere. Although he did not go into minute details, it was amply clear that Rafael Nadal still hasn't recovered sufficiently from his back injury. A cause for worry and disappointment for tennis fans all over the world.
The back injury that just doesn't go away
" For the last 15 days I have been suffering with the back. I started to have the feeling in Adelaide after one practice. It isn't serious, but the muscle is still tight, so it's difficult to play with the freedom of movement. "
It was because of the uneasiness he experienced in the back, that he withdrew from the ATP Cup. The bigger goal for Nadal and his team is to compete and win the Australian Open. With Nadal on the verge of going past Federer, and Federer not competing this year, this grand slam is doubly important for Nadal.
The Nadal camp is a little low
"The whole positive feelings that I had one week and a half ago, two weeks and a half ago now disappeared a little bit, of course, because I was not able to practice the right way the last week and a half," he said.
Nadal was in decent form coming into the Australian Open. A win at the French Open and semifinal finishes in other major tournaments and things were looking good. But an injury, and the subsequent rest and recovery process has affected his preparation. So much so that the early optimism in his camp has disappeared.
Nadal hoping to recover in time for his match in time
"I did a lot of things to recover. It's not serious, but the muscle is still tight, so it's difficult to play with freedom of movements today. Let's hope (the) situation keeps improving. We are doing everything."
Nadal said that he and his team, of doctors, physios etc. are doing everything they can to ensure he recovers in time. Although he can't say when he will recover for sure, but he did say that he was hoping for a quick turnaround. At this stage fans around the world can just pray and hope that prayers are heard by the almighty.
Also Read : Australian Open 2021: Elina Svitolina vs Marie Bouzkova – Preview, Head-to-Head and Prediction