Name
Elavenil Valarivan
Date of Birth
2 August 1999
Birth Place
Cuddalore, Tamil Nadu
Current World Ranking
1 (2021)
Sport/Event(s)
Shooting – Women's 10m Air Rifle
Major achievements
Gold at ISSF World Cup Finals 2019
Gold at ISSF Rio de Janeiro World Cup 2019
Golds at 3 ISSF Junior World Cups (2018 and 2019)
Silver at 2018 Junior World Championships
Current junior team World Record holder (1883.3)


Elavenil Valarivan first burst on to the scene by winning the 2018 Sydney ISSF Junior World Cup gold. More remarkable than the gold itself was her qualification score of 631.4. Indian fans were accustomed to seeing Chinese and Europeans shoot high scores of 630+. But to see a 19-year old Indian dominate the competition in such a manner showed that a special talent was on the horizon.
Elavenil Valarivan's rise in 2018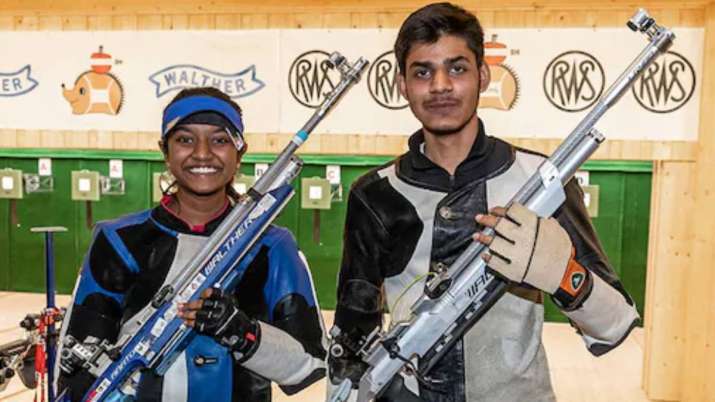 The stellar display by Elavenil and other young shooters caught the attention of none other than PM Narendra Modi himself. The team of Elavenil, Shreya Agrawal and Zeena Khitta had also set a new junior team World Record of 1876.5 at Sydney.
Elavenil was another new name in the Indian Women's 10m AR circuit which was witnessing a renaissance. The senior national team spots were filled by equally talented shooters such as Apurvi Chandela, Anjum Moudgil and Mehuli Ghosh. 'Ela' consequently had to be content with a place in the junior squad where she made full use of her opportunities.
Later in 2018 she won another Junior WC gold at Suhl, Germany. Her scores read 630.5 in qualifications and 251.7 in the finals. Together with Divyansh Singh Panwar, she also won the Mixed AR gold at Suhl.
The biggest competition of her career at that stage was the 2018 World Championship at Korea. Though her qualifying score was an impressive 631, she had to be satisfied with a silver in 10m AR junior.
With such astonishing scores, it was obvious that Elavenil was knocking on the doors of the Indian senior team. However her big moment under the limelight at the 2018 Asian Games did not have the best of beginnings. She shot an uncharacteristic 620.8 in Jakarta and could not qualify for the finals.
The talent was there, it needed more experience at the senior level.
Elavenil Valarivan's 2019 Season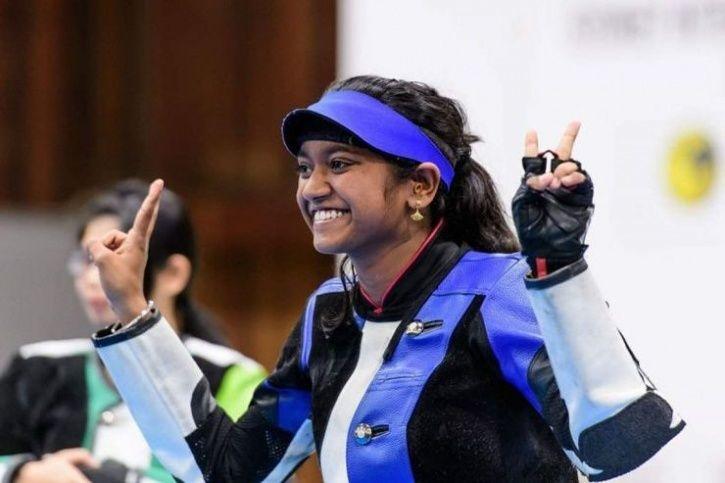 The Asiad setback not withstanding, Elavenil had booked a spot in the senior team. Mehuli Ghosh's inconsistent scores led to Ela being announced as her replacement. The 2019 Junior WC at Suhl where Elavenil won gold ahead of Mehuli sealed the debate in favour of the former.
At Suhl 2019, the trio of Elavenil, Mehuli and Shreya Agrawal shattered the previous year's junior team World Record after scoring a combined 1883.3.
Like at the Asian Games, Ela's debut at the ISSF World Cup did not go down as well as she would have hoped. At the home World Cup at Delhi, she only placed 30th with 625.3.
As the year went on though, she got better and better. At the Munich WC, she finished 4th despite a stunning qualification score of 632.7. Her first medal, a gold, came at the 2019 Rio de Janeiro WC.
The best moment of Ela's career was reserved for last. She won the gold at the prestigious 2019 ISSF World Cup Finals at Putian, the competition where only the world's top shooters are invited. She shot 631.1 in the qualification and 250.8 in the thrilling finals match, in the process becoming World No.1, the place which she still holds till date.
Elavenil Valarivan at Tokyo Olympics
The competition for the Indian Olympic squad was so tough that Elavenil was not guaranteed a place despite being World No.1. Quota winners Apurvi and Anjum were still ahead of her in the NRAI rankings. Things changed over the course of the 2020 pandemic and 2021 selection trials with Elavenil even bettering Apurvi's finals World Record in one trial.
Coupled with Apurvi and Anjum's indifferent form, this meant that Elavenil was the front-runner in both the individual and mixed team events. Talking of 2021 competitions, Ela shot a solid-if-not-spectacular 626.7 at the Delhi WC but followed it up with a terrific display in the European Championships in both individual and mixed.
Elavenil, whose name means 'the spring season' in Tamil, would be hoping to bloom from a talented youngster into an Olympic medalist. She is fortunate in being guided by one of the best mentors in London 2012 Olympic medalist Gagan Narang.
Elavenil's individual event is on 24th July (incidentally the same day as that of Mirabai Chanu). If Ela can show the kind of consistency that has stood her in good stead since 2018 and does not get bogged down by nerves, she has a good chance of making it to the finals at the very least. Fans of course would be hoping to see her sport that infectious grin on top of the podium.
Also Read: Know your Olympian – Neeraj Chopra | Mirabai Chanu | Bajrang Punia