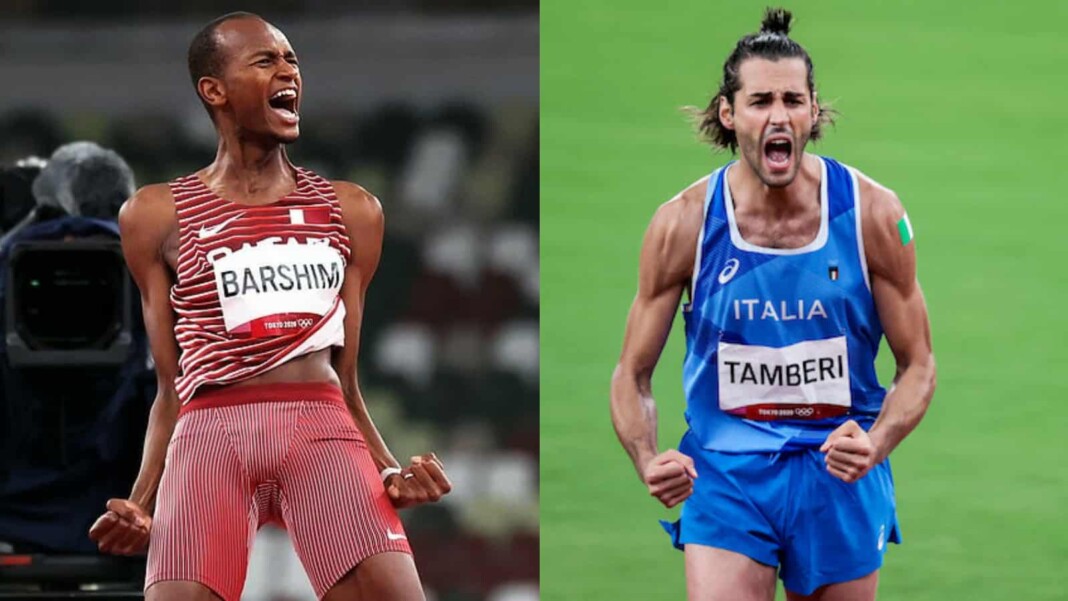 The Tokyo Summer Olympics have just marked a special day in the history of athletics as the men's high jump finals event witnessed two winners for the first time in any Olympics edition. Qatar's Mutaz Essa Barshim and Italy's Gianmarco Tamberi shared the gold medal while Maksim Nedasekau of Belarus won the bronze medal.
Both M Barshim and G Tamberi breached the mark of 2.37 metres to bring glory to their respective nations. This also marked the season-best for both the athletes while the Belarus jumper went past his National Record.
Moreover, the duo has managed to produce their respective career-best individual performances in the men's high jump event. Neither of them had failed a jump as both were neck-to-neck until the bar was raised to a height of 2.39 metres. However, none of them was able to clear this mark and both were announced as winners in a rare turn of events.
Barshim's gold also marked his third Olympics medal as he had won bronze at the 2012 London Olympics and silver at the 2016 Rio Olympics. On the other hand, this was the first Olympiad medal for the Italian jumper.
Apart from the three medalists, there were as many as nine other jumpers across various countries competing in the final round. This included the likes of Woo Sanghyeok (South Korea), Brandon Starc (Australia), Mikhail Akimenko (ROC), Juvaughn Harrison (United States of America), Django Lovett (Canada), Ilya Ivanyuk (ROC), Hamish Kerr (New Zealand), Tome Gale (Great Britain), Shelby McEwen (United States of America), and Naoto Tobe (Japan).
Twitter reactions on this historic day in world athletics
The sports were quick to react to this high-spirit moment witnessed at the 2020 Tokyo Games. Let's look at some of the top tweets by the netizens on this iconic occasion.
Also Read | Men's 100m Final Tokyo Olympics: Italy's Marcell Jacobs Storms to Gold; Fred Kerley takes Silver; De Grasse adds Another Bronze