USA pole vaulter Katie Nageotte has been crowned the new Olympic champion at the ongoing Tokyo Olympics by clearing the height of 4.90m.
The women's pole vault finals at the ongoing Tokyo Olympics was a thrilling affair. The event itself is one of the main attractions of athletics and with several incredible jumpers coming up in recent seasons, the finale as expected was nothing short of exciting.
The qualifications of the women's pole vault left many fans shocked as one of the medal favourites and 2016 Rio silver medallist, Sandi Morris of USA, withdrew after getting injured. The 2019 Doha World Championships silver medallist broke her pole in her first attempt of 4.55m coming back after a 1 hour delay. Morris injured her hip and couldn't even run forcing her to withdraw.
However despite Morris's exclusion from the finals, the line-up for the women's pole vault was still marvellous. Rio gold medallist Katerina Stefanidi of Greece, reigning world champion Anzhelika Siderova, British record holder Holly Bradshaw and the recently crowned new Olympic champion, Katie Nageotte.
Katie Nageotte makes an incredible comeback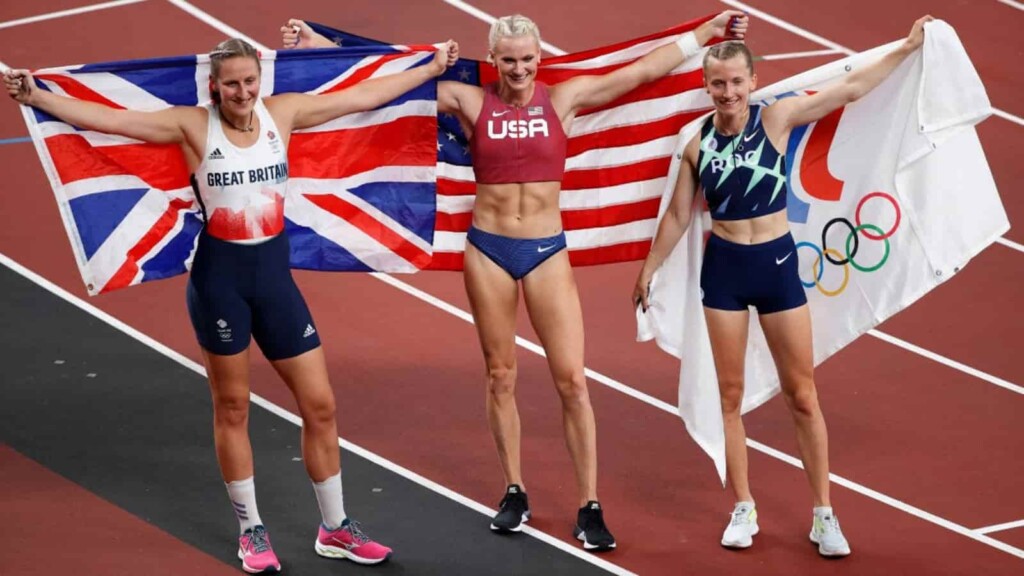 USA pole vaulter Katie Nageotte clinched the gold medal in the final with an incredible jump of 4.90m. Anzhelika Siderova of ROC bagged the silver medal with a 4.85m performance. Holly Bradshaw of Great Britain won the bronze medal by jumping 4.85m. The decision between Siderova's and Bradshaw's medals was taken based on their number of clearances on the previous heights.
The result of the pole vault final remained unexpected till the very end. Nageotte quickly recovered from her struggle of clearing the starting height of 4.50m which took her three attempts. Siderova had been dominating the competition by jumping every height on the first attempt. The last height of 4.90m decided the results which was only cleared by Nageotte.
Katie Nageotte surprised everyone by clearing the height in her second attempt itself. Holly Bradshaw failed to clear it in all three of her attempts sealing the bronze medal. While Anzhelika Siderova failed her first two attempts and passed the last one to attempt the successive height of 4.95m. However, the ROC jumper couldn't jump over the bar ending her chances on securing a gold.
After earning her victory, Katie Nageotte tried jumping 5.01m, a height 4cm short of the world record by Yelena Isibayeva of Russia. She was unable to clear it and eventually celebrated her win with her team and rivals.
Also Read: Glory Beckons for Armand Duplantis as he Bags Gold in Pole Vault at Tokyo Olympics