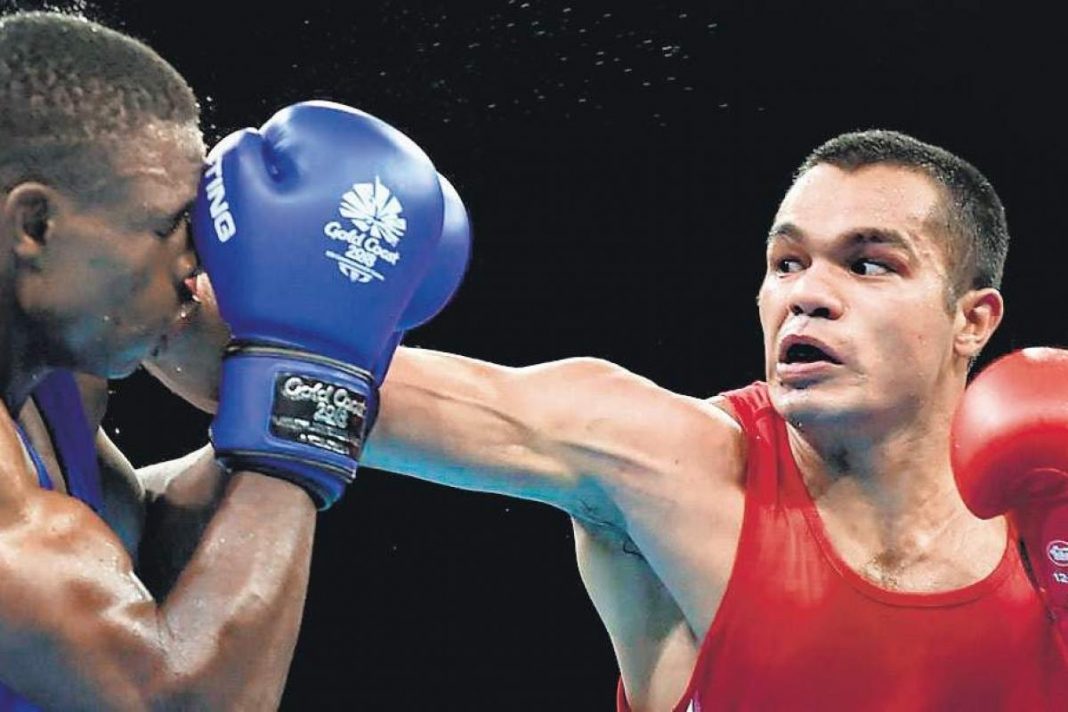 Coming with a stint in the professional boxing and brimmed with confidence, Vikas Krishan Yadav was looking like a strong medal contender in the 69kg welterweight category at the Tokyo Olympics 2020. According to the pugilist, he was just there to win and conquer the 69kg division.
However, what followed was a bitter pill to swallow as former World Championships bronze medalist got outpunched by the local favourite Sewon Okazawa in the first round itself. Vikas bowed out of the Olympics after all the judges gave a unanimous decision in favour of his Japanese counterpart. But, it has been revealed that Vikas was nursing an injury and was barely able to lift his hand coming into the bout.
In his last sparring session before leaving for Tokyo, he got injured – Neeraj Goyat
Neeraj Goyat, a former international boxer and a close friend of Vikas disclosed the reasons behind dismal show in probably Vikas's last Olympics. "In his last sparring session before leaving for Tokyo, he got injured. He suffered from tendon inflammation in his shoulder. It had swollen. It happened on July 12 or 13 in the second round of sparring. After that he could not use that hand at all," revealed Neeraj to Olympics.com.
The boxer further added, "He went to the room and applied ice. The doctor came and said that he cannot treat it before three days or until the swollenness has reduced. So for three days, no sparring and he applied ice. Then after three days, he felt a little better but still could not spar. While running or jogging he could feel the pain."
Goyat, who even travelled with Vikas to Italy to help him in his preparations, further revealed, "After reaching Tokyo, while touching up with Manish Kaushik, he hurt the same area. He could not even lift up his arm after that. Then the MRI was done and the extent of the injury was ascertained. He even borrowed a gel kind of thing from Chirag (Shetty, badminton player) to reduce his swelling. That did not help him much."
Goyat further said that after everything failed, Vikas opted for a pain-killing injection. "He had to mail to WADA (World Anti-Doping Agency), to check if he could take that injection which probably has steroids. After he got the green signal from WADA, he took the injection but was advised to rest for three days. But there was no time. He had to fight within on July 24."
Confirming the same, India's high performance director Santiago Nieva said, "When he attempted a jab at Okazawa's body he hurt the shoulder again. After that he could not use his left hand and fought with one hand only."
According to Goyat, Vikas will undergo an MRI test in India to check the extent of the injury. Win and loss is a part and parcel of any sport, but what matters is that the fighting spirit should be there till the last minute of your match. Vikas displayed similar gustiness and we are surely proud for his efforts. We all hope for a quick recovery of the 29-year old pugilist.
Also Read: Countdown to Tokyo Olympics: Know your Olympian – Vikas Krishan