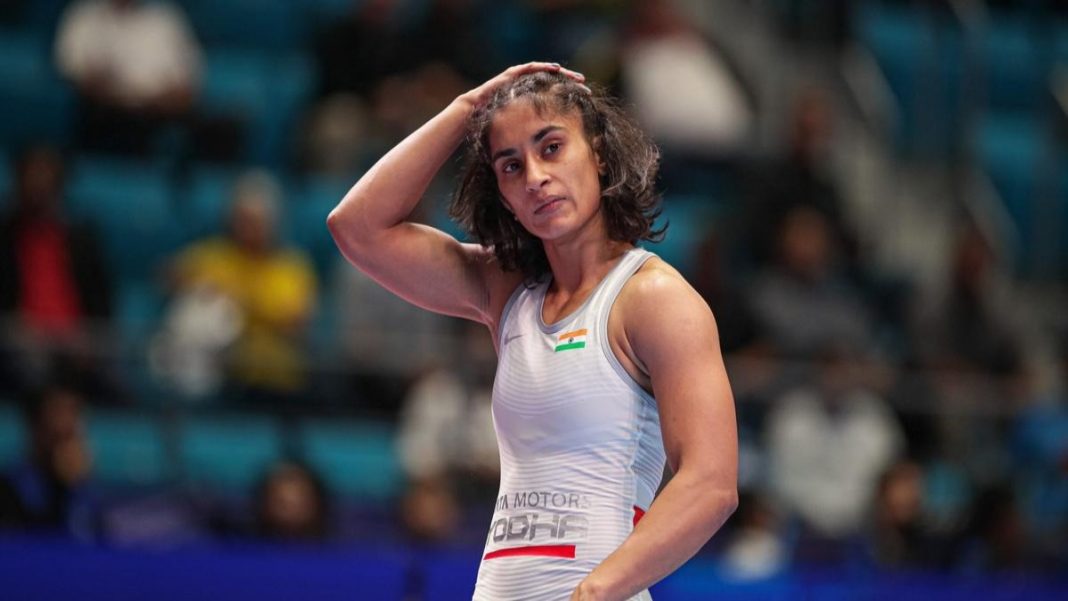 Ace wrestler Vinesh Phogat had a forgetful campaign at the Tokyo Olympics. India's brightest medal hopes Phogat bowed out in the quarterfinals as she was pinned, a climax none could have imagined. Following her loss, the star grappler has been peppered with criticism along with a ban from the Wrestling Federation of India (WFI) for alleged misconduct.
Following a long drawn silence, Vinesh has finally opened up on her Tokyo 2020 campaign. she shares that she is pondering on the thought of leaving the sport as she opened up about her strained mental health over the years. "For the last one week, so much has been going on inside me. It's a story of two hearts, two minds. I have given everything to wrestling and now is the right time to leave. But on the other hand, by chance I leave and don't fight, it'll be a bigger loss for me."
"Right now, I really want to focus on my family. But everyone outside is treating me like I am a dead thing. They write anything, they do…. I knew that in India, you fall as fast as you rise. One medal (lost) and everything is finished," Vinesh was quoted by the Indian Express.
"My mind was blocked, I didn't know how to complete a takedown," Vinesh Phogat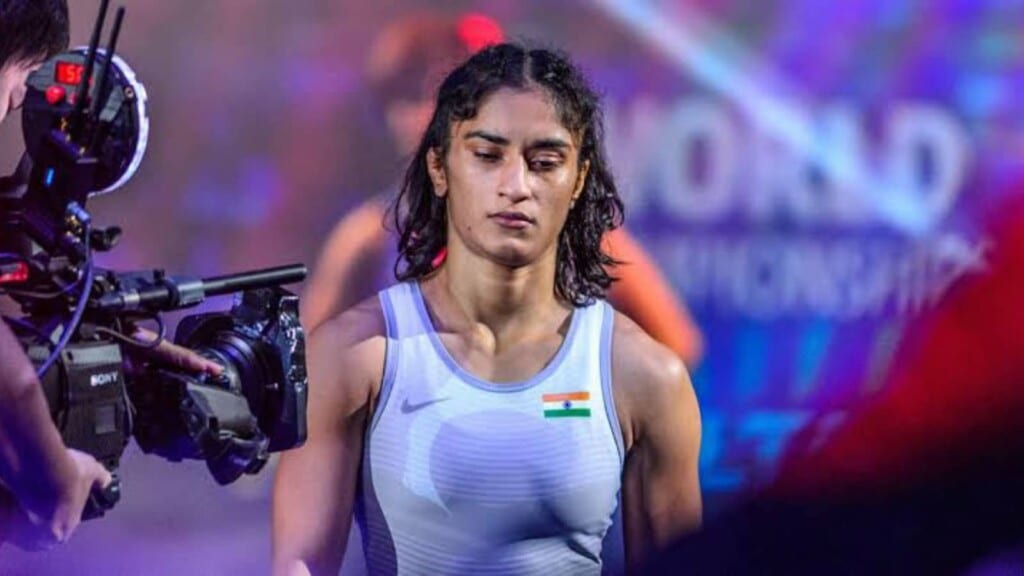 Vinesh Phogat, the 2019 World Championships bronze medalist, looked out of her rhythm at the Tokyo Games. The ace grappler shares that it might have been a recurring concussion that came back to haunt her in Tokyo. Phogat adds that her trusted ally, the "salt pills" didn't work at the Games making it even worse.
"I had a concussion in 2017, since then I have suffered from it. Things become blurry. It has gone down a lot but when my head strikes on anything, it comes back. Maybe it was that. Maybe it was the blood pressure. Maybe the weight cut. I'm used to salt capsules. They helped a lot. But they did not work in Tokyo where I was alone."
Ahead of the Games, Vinesh's pleas for a dedicated physio were denied by the Indian Olympic Association. A physio is very crucial for wrestlers, especially those like Phogat who is returning from an injury and cut weight right before their competition. She shares that, IOC allotted her a physio from the shooting team and the move backfired as expected.
Also Read | WFI suspends Vinesh Phogat, issues notice to Sonam Malik for misconduct
"I was reducing weight. I was my own physio and I was the wrestler. I was assigned a physio from the shooting team. She did not understand my body. My sport has very specific demands. She couldn't help me with what my regular physio used to. Last day, when I am reducing weight, am I supposed to explain things to her on how things are done in wrestling, or focus on myself? It's unfair to both of us."
"On the day of the bout, I was not getting the feel. After the weight cut, I warmed up, I still didn't feel it," she adds.
Vinesh Phogat shares that her tryst with mental health started in 2019 when she was forced to change her category and she has been reeling ever since. The loss in Tokyo and the criticism that followed only worsened the case for her. Vinesh admits that she has no mental strength as she evaluates her future in the sport.
"When in 2019 I changed weight, I was diagnosed with depression for three months. I was in Spain. I felt something was wrong. I never slept. For days I would be awake. I came back to Lucknow, it became worse. If a coach even spoke in a slightly high tone, I would start crying. As an athlete, the mental pressure is so much that we are always on that thin line. When it crosses, we are done."
"That time I was so bad that I was training and suffering. I was injured in Asian Championships. That is when it struck me that this will finish me. I spoke to a psychologist. I needed emotional support so I needed to speak up. Everyone in the family helped me but I can't express everything, what is going on inside. I told my psychologist that I am very emotional and can cross that thin line. Now, I find it difficult to cry. I have zero mental strength right now. Like they did not even let me regret my loss. Everyone was ready with their knives," she adds.
Also read: Which country won the most medals in Judo at Tokyo Olympics 2020?
"I always invest in the team," Vinesh Phogat clarifies
Vinesh went on to share the ordeal she went through between her bouts at the Tokyo Olympics. "After my first bout, I took a salt capsule. Nothing improved so I took one more. No change. I could not eat anything because I was nauseous and felt like vomiting. I did some breathing exercises but to no effect. I was not feeling in control. I was shivering."
"In the second bout, I knew I was losing. I was giving up points from positions I would never have. I can see that everything is going away but I can't do it. My mind was blocked to that level that I didn't know how to complete a takedown. I was surprised that I was blanked out," she reveals.
Also read: What is the Secret Behind the Rise of China in Swimming at Tokyo Olympics?
Vinesh reveals that she had tested positive for COVID-19 twice and that has affected her. Furthermore, her family too was affected by the viruses which came as yet another burden for her already strained mental strength. "But the things that I ignored in the last three years, I realised could be the actual problem. I will get some tests done. But there is something."
"Since I got COVID the first time (August 2020), I can't digest protein. One year and I have had no protein in my body. It doesn't stay inside. When I came back from Kazakhstan after Asian Championships, I fell ill again. I was tested positive for COVID for the second time which I contacted in Almaty. I recovered and flew to Bulgaria. A few days later, my family back home tested positive," the 26-year-old shares.
The WFI has temporarily suspended the ace grappler for indiscipline at the Tokyo Olympics. One of the grounds for her suspension was that she refused to train with fellow Indian grapplers. Vinesh Phogat clarifies that she decided to do so as she didn't want to pass on the virus to her compatriots.
"When these things have happened, why will I stay with the Indian team? They were tested every day for seven days. I wasn't. What if I got it on the flight and infected them? I was, in fact, thinking about them and wanted to stay away for 2-3 days to be sure that they were not at risk. What's the big deal? After 2-3 days I was going to join them and even began training with Seema. So there's no question of me not being a team player.
"I always invest in the team. I train with the same girls. Now I am going away, I feel worse than them."
Also Read | Abhinav Bindra: "Shooting had all the Potential and Support it Needed. However Things Obviously went Wrong at the Tokyo Olympics"