Kenyan Eliud Kipchoge cemented his legacy to become only the third man to win successive marathon titles on Sunday at the recently concluded Tokyo Olympics. His performance was commanding as he dominated the track. The legendary runner clocked 2:08:38 hours to bag his second gold at the Tokyo Olympics.
The Kenyan legend has been winning awards and laurels since long. He won his first individual world championship title in 2003 by winning the junior race of IAAF World Cross Country Championships setting a new world junior record in 5000m run. At the age of 18, he became the senior 5000m world champion at the 2003 World Championships with a championship record. He hasn't looked back ever since.
An Olympic beckoning soon followed where he didn't let his name fall. Kipchoge bagged the bronze medal at the 2004 Athens Olympic Games. He further took silver medals at the 2007 World Championships, 2008 Beijing Olympics and 2010 Delhi Commonwealth Games.
Eliud Kipchoge: Switching events and cementing legacy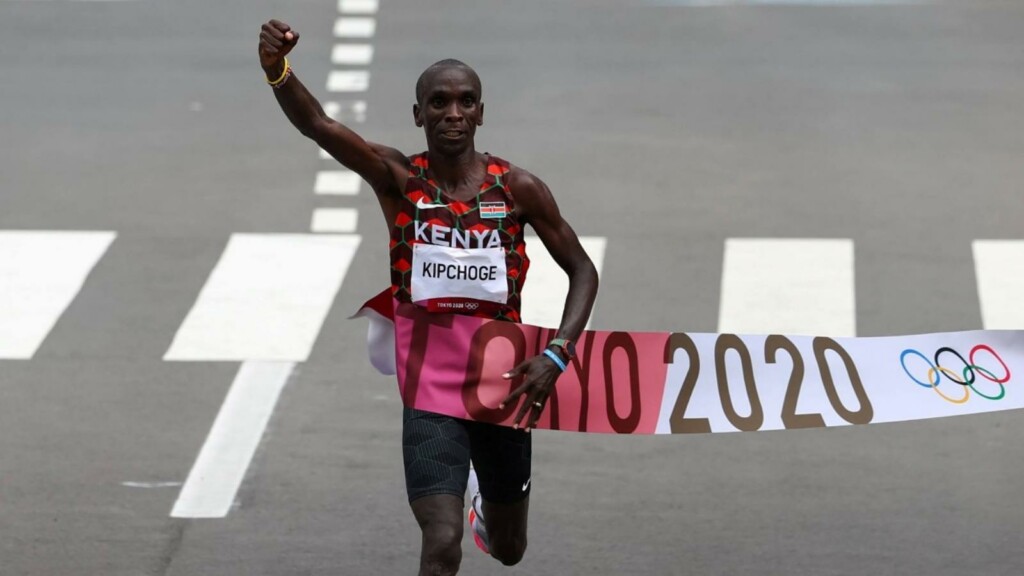 In 2012, Kenyan Eliud Kipchoge switched to road running. And as per his habit, enjoyed a thundering debut. In his first race itself marking the second-fastest half-marathon ever with a time of 59:25 minutes. His marathon debut won him the title at the 2013 Hamburg Marathon in a course record time.
His first World Marathon Major victory came at the Chicago marathon in 2014. Kipchoge went on to become series champion in 2016, 2017, 2018 and 2019. He bagged the gold medal in the marathon at the 2016 Rio Olympics. He set a new world marathon record with a time of 2:01: 39 hours at the 2018 Berlin Marathon. His run broke the previous world record by a whopping 1 minute and 18 seconds.
The 4-time London marathon winner came to global spotlight after achieving an impossible feat of finishing a full 42km marathon in 1:59:40 hour at a special event in Vienna, Austria. The time wasn't counted as a new world record as the standard competition rules for pacing and fluids weren't followed and it was not an open event.
With his second gold in the Olympics marathon at Tokyo, Eliud Kipchoge further cemented his legacy becoming only the third man to bag a back-to-back Olympic marathon title. A true legend, a true star and truly the greatest marathoner of all time, the only losses he has suffered were a second place finish at the 2013 Berlin Marathon and an 8th place finish at the 2020 London Marathon.
Tokyo Olympics victory for Eliud Kipchoge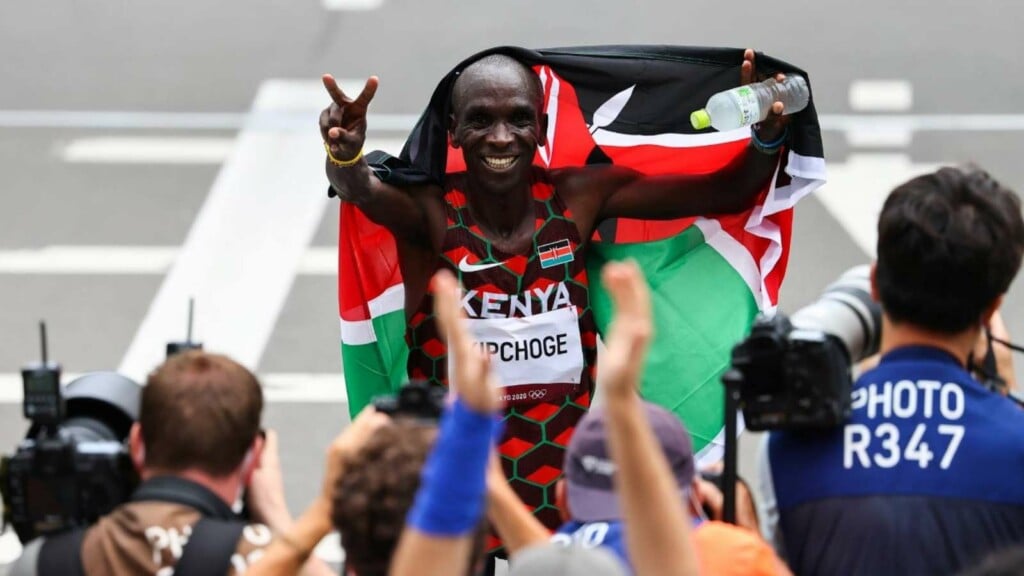 Going into his third Olympics, Eliud Kipchoge of Kenya set history rolling in Tokyo. He bagged the gold medal clocking 2:08:38 hours becoming only the third man ever to win successive marathon Olympic titles.
"I think I fulfilled the legacy by winning the marathon for the second time," he said following the race. He further talked about inspiring future generations. "That's my total happiness, my inspiration for the next generation," Aljazeera quoted him as saying.
He expressed appreciation for the Olympics taking place after the world is recovering from the COVID-19 pandemic. "It means a lot to me, especially at this hard time. Last year was postponed, and now it has happened," he said.
Eliud Kipchoge's victory margin of 80 seconds is the biggest since Frank Shorter's 1972 Munich Games. Immediately after the race he held up two fingers to symbolise his second victory.
Also Read: 2020 Tokyo Olympics: The Successful End of a Hard Fought Games of the XXXII Olympiad