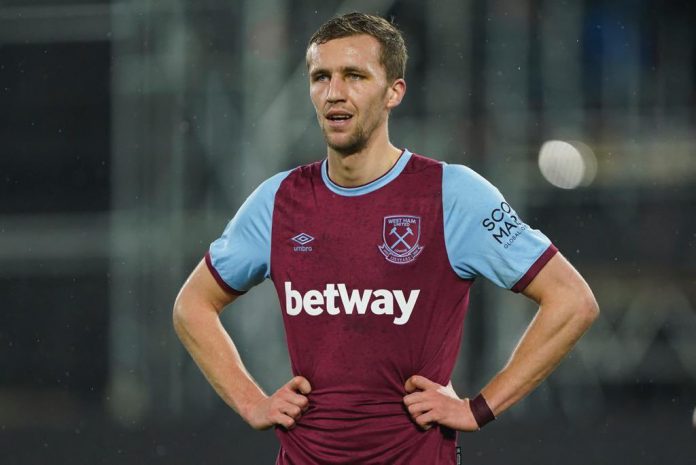 West Ham United midfielder Tomas Soucek was sent off against Fulham in the Premier League in a 0-0 draw. He was sent off after getting into a tangle with Aleksandar Mitrovic.
After trying to attack a free kick at the edge of the box, Soucek and Mitrovic got entangled in a tussle. Referee Mike Dean consulted the on field VAR to give a red card to Tomas Soucek.
Tomas Soucek's red card attracts controversy and talk
The West Ham United man was trying to create some space and get behind Mitrovic and in order to do so had to push him out of the way with his hand. After being summoned at the touchline video system on field referee Mike Dean decided to give a red card to Soucek much to his amazement.
This again puts into spotlight the degrading quality of referee in the Premier League and how worthless the video assistant referee quality is. These men who sit behind the TV screen have got absolutely no clue on how to run the game and are only interested in stacking up money. It's an absolute disgrace that such a light challenge was given a red card.
It's almost certain that West Ham United will appeal to overturn the card as they rightly should. Mike Dean has given an absolutely horrid decision which is a disgrace to the so called physical Premier League.
Coach David Moyes said :
It was an accidental coming together, which to give someone a red card for is an embarrassing decision. I am embarrassed that the VAR asked him to look at it, it was a simple accident and we should just get on with the game.
"I am disappointed. The referees can easily put a stop to this by saying we are not going to react to screaming or give soft free kicks but they seem to be frightened to say no."
Also Read: Ole Gunnar Solskjær rules out Manchester United out of the title race