Free Fire is one of the most loved battle royale game that is surpassing the records created by other mobile games day by day. As the game's biggest tournament, Free Fire Asia Championship 2021 is round the corner, there are certain teams that might make an impact with their impressive performance at the tournament.
Free Fire Asia Championship 2021 is all set to begin at 20th November with Play-ins stage. The tournament will be conducted alongside EMEA Championship 2021. A total of 24 teams from 7 different Asian regions will be seen competing for a prize pool of $400K. The competition at the finals will be very high, as the top 2 teams from the two groups alongside the third best team of Play-Ins will be able to qualify for the finals. Let us now look at the teams that are going to be a treat to watch at FFAC 2021.
Teams to watch out for in Free Fire Asia Championship 2021 Play-Ins (FFAC 2021)
Evos Phoenix Force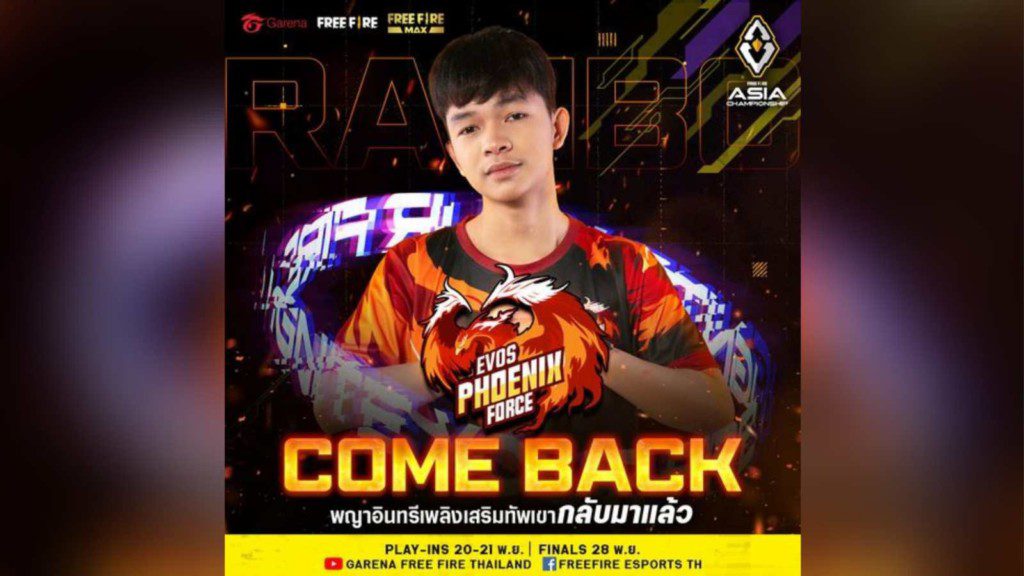 Evos Phoenix is a Free Fire team from Thailand which is also known as Evos Esports TH. This team definitely deserves the first position in this list. They conquered Free Fire World Series 2021 Singapore and became the champions. Their players, The Cruz and D_Long are often considered one of the best Free Fire players in the world, therefore, this team will definitely make a mark at FFAC 2021.
Related: How To Download Free Fire OB31 Advance Server APK Step By Step Guide?
HQ Esports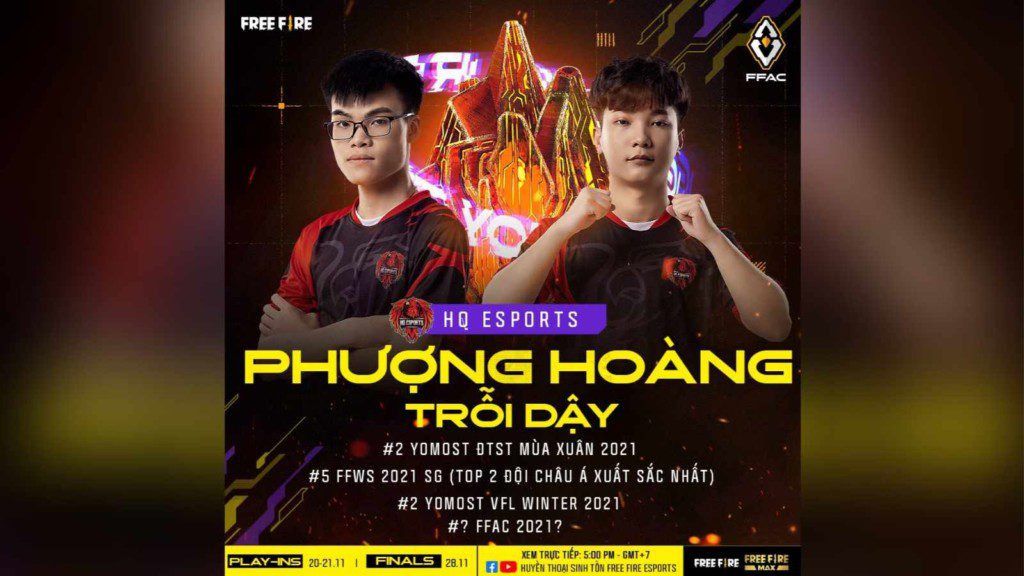 Vietnamese team HQ Esports is also ready to dominate the upcoming Free Fire tournament. They have showed an impressive performance at minor as well as weekly tournaments in Vietnam. They were consistent champions of Be Booyah! SEA Pro Scrims for both the seasons. Not only that, they finished at the fifth position at Free Fire World Series 2021 lacking just four points to defeat Team Fluxo and claim the second spot.
Total Gaming Esports
The fourth team from India that is going to compete at FFAC 2021. Total Gaming Esports is one of the most popular Free Fire team in India. Claiming the third position at Free Fire India Championship 2021, Total Gaming is a team that might have the potential to surpass other renowned teams. The team scored a whopping 28 kills at FFIC 2021 and it will be intriguing to see whether they continue the same rampage at the play ins of Free Fire Asia Championship 2021.
The Pillars Gladius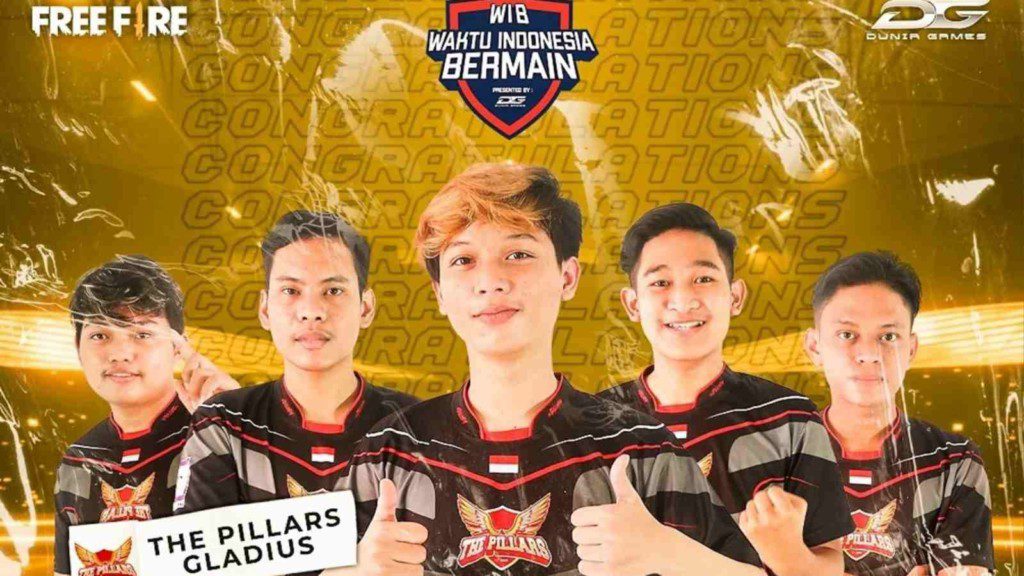 An Indonesian Free Fire team that was formerly known as The Pillar Rapiers, this team holds a handful of competitive experience which might prove to be an advantage for the players. Their team captain Myputra has often proved himself the backbone of the team. Claiming the fourth position at Free Fire Indonesia Masters 2021, this team is confident enough to conquer the play-ins stage.
House Of Blood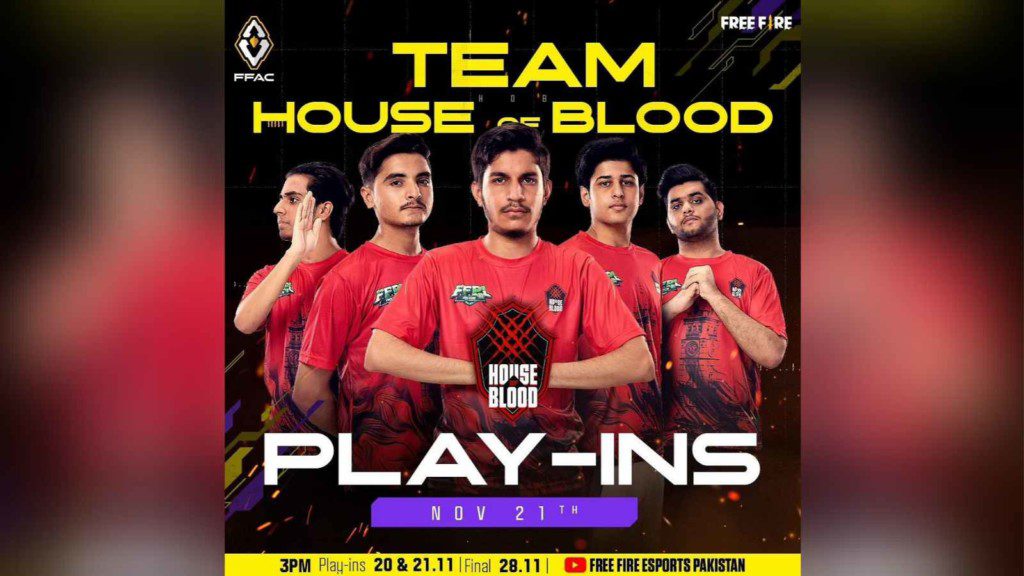 Pakistani Free Fire squad, House of Blood might not have had a good run at the weekly scrims of Pakistan but they improved their game play a lot to acquire the fourth position at Free Fire Pro League Pakistan Season 2 which helped them to secure a ticket at the highly anticipated tournament of Free Fire.
Free Fire Asia Championship 2021 is going to commence from 20th November. Players can watch the tournament live at the official youtube channel of Free Fire Esports.
Also Read: How to get the Winged Bones Backpack and Flameborn Scythe in Free Fire Faded Wheel?