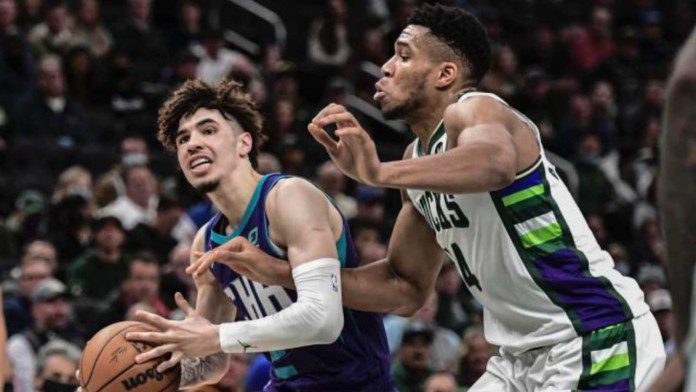 The clash between Giannis Antetokounmpo and LaMelo Ball before yesterday night was something predictable. Let me serialize it for you: Hornets paying Bucks, Giannis destroying the Hornets, and Bucks winnings with a margin gap of 15-20 points. But it seems like things have taken a turn for the Charlotte Hornets, and that's for good.
The Charlotte Hornets put up a tough competition against the Milwaukee Bucks the defending champs who are known for their dominant play and aggressive stance.
The way the Hornets played is commendable but LaMelo just stole the show. His performance was just an absolute treat for the Milwaukee audience. But we can't forget the reigning MVP Giannis Antetokounmpo who just went all Saiyan mode against the Hornets.
LaMello Ball and Giannis Antetokounmpo intensely battle each other for the win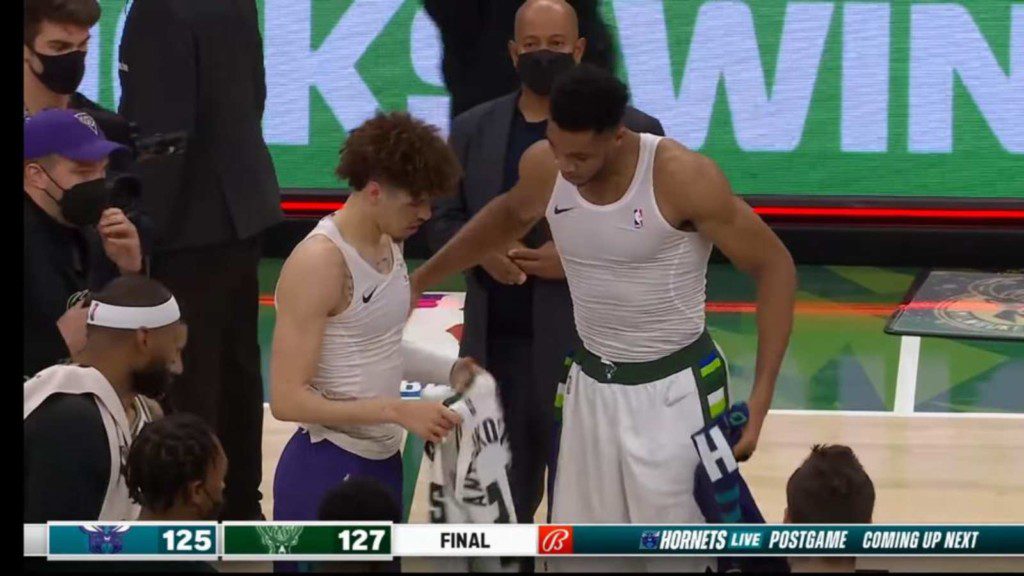 The Charlotte Hornets started off great against the defending champions and went into halftime with an eight-point lead. But as it goes NBA is everything but predictable. The Bucks just clicked more post halftime.
With 8 seconds on the clock, LaMelo shot a three-pointer that only equalized the Bucks' score of 125 but also took his career-high to a 36 point game. He shot 53.3% from the three-pointer line converting 8 of his 15 attempts which are also a career-high for the young blood.
LaMelo was drafted in 2020 and his body proportions did raise some eyebrows but at 20 years of age, he is doing wonders on the court. But the show is still not over.
The Charlotte Hornets would have forced the game into overtime if not for Giannis. The Greek freak with 2 seconds on the clock just drove into Hornets' defense and finished with a layup taking the Bucks' score to 127.
Giannis Antetoumkoumnp is awesome as it does and there's no doubt but when a 20-year-old stood his ground against the 6 feet 9-inch hulk then even the MVP bowed down in respect. Giannis himself went to find LaMelo to congratulate him on his career's best night and they also exchanged jerseys which is rare for the big man.
After the match finished the Bucks just like champs congregated the whole Charlotte Hornets roster and so did the entire Milwaukee audience.
The Hornets coach James Borrego was all praises for LaMelo Ball, and said, He's a fantastic player. We're lucky to have him, we're fortunate to have him."
He further added, "On the road against maybe one of the elite teams, the NBA champions, on the road, his fearlessness and his composure is fantastic … This is just the tip of the iceberg. The kid's got a bright, bright future."
Twitter reacts:
Also read: LeBron James Believes "Something is REAL Fishy" after being sidelined by…