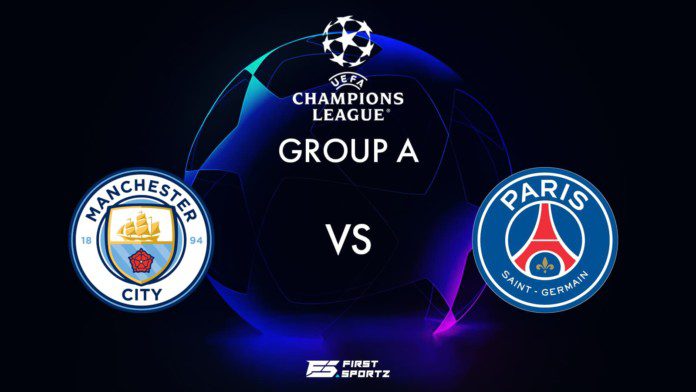 The City of Manchester stadium witnessed a thrilling encounter between the two giants of the football World, Manchester City and PSG. The two teams certainly had a lot of aggression to bring out as PSG had beaten Manchester City at Parc des Princes by 2-0.
In a perfect revenge opportunity at home, Manchester City had one too many attempts at goal but couldn't get to finish in the back of the PSG net. Eventually, the match went into the second-half with 0-0 being the scoreline.
It was not too long before PSG broke through the shackles and outperformed the home side. Five minutes into the second half, a brilliant one two between Messi and Herrera lead to a deflected pass landing right in the way of Mbappé. Mbappé set himself and fired a low shot between the keeper's legs to make it 1-0 in their favour.
However, City were paid the long overdue for their hardwork and brilliant attempts at goal. A brilliant ball in by Walker goes through the legs of Gabriel Jesus and Sterling was there to tap it in the far corner and get the all-important equaliser.
The equaliser was met with a brilliant lead goal after the Portuguese Bernardo Silva passed it on to Gabriel Jesus who tapped it past Navas to make it 2-1.
Manchester City
Ederson (GK) (6.4/10) : Ederson picked up a couple of really good saves but wasn't really in the best of shape. He let the Mbappé power shot go through his legs and conceding a goal he could've dealt with in a much better way.
Kyle Walker (6.8/10) : Walker was present everywhere. He was running around with the ball while also making some good contributions in defence. He played a key role in the goal scored by Sterling.
John Stones (6.3/10) : Despite having a brilliant accuracy with passing, he really gave it away when one of his errors inside the box lead to a shot which conceded a goal for the home team.
Ruben Dias (6.6/10) : Dias didn't have an impactful game as one would've expected out of him. He did a decent job at defending while in attempt to create a goal scoring opportunity, he had his shot blocked.
João Cancelo (7.1/10) : Cancelo was all over the PSG players as he managed to win as many as 4 crucial interceptions to keep the ball away from the box. However, he lost possession of the ball on multiple occasions.
İlkay Gündoğan (7.2/10) : The captain did an astonishing job over-all and certainly set a great example for his team. In the first half he had a brilliant attempt at goal but due to bad luck, the ball crashed into the pole and marginally missed the goal.
Rodri (7/10) : Rodri had a brilliant time on the field. He had a passing accuracy of 97% as well as had a couple of attempts at goal but he couldn't convert either.
Oleksandr Zinchenko (6.4/10) : Just the 54 minutes for the midfielder. He didn't have much to impact the game with but he made a couple of good runs at goal but had his attempts blocked by the PSG defenders.
Riyad Mahrez (8/10) : Mahrez was undoubtedly the best player for City on the field. He kept building the pressure for which his team earned fruitful rewards for. He had three on target attempts at goal but couldn't convert any.
Bernardo Silva (7/10) : Silva had a little to do with the second and winning goal of the game for City. He provided a brilliant pass to Jesus who then tapped it pass Navas to get the home side their revenge.
Raheem Sterling (7.6/10) : Sterling was lucky to be at the right place at the right time in the match. A long ball came in that found Walker, who then tapped it inside the box. The ball went through the legs of Gabriel Jesus taking a feather touch and Sterling tapped it in to the far corner of the goal to get the equaliser for City.
Substitutes
Gabriel Jesus (7.7/10) : Mahrez's pass to Silva saw the Portuguese tap it across to Jesus who then tapped it past Navas to finish in the back of the net to make it 2-1 for the home team. A brilliant game for the super substitute, he wasn't hesitant at wanting to make goal scoring opportunities.
PSG
Keylor Navas (GK) (6.9/10) : However bad the result turned out to be, Navas had a brilliant outing. He made a couple of brilliant saves which were too pleasing to the eye to watch.
Achraf Hakimi (6.4/10) : Hakimi did a good job at taking care of the defence but he surely didn't provide with an impactful performance to help his team outperform the hosts.
Marquinhos (7.3/10) : The PSG captain has never failed to impress his teammates and fans with his brilliance. He made three valuable clearences followed by multiple tackle and ground duel wins. He also blocked two goal scoring shots away.
Presnel Kimpembe (7.2/10) : Kimpembe did a brilliant job at defending, making some valuable clearences and Interceptions. He certainly caught everyone's eye by making a fantastic off line clearance.
Nuno Mendes (6.8/10) : Nuno Mendes was really quick with his feet and was one of the most proactive players for Paris Saint Germain. He did a brilliant job at making valuable clearences and winning tackles. He also had a sharp attempt at goal but saved by Ederson.
Ander Herrera (6.8/10) : Herrera had a decent game overall with his valuable contributions in several departments. However, he walked off the pitch courtesy of injury concerns.
Leandro Paredes (7.4/10) : Quite an impressive performance by Leandro Paredes. He brilliantly kept the tackle wins coming and didn't stop winning. He also did a brilliant job at sending the long balls in and almost winning all his ground duels.
Idrissa Gueye (6.9/10) : Gueye did decently well with winning ground duels. However, he failed to provide with an impactful performance and hence was subbed in the 67th minute.
Lionel Messi (7.2/10) : Messi made some brilliant runs across the field. He did have a good chance at creating a goal scoring opportunity but had his shot blocked right at the moment of attempting it.
Kylian Mbappé (7.3/10) : Mbappé had a brilliant game over-all for PSG. He made some magnificent runs towards the goal and was also off target on a couple of occasions. However, he was lucky to find a deflection through a defender off a Messi pass. He set himself and fired a low shot to bring the 1-0 lead to his side.
Neymar (6.6/10) : Neymar made some valuable runs and also played a key role in making a lot of goal scoring opportunities. He had a huge chance to score which he failed to convert and that heavily cost his side.
Substitutes
Angel Di Maria (N/A)
Danilo Pereira (N/A)
Thilo Kehrer (N/A)
ALSO READ | WATCH: Mauricio Pochettino fuels Manchester United rumours in a press conference for PSG