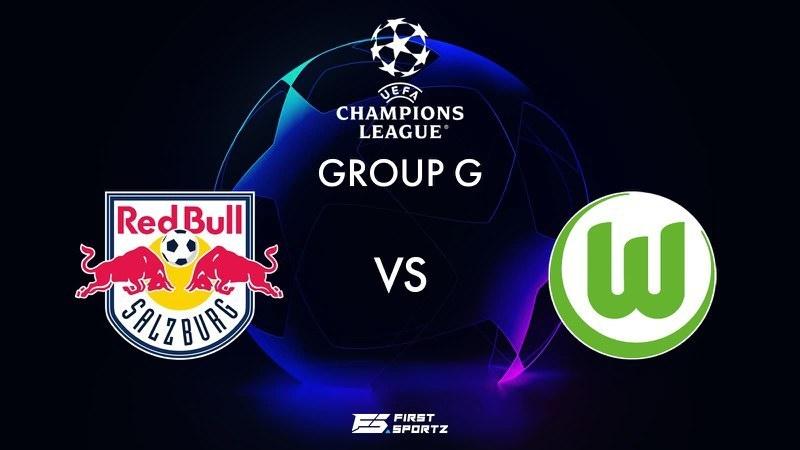 RB Salzburg played a thrilling encounter against Wolfsburg at home and it was filled with one too many exciting moments.
RB Salzburg were flying in the third minute of the match as Karim Adeyemi puts one past the keeper to make it 1-0 in favour of the Red Bulls. It was shortly met with a gritty equaliser by Lukas Nmecha. As the match went on till the end of the first-half, there seemed to be no signs of aggression.
In the second half, Noah Okafor receives a free delivery off an Arnold corner and he receives all the time in the world to put it past Casteels to make it 2-1 and bring the lead back to RB Salzburg. Minutes later, Okafor gets another ball courtesy of a mistake made by the Wolfsburg defence and he finishes cleanly past the keeper to give the Red Bulls a 3-1 win.
The Red Bulls walk back to the dugout with a magnificent 3-1 win at home and remain at the top of their group table. With that, let's have a look at how the players performed :
RB Salzburg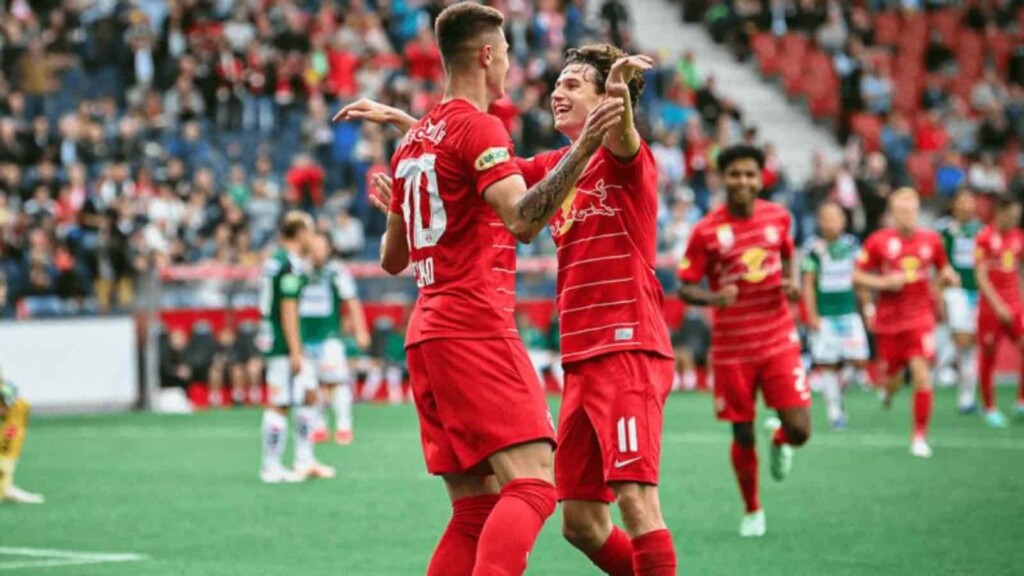 Philipp Köhn (GK) (6.4/10) : The RB Salzburg keeper had a pretty decent game over-all. He didn't have too many saves on him but he did have a bumpy moment when he let a goal past him that proved to be a crucial equaliser for Wolfsburg.
Rasmus Kristensen (7/10) : Rasmus had a pretty good game when it came to making successful tackles and winning ground and aerial duels but he lost posession way too many times. He also got himself an off target attempt at goal.
Jérôme Onguéné (6.8/10) : Jérôme made some really neat long balls which helped RB Salzburg to keep the ball moving forward and getting key passes every now and then. He also made some valuable interceptions in the course of the game.
Maximilian Wöber (6.5/10) : Wöber had a pretty average game overall. His contributions were not that impactful and he was rather substituted in the 72nd minute of the match.
Andreas Ulmer (6.5/10) : The captain had a pretty rough day himself at defence or throughout the game. He made some decent moves here and there but he lacked the confidence to take on the big guys to win the ball. He did seem to be lacking the pace and accuracy when it came to moving the ball around.
Luka Sučić (7.6/10) : Sučić had way too many attempts at the goal. He was successful to be on target, once out of all the attempts but he failed to convert as he was denied the opportunity by the keeper. He was also really quick with his feet to win many ground duel challenges.
Brenden Aaronson (7.4/10) : Aaronson had a wonderful outing for RB Salzburg tonight. He gave as many as four key passes for the Red Bulls which resulted in great goal scoring opportunities. He also created a big opportunity for goal whilst his stay on the pitch.
Mohamed Camara (6.1/10) : A pretty below par performance by Mohamed Camara. He barely made any impact to the game and his lack of excellence in the performance resulted in him getting substituted in the 66th minute.
Nicolas Seiwald (7.6/10) : Seiwald assisted the opening goal of the match for Salzburg. An sneaky pass for him beats the defence and straight to Adeyemi which helps Salzburg get the lead in the third minute of the game.
Noah Okafor (8/10) : Okafor has been excellent in the entire match for RB Salzburg and he gets rewarded for it in the 65th minute. He capitalises on a Wolfsburg scramble in the defence and he easily puts it past Casteels to bring the lead back to RB Salzburg. He later receives an easy pass from Bernardo and had all the time in the world to finish it pass the keeper to complete his brace.
Karim Adeyemi (7/10) : Adeyemi sneaks up on a ball which was originally supposed to be dealt by Mbabu. He takes a nice attempt at it and finishes beyond Casteels to bring the lead to the Bulls. What a strike in literally the third minute of the match.
Substitutes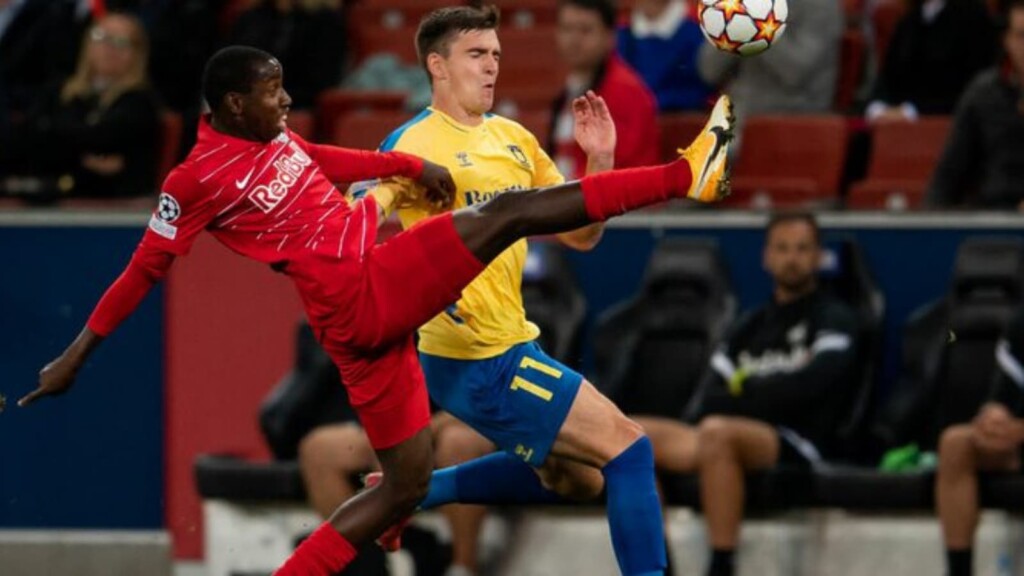 Nicolas Capaldo (6.6/10) : Nicolas did a decent job at defending while also contributing with some good interceptions. He did a decent job overall in his short time span on field.
Bernardo (7.1/10) : Bernardo walked in and beautifully assisted Noah Okafor to help his complete his brace and help the Red Bulls get the third goal of the match.
Daouda Guindo (N/A)
Roko Simic (N/A)
Chukwubuike Adamu (N/A)
Wolfsburg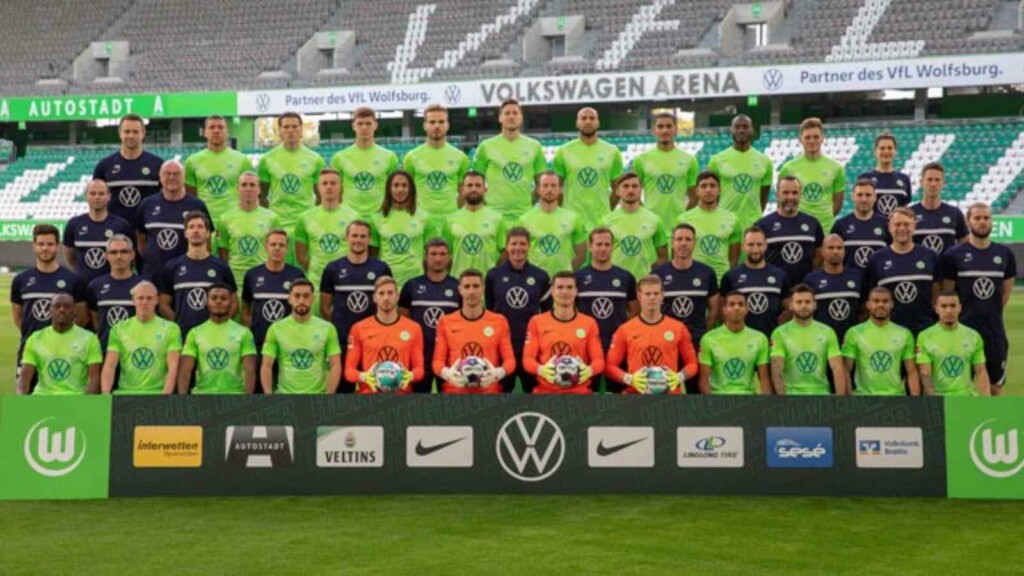 Koen Casteels (GK) (6.3/10) : Not the kind of match Casteels would've expected to have. He gave away as many as three goals which could've been dealt with in a much better way. He's not the only one to blame as the defence did a miserable job at the field.
Kevin Mbabu (6.1/10) : Kevin had a rough day on the pitch as he failed to keep the control of the ball on multiple occasions. He along with the other defenders lacked coordination and that resulted in a tormenting defeat.
Maxence Lacroix (6.5/10) : Maxence was one of the better defenders for Wolfsburg as he did make some impactful interceptions and tackles in the defence while making some good clearences.
John Brooks (6.4/10) : Brooks was quick on his feet to intercept the ball nicely but he did need support from other defenders to keep the ball away from their goal. However, the entire Wolfsburg defence was making one too many mistakes in the game.
Jérôme Roussillon (6.5/10) : Just an average game for Roussillon. He managed to get some impactful moments of his with the defence but him as a unit failed to help his team. However, due to an average performance, he was substituted in the 70th minute.
Aster Vranckx (6.8/10) : Aster was one of the more active players on the pitch. He did a great job at passing and winning ground and aerial duels but failed to impact the midfield strongly. He also did a good job at making some good interceptions.
Maximilian Arnold (7.7/10) : Arnold took a clean corner which landed straight to Nmecha who beautifully headed the ball into the far corner to get an equaliser. Arnold was outstanding in today's match. He was too accurate with his long balls and also capitalised well on the ground duel challenges.
Ridle Baku (6.2/10) : After lacking the confidence and losing possession so many times, he found himself substituted in the 70th minute. He failed to impact the match in anyway.
Dodi Lukebakio (6.4/10) : Just the one off target shot was the eventful moment in the match for Dodi. Apart from that he seemed completely bent out of shape. He lost possession on way too many occasions.
Renato Steffen (6.5/10) : Steffen lost possession on as many as 16 occasions and he just showed his presence throughout the game rather than impacting it in a positive manner.
Lukas Nmecha (7.4/10) : Lukas ghosts in between the Salzburg defenders during an Arnold corner and heads the ball into the far corner to bring in the equaliser for Wolfsburg. Apart from that, Lukas was really good with ground duels and Invincible with aerial duels.
Substitutes
Paulo Otavio (N/A)
Felix Nmecha (N/A)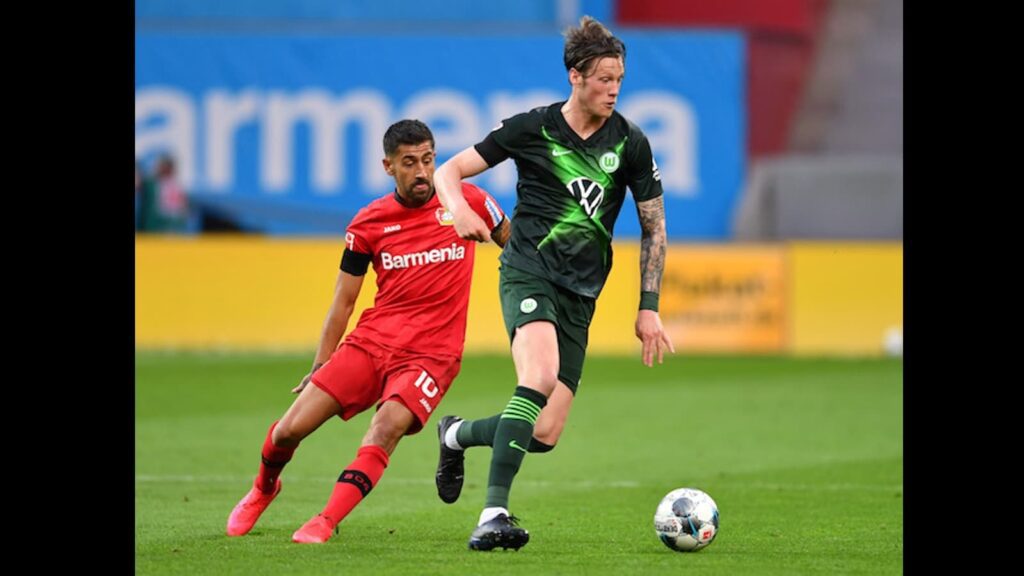 ALSO READ | UEFA Champions League: PSG vs RB Leipzig player ratings as Messi's brace saves the day at Parc des Princes