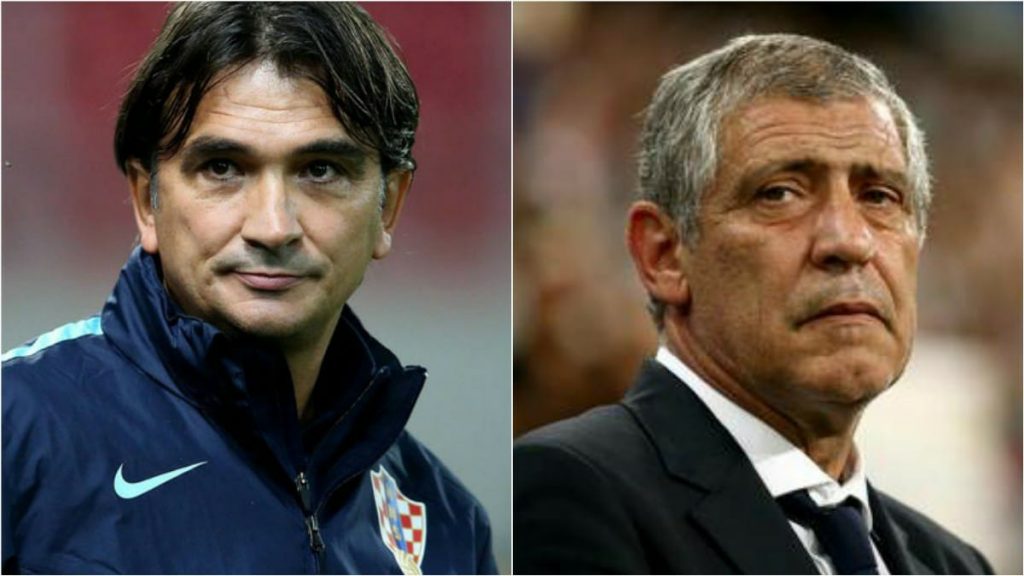 Portugal Outclassed Croatia by 4-1
02:08(IST)/09:38(GMT): FULL Time! That's it! That was the last piece of the action. Portugal completely destroyed Croatia on the night who didn't figure out anything right from the first whistle. A big 4-1 victory for the young Portugal side. Ronaldo is smiling and thats what you need!
02:05(IST)/09:35(GMT): GOAL! Yes its Portugal now. Substitute Andre Silva heading in Bruno Fernandes's corner after Pepe laid it for him.
02:03(IST)/09:33(GMT): GOAL! Portugal again? Nope. It is Croatia who managed to get a conciliation goal in the evening. Patkovic finishing a brilliant layoff. They certainly didn't deserved it.
02:01(IST)/09:31(GMT): Both teams are seeing off the game now. Portugal enjoying, Croatia isn't of course.
01:58(IST)/09:28(GMT): Best effort from Croatia all night but nothing too dangerous. Brozovic hitting wide with his left boot.
01:53(IST)/09:23(GMT): Brozovic and Perisic is looking likely to do something for Croatia after coming off the bench. Croatia looking slightly better with them now on the pitch.
01:49(IST)/09:20(GMT): Former Braga starlet and now Barcelona player Fransisco Trincao handed his debut in the nation colour.
01:42(IST)/09:12(GMT): GOAL! And they add a third. Its the wonder kid Felix striking it past Livakovic who fails to keep it out. Game over!
01:36(IST)/09:08(GMT):
01:30(IST)/09:00(GMT): GOAL! Jota! Portugal with their delightful attack. Raphael Guerreiro's defense breaking long pass well read by Jota, chest trapping and finishing elegantly. What a player! 2-0
01:28(IST)/08:58(GMT): Dalic will be wishing to bring Perisic in to give the Portugese defence some work to unfold. They are mere spectators of the activities up front.
01:25(IST)/08:55(GMT): Penalty appeal as Jota goes down just inch outside the box. Fantastic refereeing to give it as a free-kick than anything else.
01:20(IST)/08:50(GMT): No change of story. Portugal are truly a fascinating side this evening.
01:17(IST)/08:46(GMT): Second Half Begins!
01:05(IST)/08:36(GMT): Portugal really showed they can do with Cristiano any day. Fernando Santos's boys really enjoying the competition. Hoping for more of the same after the break
01:03(IST)/08:34(GMT): Manchester City's right back turned forward!!
01:02(IST)/08:32(GMT):
01:00(IST)/08:30(GMT): Halftime! Portugal rightfully ahead but should have added more to their tally. Croatia were nowhere to be seen. They still have the game somewhat due to opposition's miss chances.
00:56(IST)/08:26(GMT): GOAL! Finally Portugal got their reward. Its a beauty from Cancelo. The right back curled a beauty coming towards the middle, beating Livakovic ultimately. The Croat got a hand to it but lost his clean sheet.
00:54(IST)/08:24(GMT): Zlatko Dalic needs to remind his team of their duties. They are drifting off it badly. it is too comfortable for Fernandes and Felix to bring their creativity in.
00:51(IST)/08:21(GMT): Croatia are only even on the scoreboard. Portugal will be kicking themselves for their luck. Such a one-sided first half.
00:48(IST)/08:19(GMT): Chance! Why doesn't it go in? Guerreiro's rocket from outside of the box hit the post before rebounding off Livakovic
00:46(IST)/08:16(GMT): Croatia seem to have no answer to Portugal's ruthless attacking display. Fernando Santos's side are really unlucky to not to have their noses on front.
00:44(IST)/08:14(GMT): Chance! Once more the Wolves forward came close in giving his nation the lead. Another beautifully constructed play.
00:42(IST)/08:12(GMT): Chance! Portugal hit the upright for the second time. Diego Jota's glancing header from Fernandes's pass hit the post. Livakovic was beaten this time.
00:40(GMT)/08:10(GMT): SAVE! heroic from the keeper once again. Pepe this time thawed by his brilliance. Croatia living on the edge.
00:37(IST)/08:07(GMT): Chance! The European Champions are putting up a great show here. Felix once again in rge matter as his deflected strike brushes the upright. The strong follow up from Guerreiro was parried away by Livakovic.
00:34(IST)/08:04(GMT): SAVE! Livakovic needed to be alert from the shot from Joao Cancelo. The right back made a cunning turn to unleash an outside of the boot effort. Well tipped away by the keeper.
00:33(IST)/08:03(GMT): Chance! Bruno Fernandes lost control at the right time and it was scramble away to safety. Beautiful play from Felix from the right
00:30(IST)/08:00(GMT): Block! Vida at the right place at the right time to keep out Joao Felix's shot. Livakovic was guarding it anyway. Another beautiful ball over the top to set up everything.
00:26(IST)/07:56(GMT): That passing from the Selecaos are too good
00:24(IST)/07:54(GMT): Two teams are concentrating on fast moving football without allowing each other to instigate possession.
00:20(IST)/07:50(GMT): Lovely passing play from Portugal to demonstrate early pressure. Danilo blaze his shot over but that was a fine move created.
00:17(IST)/07:47(GMT):
00:15(IST)/07:45(GMT): KICK OFF! And this promising clash begins!
00:13(IST)/07:43(GMT): Cristiano Ronaldo watching from the stands. It is unusual to see him like that.
00:06(IST)/07:36(GMT): Teams are out of the tunnel
00:03(IST)/07:34(GMT): Both side's midfield are class apart. Names of that region is sure to craft this encounter nicely.
23:45(IST)/7:16(GMT): Lineups are out!!!
Good Evening all! Welcome to our live coverage of the Group C heavyweight clash between Portugal and Croatia in the UEFA Nations League.
Preview
Nation League's holders Portugal take on Croatia in their opening clash of the second edition of the tournament. The game is organized at Estadio da Dragao in Porto. The Selecao will miss out on their megastar, Cristiano Ronaldo's service because of a bee sting infection on his foot. Ronaldo has scored a total of 99 goals for his nation but had to wait for some time now to reach the century milestone. Fernando Santos will have unavailability of nine players-including Pizzi and Renato Sanches. But youngster Trincao got his first call-up.
Croatia had a rusty Euro qualification campaign but has done fairy well in this competition last term. Zlatko Dalic's has made headlines by leaving out two known stars in the squad in the form of Luka Modric and Ivan Rakitic. The pair won't feature for the first time after a long period. But Vida, Lovren, Brozovic and Kovacic keeps their place in the team. Champions league winner, Ivan Perisic of Bayern Munich is also included.