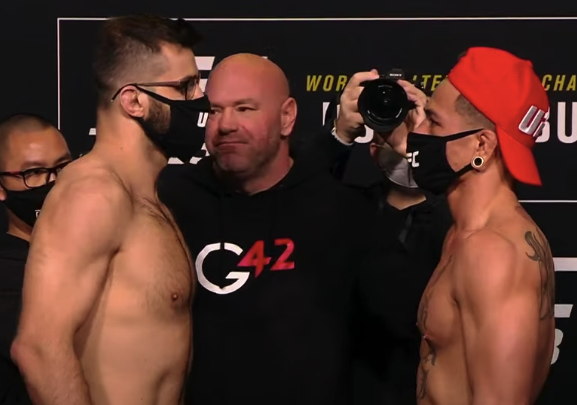 The first fight of the main card featured Maki Pitolo and Julian Marquez. Maki Pitolo was coming off two back-to-back losses and was in the hunt to getting back to winning ways. His opponent Julian Marquez was coming off a 31-month layoff, following a serious injury. He last fought Alessio Di Chirico, way back in July, 2018, which he eventually lost.
Round 1 :
No sooner did the bell ring, than Maki Pitolo was up throwing bombs at Julian. A brilliant combo stunned Julian Marquez. Pitolo kept him sided at the cage and then executed a perfect takedown. Pitolo then kept Marquez grounded for quite a long time. Marquez somehow got back up, and tried to choke Pitolo, but it wasn't good enough. A good number of punches from Marquez, ended the round. 10-9 Pitolo
Round 2 :
Round 2 began with both the fighters exchanging a couple of punches. Marquez's kick then caught Pitolo in the cup and there was a brief pause. They once again traded blows. Then, Maki executed a perfect takedown. A defiant Marquez somehow got back up. Marquez then went for a guillotine. Marquez tried to squeeze, but Pitolo somehow got himself relieved. Pitolo then tried to set up an arm triangle, but he couldn't tighten the grip. The round ended with Pitolo having Marquez grounded. 10-9 Pitolo
Round 3 :
They traded punches to begin the round. Pitolo landed a low kick. A knee from Marquez, then hurt Pitolo. Marquez then with a failed guillotine attempt. Pitolo, now had Marquez grounded and attempted a rear-naked choke. With both fighters on their feet, Marquez went for the guillotine. Pitolo tried his best to get away from the clinch. Marquez eventually executed the anaconda and tightened the grip. Pitolo tapped. Massive win for Marquez.
Winner : Julian Marquez def. Maki Pitolo via submission (anaconda choke) – Round 3 [4:17]
Also Read : 'Only minor details to be resolved on both ends…only two weeks until an announcement' – Eddie Hearn provides update on the upcoming Anthony Joshua vs. Tyson Fury fight