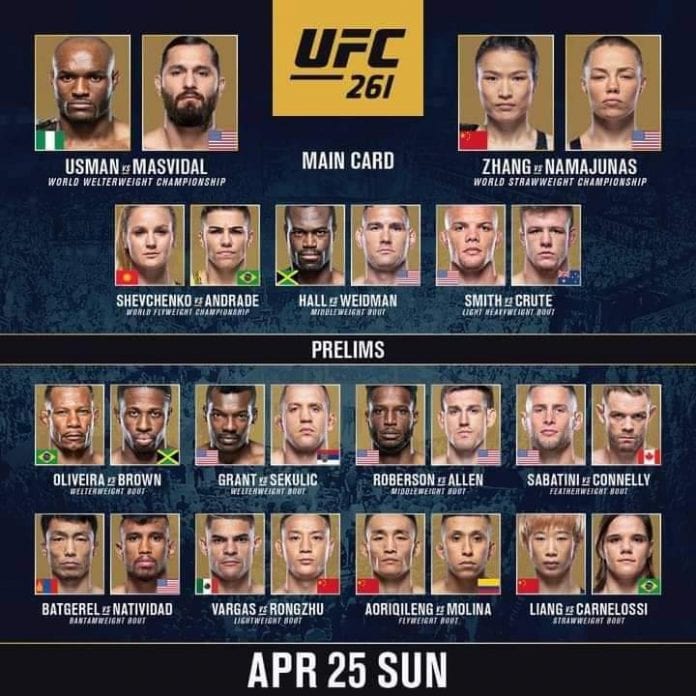 UFC 261 kicks off on 25th April and the event hosts an exciting line up of fighters in it's fight cards. The event takes place at VyStar Veterans Memorial Arena in Jacksonville, Florida. UFC 261 means a lot more than the other events in recent times as this is the first time there will be a sold out crowd in front of whom the fighters will be fighting.
The UFC 261 event hosts three title bouts which makes it even more amazing. In the main event, we have welterweight contender, Jorge Masvidal taking on the champion Kamaru Usman in the rematch. In the co-main event, women's strawweight champion, Zhang Weili defends her title against former champion Rose Namajunas. And the third title fight has Valentina Shevchenko defending against Jessica Andrade.
Preliminary card results of UFC 261
Tristan Connelly vs. Pat Sabatini: Featherweight bout
Round 1: Sabatini acts as the aggressor as the fight begins. Low kicks to start it off. Connelly moves to escape from the aggression. Sabatini with a clean right hand that lands well and puts Connelly on his back with a fall. Connelly covers well to not let Sabatini on top and take advantage. Sabatini in full control. Connelly with a half guard trying to escape from Sabatini's attempt to choke. Finally gives his back out as the round ends.
Round 2: Sabatini again out with some great quick punches and a leaping front kick. He drives action immediately to the canvas. Pat putting pressure from the top as Tristan drives a few knees towards Sabatini. Sabatini determined to slip in submissions but is not able to get a good grip. Pat with an arm-triangle attempt but his opponent pulls back in time. Connelly mostly was kept busy defending submissions.
Round 3: Connelly tries to be the aggressor this time but Pat wastes no time into taking the fight to the canvas. Connelly defends the takedown very well. Tristan hits him a with a few knees on the outside. A lot of clinching and referee as them to engage. After a little shuffle both the fighters inevitably end up clinching again. Pat with a right hand landed on Tristan. The final round ends.
Results: Pat Sabatini defeats Tristan Connelly via unanimous decision
Karl Roberson vs Brendan Allen: Middleweight bout
Round 1: Allen starts off the round with a high kick that's blocked to start and Roberson replies with a right back. Allen looking to work the legs and exchanges some powerful punches. Allen drives the action to floor with an excellent takedown. Roberson is forced to sit up against the cage but Allen clearly has him trapped. Allen looking to advance but it takes him a minute to tap the heel hook as Roberson screams. Fight over. Allen leaves Roberson limping.
Results: Brendan Allen defeats Karl Roberson via submission (heel hook) – Round 1, 4:55
Dwight Grant vs Stefan Sekulic : Welterweight bout
Round 1: Sekulic is at the center as Grant looking to attack from the outside. Sekulic with a high kick attempt but misses. Grant finally with a few crisp punches landed. Sekulic with a flying knee in reply. Sekulic goes for the takedown in the final seconds and is on the floor just as the bell goes.
Round 2: Sekulic wastes very little time thinking of a take down and does it. Grant with good defense denies his opponent. Both men firing big shots. Grant lands a clean punch and lands well. Both men struggle with the offense to flow. Sekulic goes for the take down and wraps his opponent on the canvas. Both the fighters in a mess with no one to progress forward. Both in a clinch again against the fence as the second round ends.
Round 3: Grant this time with a right hand and immediately with a takedown score. Grant changes mind and resets to the feet. No real offense from Grant or Sekulic. Sekulic changes level as he rushes forward and Grant again with some defense. Punches traded with two minutes remaining. Crowd restless with all the clinching. Stefan with an attempt of flying knee but it does not land. Looks for the guillotine instead but can't finish it. The bell goes as the bout is over.
Results: Dwight Grant defeats Stefan Sekulic via split decision
Alex Oliveira vs Randy Brown: Welterweight bout
Round 1: Brown opens the fight with a long jab and a sharp low kick. Oliveira is not too heavy and is light on his feet moving around well. Both the fighters trade some low kicks. Brown lands a big right hand and sends Oliveira to the floor but he is somehow back up on his feet. Brown trips Alex to the canvas and squeezes until the opponent finally taps out.
Results: Randy Brown def. Alex Oliveira via submission (rear-naked choke) – Round 1, 2:50
And that is a wrap for the preliminary card of UFC 261. The main card will commence shortly
Also read: UFC 261 Live: Play by Play results, Kamaru Usman vs Jorge Masvidal 2
Tyron Woodley removed from UFC welterweight rankings, No.3 ranked Gilbert Burns reacts on Twitter