The former Bellator Lightweight champion, Michael Chandler stepped into the biggest fight of his MMA career against Charles Oliveira in the main event of UFC 262 to fight for the vacant lightweight title.
Chandler had a really strong opening to the first round of the fight and he dropped Oliveira with a nice right hand. But when he was about to capitalize it with some follow-up shots, 'Do Bronx' recovered really well and survived the round.
Michael Chandler was ahead by 10-8 on two judge's scorecards after the end of the first round. But in the second round of the fight, Oliveira hit him with a left hand and it was all over.
The UFC Lightweight title slipped out of Chandler's hand and Charles Oliveira became the new heir of the Lightweight throne. But now after this setback, Michael Chandler is in good spirit and vows to come back stronger.
In a message on his official Instagram account, Chandler says, "Hitting the ground running after a tough weekend, a tough loss, falling short, a great opportunity that we missed the mark, and that's just the way life is, sometimes, life's going to deal you those kinds of things."
"Sometimes, you're going to encounter scars, bruises – but the scars and bruises remind them that you're still here, you've still got a smile on your face, and you're still moving forward with complete disregard to previous failures and future opposition."
"I'll still see you at the top," Michael Chandler added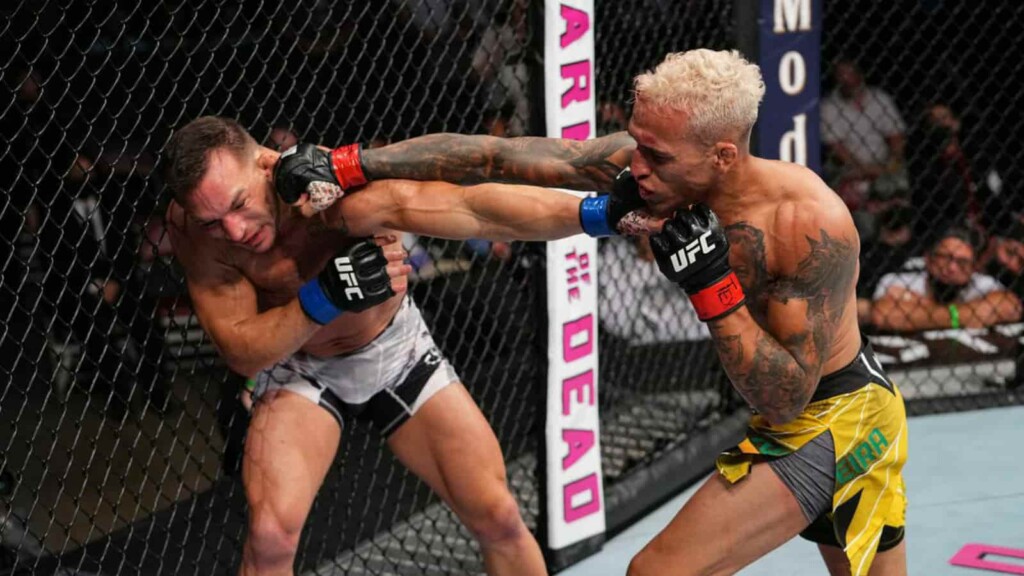 Michael Chandler still believes that even after this loss, he still has what it takes to be the UFC champion. In the post fight interview at UFC 262, he said, "I'll be the UFC champion before ending my career."
With his Instagram video, he also shared a message. Chandler says,
"I(still)SEE YOU AT THE TOP! A message to you…you're the reason I do this. The sun rose a little more painfully the last two days, but I have the most important things in life in abundance."
"Support, love, health, and hope. The best is yet to come and this journey is far from over. I'm happy as can be back at home with the most amazing woman on earth @briechandler and the light of our life, little Hapman"
"Huge thanks to my team @sanfordmma @henrihooft @kamibarzini @coachgjones @drcpeacock …I'll be back before you know it."
Also Read: "I still feel like a featherweight" Charles Oliveira has his doors open for the featherweight division too.