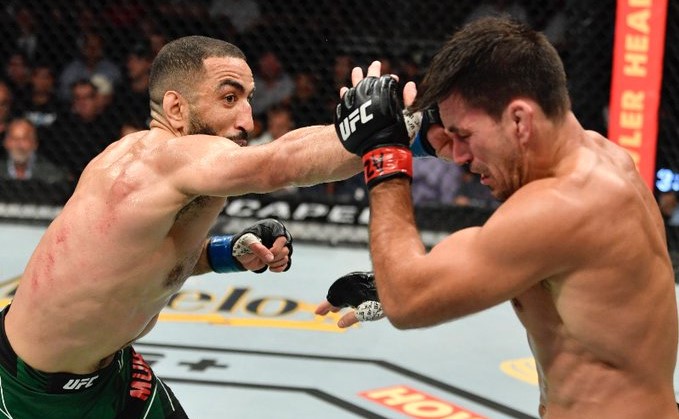 The highly anticipated welterweight contest between Demian Maia (28-10) and Belal Muhammad (18-3) went down at UFC 263, and Muhammad solved the Maia puzzle to secure the unanimous decision victory.
Round 1: Demian started looking for the takedown just as the fight started, he went for a single leg and after a little bit of struggle he secured the takedown but Muhammad got right back up they then exchanged some punches but Maia attempted a couple of single legs, although he wasn't able to secure them but got the control time needed to win the fight, nice first round at UFC.
Round 2: The game plan looks simple for this one, Maia is trying to take Belal down and he doesn't want it, after getting some reads on the takedown attempts Belal started to work on his striking he connected with some nice shots to stun Maia, no that significant though. Maia once again attempts a single leg just as the round was ending but couldn't complete it.
Belal Muhammad secured amazing takedown defense to secure the victory at UFC 263
Round 3: Belal obviously came out aggressive in this round he landed some perfectly timed counters and forced Maia to fight on his heels, Maia was getting relentless with his takedowns but couldn't take his Belal down, Belal was pretty much in control and showed another great takedown defense and he stuffed the last takedown from Maia.
Result: Belal defeated Maia via unanimous decision
Also read: Belal believes a win at UFC 263 should seal him a title shot for the welterweight belt