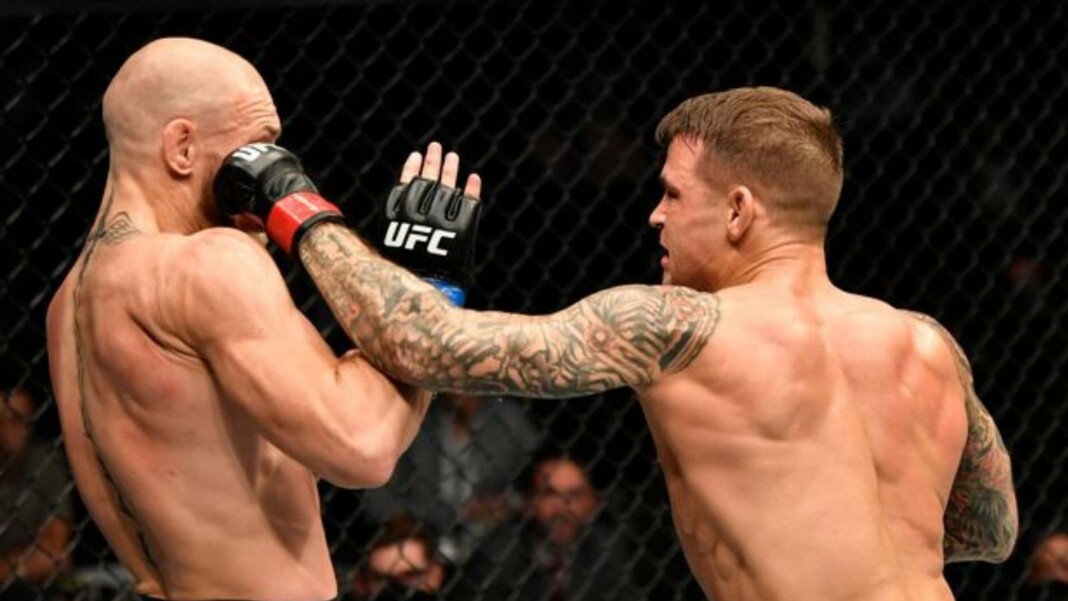 Dustin Poirier is going to face "The Notorious" Conor McGregor is quite possible the biggest pay-per-view in the history of the UFC. This trilogy match will take place at UFC 264 on July 10th, and this one will be for all the marbles.
Dustin was offered the title fight at UFC 262, but he turned it down to finish this trilogy match against Conor, he accepted that the money factor that comes with fighting Conor made him choose this fight over the title shot.
In a recent interview, he said, "Money is more important – I have mouths to feed. Good thing closing that door with Conor does both those things, but this is providing and I'm a provider, I owe it to my family. Me fighting for the belt, I wouldn't have got pay-per-view, I would have got a base salary of not even one-third of my base salary for this fight, it just doesn't make sense because I'm a prizefighter."
"I don't want to put the UFC on blast, or put their numbers or the way we do deals out and make a big deal of it – but if I'm making five to ten times the amount of money to fight Conor again, I'm a father, a husband, I have priorities," said Poirier.
Poirier claims that he will be moving into this fight with no added pressure, and that will help him a lot, he said, "I wouldn't have got pay-per-view for the title fight, Conor fight I had pay-per-view points built-in, there's no question. I'm fighting a little bit more free, I can just go out there and fight, whatever happens, tonight you can just perform your best and I think that helps me." (h/t Mirror.co.uk)
Dana White thinks Dustin Poirier made the right decision to pick Conor McGregor over the title fight
After Dustin turned down the title fight, many fans and experts thought that he made the wrong choice, they believed that Dustin missed his chance to win the title that he worked his entire life for.
But the boss Dana White believes otherwise, he said, "Dustin – he wants the rematch and that's smart. That's what he should do," White said. "He should take the rematch, take that fight. It's a big fight for him. The kid has worked hard his whole life, his whole career, to be in a position like this – and that's the fight you take."
Conor made fortunes after his boxing match against Floyd Mayweather, and this can be the fight that could put Dustin in a better financial spot for the rest of his life.
Also read: "3 fights against me for any man is early grave," Conor McGregor is not holding back on his trash talk to Dustin Poirier this time