'The Notorious' Conor McGregor stepped into the UFC 264's press conference and showed exactly what he is famous for i.e., his trash talk. Just when the fight week started McGregor didn't hesitate to hit Dustin Poirier with a low blow and leaked the Instagram DM of his wife trying to message him.
He took it one step further when he took the name of Jolie Poirier in the UFC 264's press conference and ripped 'The Diamond' by saying, "You're getting walked like a dog in that octagon on Saturday night!"
 "You're only a little b*tch. Your wife is your husband. You're only a little b*tch of a thing, a silly little hillbilly. Jolie's wife! You little b*tch of a thing."
Following this, he started chanting Jolie's wife to get support from the crowd but the crowd didn't get involved with him. Poirier replied, "You used to be better than this, man. The trash talk was a lot better than that. F*cking weak."
In McGregor's photo, the message that Jolie Poirier sent him was hidden but Dustin Poirier defended his wife in his interview with Michael Bisping by saying that image was a fabricated one.
Poirier says, "If it was real and my wife was messaging him or something like that, then it's a good one. But, if it's fabricated, me and my wife were laughing at it while at the grocery store. There's no-holds-barred in the sh*t-talking."
Conor McGregor further released a screen recording of Dustin Poirier's wife following him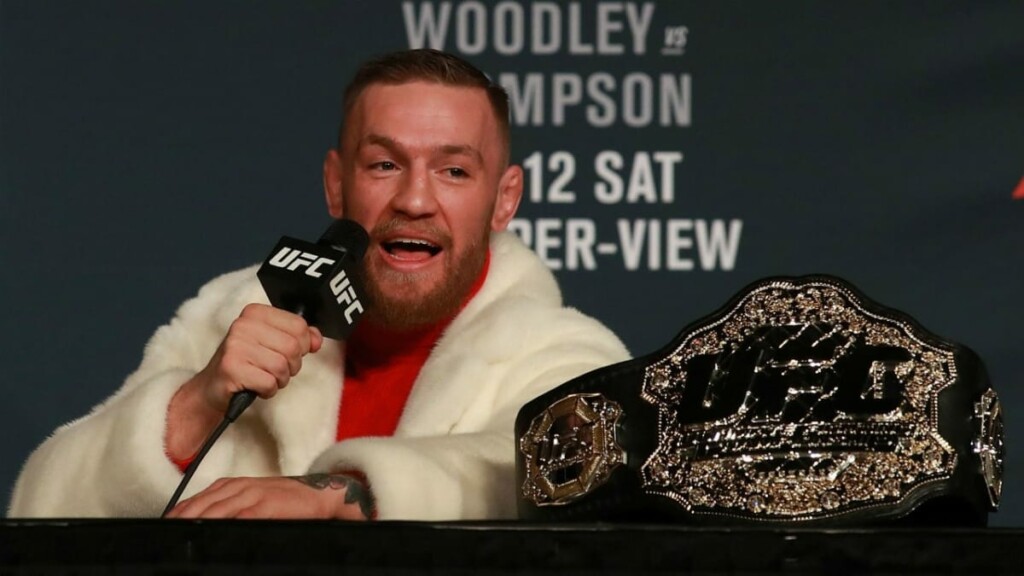 'The Notorious' didn't stop here after the press conference ended, he released a video of Dustin Poirier's wife following him on Instagram and showed the message request as well in the video.
McGregor wrote with that video, "As real as it gets. #shelyintoyoubro #thatswifey #properirishanimal" Conor McGregor once again tried to use his mind games and tried to enter the mind of Poirier.
But towards, the end of the press conference cool and composed Poirier says, "I don't hate anybody, I'm in a different place mentally. Respect to him and everything he's done. I just don't care about this stuff anymore. I don't care about this."
Although, McGregor did cross the line by bringing Poirier's wife in between, do you think it is going to affect him in the fight?
Also Read: "Cause he got knocked the f*ck out," Dustin Poirier gave a solid reply to why Conor McGregor changed his attitude from the last fight.