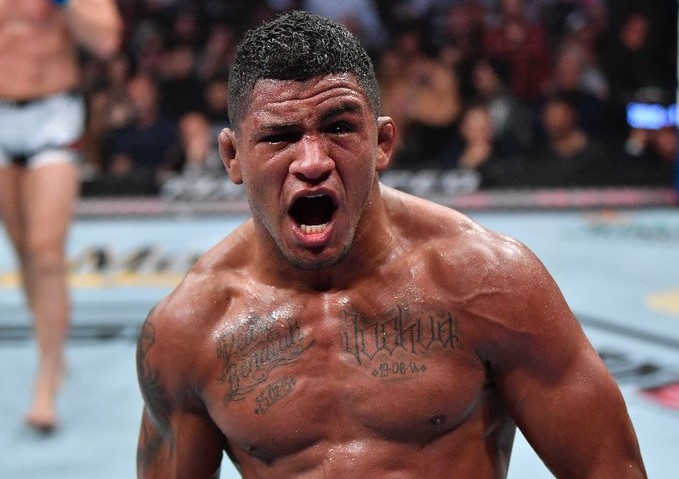 The most anticipated welterweight clash between Gilbert Burns (19-4 MMA, 12-4 UFC) and Stephen Thompson (16-4-1 MMA, 11-4-1 UFC) just took place at UFC 264, this was an interesting stylistic matchup between two of the best welterweights on this planet. Burns played the fight safe and mixed takedowns to get the victory against Wonderboy.
Round 1: Wonderboy and Burns were keeping their distance at the starting of the round, Burns tried to move in with the punches but Wonderboy move away and landed a counter punch, Burns shot a takedown carried it to the fence, and managed to take Wonderboy to the ground, he landed some nice punches before Wonderboy got up. Great start to the co-main event of UFC 264
Round 2: Both Burns and Wonderboy were being extremely careful in closing the distance, Wonderboy moved in with a strong leg kick and that opened up his karate-style kicks, Burns stayed heavy on his punches and landed a couple of overhand punches that hurt Wonderboy, Burns went for the takedown at the end and got the second one to finish the fight strong.
Gilbert Burns played it safe and got the victory over Stephen Thompson
Round 3: Probably the most exciting round of the fight, Wonderboy knew that he was probably down on the scorecards and he tried to pus forward to try and knock Gilber out, Burns played it safe and kept his distance, Stephen had some moments in the round and dropped Burns with a spinning head kick. Burns immediately went in pursuit of a takedown and got it just as the round was ending.
Also read: UFC 264: Twitter reacts to Sean O'Malley's win over Kris Moutinho and Herb Dean's stoppage