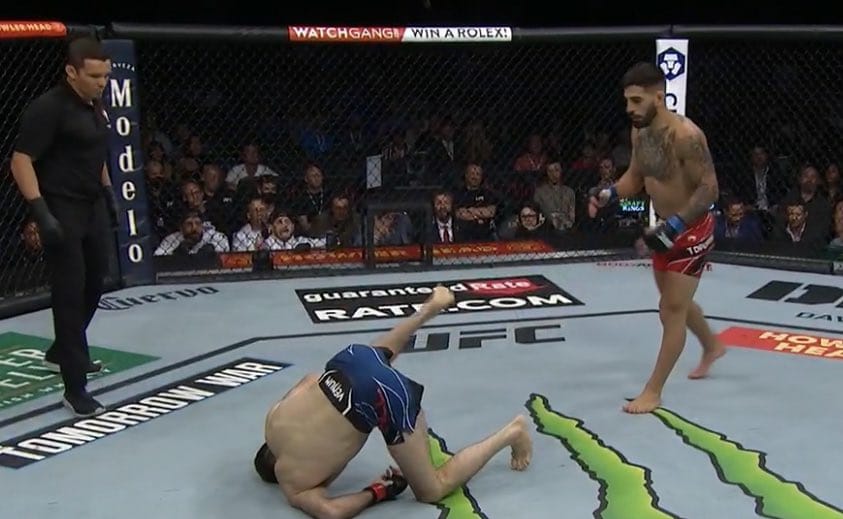 Ilia Topuria is an undefeated fighter in his MMA career and one of the finest ones Spain has produced. At UFC 264 he showed why he is one of the best fighters right now.
Topuria knocked out Ryan Hall in the very first round. This was Hall's comeback fight and the Spaniard showed him levels. At UFC 264 which was held at the T-Mobile Arena, Topuria was coming in with a record of 10-0-0 in his professional career. The fighter has been confident that he can be the champion in the featherweight division and today he proved why.
His last two wins have been against Damon Jackson and Youssef Zalal. Meanwhile, his opponent Ryan has not stepped into the octagon for 2 years. Topuria was confident that he can defeat Hall. With a first-round knockout, Topuria shocked the packed Arena and all the fans watching worldwide. Facing someone like Ryan isn't easy given his grappling skills but boy did Ilia prove us wrong.
Ilia Topuria knocks out Ryan Hall with Vicious strikes at UFC 264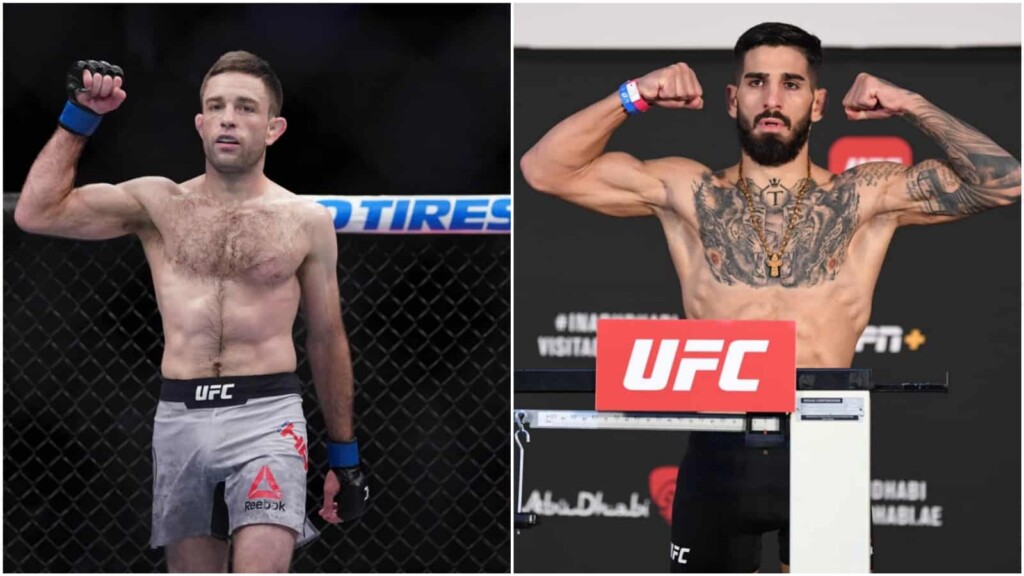 Round 1: Hall being Hall tried to see what he was dealing with in his opponent. Hall faked a couple of grapple attempts but Topuria looked confident to welcome takedowns. Ilia with a couple of leg kicks. Hall looked for the clinch but Topuria stuffed it. Hall gets the better of the Spaniard. But somehow both the fighters back on their feet. Hall does not look to stand up decides to go for the takedown again. Topuria is patient as Hall landed a few high kicks. Ilia drives forward and punches on the canvas. Clean strikes for the Spaniard. Hall is out cold. What a way to finish Ryan Hall.
Result: Ilia Topuria def. Ryan Hall via knockout (punches) – Round 1, 4:47. Topuria continues his undefeated run as he makes it 11-0. There is a lot of potential in this man as the world witnessed today. Who should be next for the Spaniard?
Also read: UFC 264 Live Results: Conor McGregor vs Dustin Poirier 3, play by play results