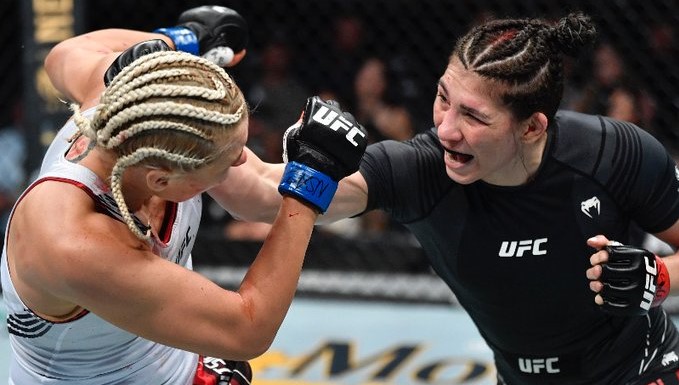 The women's bantamweight contest between Irene Aldana (12-6 MMA, 5-4 UFC) and Yana Kunitskaya (14-5 MMA, 4-2 UFC) was an important matchup for the division, after exchanging some heavy shots, Aldana dropped Yana in the very first round and took care of the business on the ground to get the victory.
Round 1: Aldana and Yana started exchanging shots as soon as the fight started, Yana came out more aggressive but she was swinging for the fences, she shot a takedown but Aldana brushed it off. Yana attempted many big moves but missed all of them, Aldana kept her composure she managed to keep the fight started, and she stayed heavy on her boxing stance, she started landing the check hooks and one of them dropped Yana, she then took care of the business on the ground and secured the victory at UFC 264
Irene Aldana says she wants to compete for the title but she dont want to rush it
After this knockout victory over Yana, Aldana was asked about who would she like to face next, Aldana said that she is inspired by Brandon Moreno who became the first Mexican champ in the history of the company, and she aims to do the same. She told Joe Rogan that she is not going to rush anything and will take her time before competing again, and as of now she doesn't have an opponent in mind.
Also read: UFC 264: Sean O'Malley stops Kris Moutinho after putting up an incredible striking display