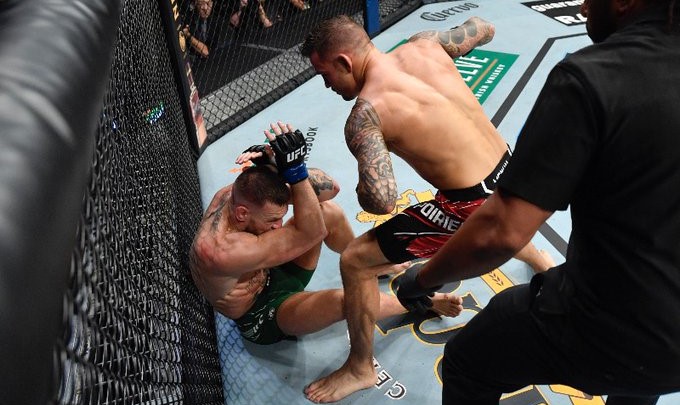 Probably the most anticipated fight of the year. UFC 264 was headlined by Dustin Poirier vs Conor McGregor 3. Poirier, riding off the victory over McGregor in his last outing, was forward to seeing off the Irishman once again. McGregor, on the other hand, was hoping to exact revenge for his UFC 257 KO loss.
The fight scheduled for 5 rounds, would also decide the number one contender for the lightweight title. The winner would get to face newly-crowned lightweight Charles Oliveira. Dustin Poirier was a much-matured fighter coming into this fight, while McGregor looked motivated as ever.
Most unexpected of endings to a fight of so much anticipation!
Round 1:
Two turned side kicks and a low kick from McGregor. McGregor kept landing kicks. He then stung him with a left hand. Another leg kick from Conor. Poirier landed a one of his own. Poirier then landed another punch. Left hand from Conor. Poirier then landed a nasty left hand of his own. After an unbelievable exchange between the two on the ground, with Poirier throwing a ton of elbows, that could have probably finished Conor, McGregor broke his ankle in the last second of the first round. An unexpected end to the fight.
Winner: Dustin Poirier def Conor McGregor (TKO – Doctor Stoppage)
Also Read: "Brian Kelleher should have got the fight" – Diego Sanchez disputes Sean O'Malley's decision to fight Kris Moutinho
Also Read: "Conor you're such a snake…Soon or later we will finish business"- Rafael dos Anjos calls out Conor McGregor