Gilbert Burns recently won the bout against "Wonderboy" Stephen Thompson at UFC 264. Many viewers believe that Durinho's ground-and-pound was not exactly legal shots so referee Marc Goddard is here to clarify.
Two of the top welterweight contenders' Gilbert Burns and Stephen Thompson went head to head at the biggest event of UFC this year. The two of them clashed in the co-main event of UFC 264 to solidify their spots as title contenders. The fight went down at the T-Mobile Arena in Las Vegas, Nevada on July 10th. Gilbert was completely dominating the fight with his grappling skills which were too much for Wonderboy to handle.
Most of the fans believe that the Brazilian's strikes in the final few seconds of the fight were not legal. A lot of them felt like it was foul play and asked the man who refereed that fight, Marc Goddard, himself if he could explain why he let the fight play out when they seemed like foul play. The ref was more than happy to prove his decision at UFC 264 right on Twitter.
"I try to maintain clarity," says Marc Goddard on the Gilbert Burns fight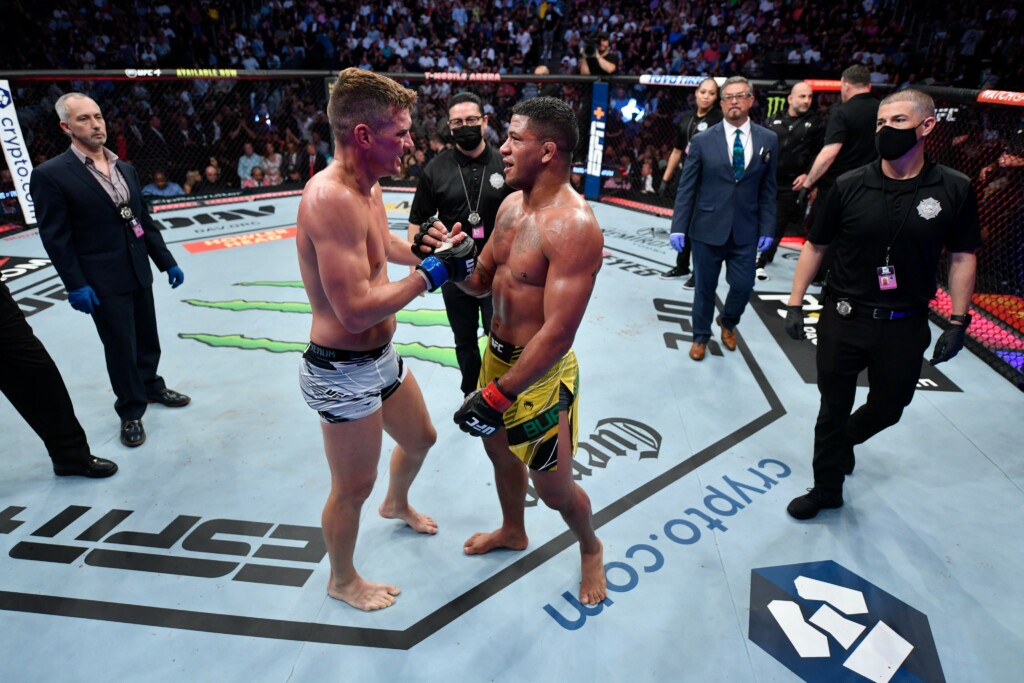 After the fan asked the referee to clear things out, Marc proceeded to post a video for reference and explain it to the fans who accused him of bad refereeing. "Of course, I can. I'll always try to offer an explanation, sadly it gets drowned out. You'll see that only the 4th shot is a glancing blow to the nape of the neck. The first shots are top & side. The last 5 clearly to the shoulder. I try to maintain clarity in chaos! Hope this helps," wrote the ref.
Despite all the explanation, most fans still pointed out that the last four shots were on the neck of Thompson which was on the back of his head and he Burns did not stop throwing those strikes. What do you think of that fight's refereeing? Do you believe Burns should have been stopped for foul play?
Also read: "Khabib plz stop 4 photo" Khabib Nurmagomedov's 66-year-old fan who stood in the sun for a picture gets wish granted